Membership

Membership Information
Forms and direct deposit information.


New Anthology On Sale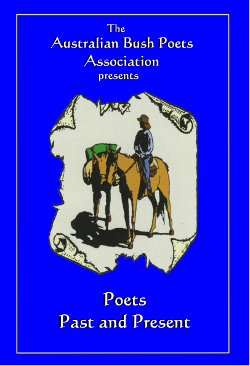 New anthology of ABPA poets past and present is now on sale $28 posted (within Australia).
A Who's Who of modern bush poetry.
62 poets, 192 pages.
More information here.
Register of Modern Bush Poets
Register of Modern Bush Poets
Many Poets have products and services available

Multimedia
See and hear some of our
modern Bush Poets on the
Winners' Wall
2018 Blackened Billy winner, Catherine Lee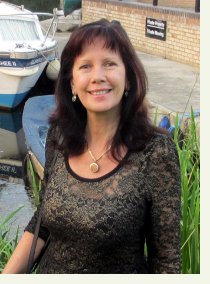 _______________

2016 Bundy Bush Poets Muster,
Bundaberg Queensland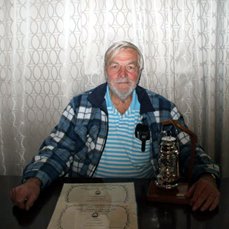 2016 Bush Lantern Award winner
Terry Piggott for One Man's Prison.
_______________

2016 Man From Snowy River Festival,
Corryong Victoria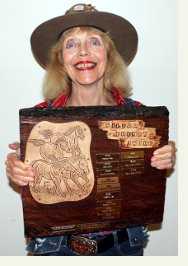 2016 ABPA Overall Written Victorian Championship and Silver Brumby Award
winner, Brenda Joy for Murray Moon.

Award Winning Modern Bush Poetry
This section contains the first-prize-winning poems, collated from ABPA and other bush poetry written competitions throughout Australia from 2008 to 2013 inclusive.

TERMS OF USE All rights reserved

The entire contents of the poetry in the collection on this site is copyright. Copyright for each individual poem remains with the poet. Therefore no poem or poems in this collection may be reproduced, performed, read aloud to any audience at any time, stored in a retrieval system or transmitted in any form or by any means, electronic, mechanical, photocopying, recording or otherwise without prior written permission of the individual poet.
Collection Index

2008 - 2009 - 2010 - 2011 - 2012 - 2013 - 2014 - 2015 - 2016 - 2017 - 2018 - 2019 - 2020 - 2021 
________________________________________________________________________________________________

Bittersweet Harvest by Shelley Hansen
Breakfast by the Creek by Veronica Weal
Campfire Dreaming by Jan Facey
Deluge of the Plains by Brenda Joy
Ghost Child by Brenda Joy
In Their Footsteps by Terry Piggott
Judgement at Jindabill by Irene Dalgety-Timpone
Kadaitcha by Peter O'Shaughnessy
Outreaching Still by Brenda Joy
Roots by Brenda Joy
Secrets of the Desert by Brenda Joy
Stolen Heritage by Catherine Lee
The Heart and Soul of Australia by David Campbell
The Outback Sailor by David Judge
The Riderless Horse by Catherine Lee
The Weebo Sailing Club by Peter O'Shaughnessy
Top Camp – 'Up in the Devil's Lair' by Terry Piggott
Where Even Windmills Die by Peter O'Shaughnessy
Where the Curlews nest by Helen Harvey


________________________________________________________________________________________________


2020 AWARD WINNING POETRY
2008 - 2009 - 2010 - 2011 - 2012 - 2013 - 2014 - 2015 - 2016 - 2017 - 2018 - 2019 - 2020 - 2021

 
A Precious Chance by Shelley Hansen
An Australian History Lesson by Beryl Stirling
From Gallipoli With Love by Tom McILveen
Fumbles by Marco Gliori
Heart of Australia by Brenda Joy
In a Mangrove World by Brenda Joy
In Praise of the One Teacher School by Shelley Hansen
My "Singing Garden" by Shelley Hansen
Lawson's Legacy by Shelley Hansen
Regeneration by David Campbell
Remembering Bill the Bastard by Irene Dalgety Timpone
Sounds of the Desert Night by Peter O'Shaughnessy
The Heart of Darkness by David Campbell
The Poppies Dance by Heather Knight
The Stockman's Loss by Catherine Lee
The Wanderers by Catherine Lee
 
________________________________________________________________________________________________


2019 AWARD WINNING POETRY
2008 - 2009 - 2010 - 2011 - 2012 - 2013 - 2014 - 2015 - 2016 - 2017 - 2018 - 2019 - 2020 - 2021 

A Dreamtime Breakaway by Peter O'Shaughnessy
A Lantern in the Window by David Campbell
Arty Illywhacker by David Campbell
"Channel" No. 5 by Shelley Hansen
Delhi Calling by Tom McILveen
'Faith' by Glenny Palmer
Ghosts of Men by Catherine Lee
Keepers of Our Heritage by Shelley Hansen
Kelly's Corner by Heather Knight
Made in Australia by Max Merckenschlager
My Father's Voice by David Campbell
Pappinbarra Dreamtime by Tom McILveen
Soldier Number Five by Irene Dalgety Timpone
The Darkest Side of Hell by Tom McILveen
The Mulga Cup by Peter O'Shaughnessy
The Restorer's Tale by Shelley Hansen
The Struggle by Brenda Joy
To Learn to Choose by Robyn Sykes
Two Families Who Never Met by Robyn Sykes

________________________________________________________________________________________________
2008 - 2009 - 2010 - 2011 - 2012 - 2013 - 2014 - 2015 - 2016 - 2017 - 2018 - 2019 - 2020 - 2021
A Miner's Legacy by Catherine Lee
And Did Those Hooves... by Catherine Lee
As Shadows Fall by Brenda Joy
A Time of Healing by T E Piggott
Bluey by Tom McIlveen
Goodaye, Old Mate by Jim Kent
Jack, My Friend by Shelley Hansen
Lament by Brenda Joy
Let It All Hang Out by Brenda Joy
Making Murrundi by Max Merckenschlager
Pappinbarra Burning by Tom McIlveen
Rainbow Serpent's Legacy by Tom McIlveen
Rebuilding the Rock by Robyn Sykes
Riley's Billy Lids by Tom McIlveen
The Ruins by Terry Piggott
Won't You Come? by Tom McIlveen

________________________________________________________________________________________________
2008 - 2009 - 2010 - 2011 - 2012 - 2013 - 2014 - 2015 - 2016 - 2017 - 2018 - 2019 - 2020 - 2021
A Bovine World by Donald Crane
A Man Alone by David Campbell
Bobby by Tom McIlveen
Buy-Swap-Sell by Shelley Hansen
C for Charlie by Heather Searles
Dentures to the Rescue by Trevor Shaw
Echoes From The Past by Terry Piggott
Far From Home by David Campbell
In a Bush Clearing Small... by Jim Kent
Lost for Words! by Shelley Hansen
My Alpine World by Brenda Joy
My Name's Doreen by Shelley Hansen
Old Country Halls by Will Moody
Snowdrifts of Time... by Lee Taylor-Friend
Solace by Brenda Joy
Sweetwater by David Campbell
The Cynic Route by Kate O'Neil
The Novice And The Bard by Max Merckenschlager
The Old Brush Hut by Terry Piggott
The Promise by Helen Harvey
The Road A-Head by Brenda Joy
Under Southern Soil / Equal Under Southern Skies by Tom McIlveen

_______________________________________________________________________________________

2008 - 2009 - 2010 - 2011 - 2012 - 2013 - 2014 - 2015 - 2016 - 2017 - 2018 - 2019 - 2020 - 2021

An Outback State of Mind by Max Merckenschlager
Basic Guide (to arguing with a woman) by Brenda Joy
Blood and Love: The Irish Saga by Anthony (Tony) Hammill
Bobby is Back by Tom McIlveen
Bond of Love by Brenda Joy
Clancy's Answer by John Davis
Demons and Lambs by Tom McIlveen
Elixir of Life by Shelley Hansen
Golden Wedding by Shelley Hansen
His Mungindi Girl! by Kelly Dixon
Legacy of a Fool by Catherine Lee
Murray Moon by Brenda Joy
Nature Has Its Reasons by Leonie Parker
One Man's Prison by Terry Piggott
Remember Mate by Terry Piggott
Rich Beyond All Measure by Shelley Hansen
She Only Speaks if you Listen by Kevin Pye
The 9th of June by Glenny Palmer
The Bank's Bottom Line by Bob Magor
The Wave Hill Spur by Helen Harvey
The Wrapper by Rhonda M Tallnash
Too Quick to Blame by David Campbell
We Were Soldiers by Tom McIlveen
Wills by Brenda Joy
Workin' For the Dole by Tom McIlveen
 

________________________________________________________________________________________________
2008 - 2009 - 2010 - 2011 - 2012 - 2013 - 2014 - 2015 - 2016 - 2017 - 2018 - 2019 - 2020 - 2021

A Reasonable Approach by Ron Stevens
Another Good Mate Gone by Helen Harvey
Child's Play by Robyn Sykes
Children of the Anzacs by Catherine Lee
Chronicle by Catherine Lee
Coo-ee Bill by Tom McIlveen
Dreamtime Dreaming by Terry Piggott
Droving Grasshoppers by Terry Piggott
Eugene by Tom McIlveen
I Marched For Him by David Campbell
If God Only Knew by Tom McIlveen
In the Name of the Father by David Campbell
Links by Brenda Joy
Lonely is the Campfire by Terry Piggott
Photo Shoot by Brenda Joy
Roadside Pizza by Tom McIlveen
Road Watch by Brenda Joy
Skip by David Fatches
Sometimes I Wish ... by Leonie Parker
Teddy, Teddy! by Shelley Hansen
The Cattle Pastures by Tom McIlveen
The Hidden Truth by Milton Taylor
The Last Farewell by Terry Piggott
The Last Frontier by Terry Piggott
The Man Who Wasn't There by David Campbell
The Pact by Kay Gorring
The Redwood Pub and the Claw-Foot Tub by Will Moody
To the Genius of Henry by David Campbell
Where Poppies Bloom by Brenda Joy

 ________________________________________________________________________________________________
2008 - 2009 - 2010 - 2011 - 2012 - 2013 - 2014 - 2015 - 2016 - 2017 - 2018 - 2019 - 2020 - 2021

A Colourful Encounter by Brenda Joy
A Lesson in Life by Shelley Hansen
A Snowy Mountain Fantasy by Tom McIlveen
Bush Mother by Donald Crane
Closure by Brenda Joy
Coo-ee Caller by Tom McIlveen
Dooley's Banker by Donald Crane
Each Morning, When I First Awake by David Campbell
Farewell My Love by Terry Piggott
Ghosts of Progress by Brenda Joy
Hire Education by Will Moody
New England Gentlemen by Tom McIlveen
Outlines of the Past by Will Moody
Paddy at a Mudgee Winery by Ron Stevens
Promise My Children by David Campbell
Remember? by Milton Taylor
Snowy - Reflections of a River by Brenda Joy
Song of the Humpback Whales by Arthur Green
The Carnage at Stringybark Creek by Tom McIlveen
The Lemon Tree by Ron Stevens
The Sheik of the Scrubby by Brenda Joy
The Stringybark Butcher by Tom McIlveen
The Takeover by Don Adams
Unspoken Words by David Campbell
When A Tree Falls by David Campbell
Where Life Has Led by Brenda Joy
________________________________________________________________________________________________
2008 - 2009 - 2010 - 2011 - 2012 - 2013 - 2014 - 2015 - 2016 - 2017 - 2018 - 2019 - 2020 - 2021
 
A Feather in a Locket by Robyn Sykes
A Love Story by David Campbell
A Teamster's Life by V.P. Read
A Victim of War by Tom McIlveen
Call of the Kimberley by Brenda Joy
Christmas Eve on the F3 by B.J. Stirling
For Sale by Robyn Sykes
Has anybody out there heard from Jon? by Leonie Parker
He will Muster no More by Brenda Joy
Highway to Hell by John Davis
Impromptu Shower by Robyn Sykes
Kathleen by Tom McIlveen
Little Friend by Brenda Joy
Midnight Muster by Donald Crane
Mothers and Sons by David Campbell
On the Goatee Mountain Track by Tom McIlveen
Rafting on the River in the Spring by Will Moody
Renewal by Brenda Joy
Riverina Rain by Caroline Tuohey
That's how it is... by Brenda Joy
The Anzac Spirit - One Hundred Years on by Yvonne Harper
The Colour in my Blood by Brenda Joy
The Dungeon on the Hill by Tom McIlveen
The Dying by Martin Pattie
The End of an Era by Terry Piggott
The Farmer's Strike by Robyn Sykes
The Ghost of Long Tan by Tom McIlveen
The Last Judgement by Brenda Joy
The Passing of a Legend by Milton Taylor
The Seeds of Revolution by Tom McIlveen
The Swagman's Ghost by B.J. (Beryl) Stirling
This Cathedral by Rod Walford
To the Cowboy Poets by Will Moody
Trooper George by Anthony (Tony) Hammill
Un-a-bridged by Will Moody
Voices by Leonie Parker
Waiting by Catherine Lee
Where Drovers Dream by Brenda Joy
________________________________________________________________________________________________
2008 - 2009 - 2010 - 2011 - 2012 - 2013 - 2014 - 2015 - 2016 - 2017 - 2018 - 2019 - 2020 - 2021
 
A Father's Prayer by David Campbell
A Snowy Mountain Holiday by Tom McIlveen
A Stranger Walks Alone by David Campbell
Beneath our Mirrabooka Sky by Brenda Joy
Boot about Town by Brenda Joy
Coo-ee Calling by Brenda Joy
Country Grit by Yvonne Harper
Curio-The Legend will Survive by Brenda Joy
Drover Dreaming by Donald Crane
Four Soldiers Back by Brian Bell
Home is the Lonely Heart by Arthur Green
I am the Land by Brenda Joy
In My Father's Name by Glenny Palmer
Lovely Lies by Robyn Sykes
Meg's Story by Yvonne Harper
Mistress of my Seasons by M.M. (Mal) Beveridge
Nangaloar by Brenda Joy
On Three Moon Creek - Cania Gorge by M.M. Beveridge
One Night at Joe Maguire's Pub by Tom McIlveen
Only Six Years by Stephen Whiteside
Out on the Western Shore by Terry Piggott
Rainbow Serpent's Progeny by Tom McIlveen
Sheepish by Brenda Joy
Silver Wings by Kym Eitel
Spirit of '...Matilda' by Brenda Joy
The Barraba Drovers by Tom McIlveen
The Eulogy by B.J. (Beryl) Stirling
The Gold Seekers by Terry Piggott
The Last Post by Heather Knight
The Legend Lives On by Catherine Lee
The Naming Ceremony by Leonie Parker
The Pub at Cripple Creek by Terry Piggott
The Rattle of the Knob by Allan Goode
The Singer and his Song by David Campbell
The Testament by B.J.Beryl Stirling
Voices in the Silence by Ron Stevens
Your Shout! by Allan Goode


___________________________________________________________________________________
2008 - 2009 - 2010 - 2011 - 2012 - 2013 - 2014 - 2015 - 2016 - 2017 - 2018 - 2019 - 2020 - 2021
 
A Bidgee Dawn by Don Adams
A Bushman's Last Farewell by Catherine Lee
A Gift for the Wife by Trevor Shaw
A Letter from the Front by Brian Beesley
A Man's Dream by Colleen McLoughlin
Burke's Last Days by Ellis Campbell
Certificates to Mount by Glenny Palmer
Court Thought by Gregory North
Easy in the Sun by Max Merckenschlager
Encounter with Whales by Max Merckenschlager
Exodus from Alleromba by Tom McIlveen
Ghost Child by Kym Eitel
Grandad's Purple Donkey by Kym Eitel
How you going Mate? by Ron Stevens
Legacy of a Bushfire by Brenda Joy
Legend of the Flame by Catherine Lee
Maiden Flight by Brenda Joy
Maiden Sea-Change by Brenda Joy
Mechanical Surrender by Ellis Campbell
Nullarbor Dreaming by Brenda Joy
On the Wallaby with You by David Delaney
Our Timber Cutter's Legacy by Tom McIlveen
Taffy Waits by Kym Eitel
The Demise of Simple Saul by Ellis Campbell
The Ghost of Old Ted by Wendy Enchelmaier
The Pyrenees - A Sesquicentennial Ode by Carol Reffold
The Story of Joshua Hurley by B.J.(Beryl)Stirling
The Whale Boat by Zondrae King
Unfinished Business by Claire Reynolds
Walking with Ghosts by Terry Piggott
Wasteland by David Campbell
What Price Progress? by Ellis Campbell
Where have all the Baa Baa's Gone? by Ellis Campbell
________________________________________________________________________________________________
2008 - 2009 - 2010 - 2011 - 2012 - 2013 - 2014 - 2015 - 2016 - 2017 - 2018 - 2019 - 2020 - 2021
 
A Cross Beside a Lonely Road by Ellis Campbell
A Scent of Eucalyptus by John Peel
Behind the Flag by Ron Stevens
By the Right by Ron Stevens
Equus Caballus (The Horse) by Donald Crane
Flight of the Magpie Geese by Catherine Lee
Forgotten Children - Childhood Lost by Brenda Joy
Gulgong - Then and Now by Ellis Campbell
Henry's Ecstasy by Stephen Whiteside
If Banjo Came to Ipswich by Leonie Parker
'Ma' from Snowy River by Glenny Palmer
Memories of Drought by Don Adams
Midnight's Last Race by Graham Fredriksen
Moonlight Muster by Ellis Campbell
On Rafferty's Run by Arthur Green
Possum of the River by Max Merckenschlager
Rescue - The Ballad of Bernie O'Reilly by Lionel Euston
Snowy Mountain Magic by Max Merckenschlager
Spirit of Australia by Catherine Lee
The Arsonist by Ellis Campbell
The Black Horse in the Lead by Kym Eitel
The Bush Piano by Gary Harding
The Farmer's Sagacity by Ellis Campbell
The First 'True Blue' Australian Born by Arthur Green
The Great Australian Hole by Will Moody
The Pollie Plague by David Campbell
The Prospector's Daughter by Terry Piggott
The Rabbit Trapper by Ellis Campbell
The Shadow on the Wall by Veronica Weal
The Tides and the Turns by Brenda Joy
Today by Gregory North
True Blue Aussie by Valerie Wallace
Walking Away by David Campbell
What a Night! by Glenny Palmer
When you were by my Side by Terry Piggott
Windradyne by Catherine Lee
Worn Out Stockman Dreaming by John Davis

________________________________________________________________________________________________
2008 - 2009 - 2010 - 2011 - 2012 - 2013 - 2014 - 2015 - 2016 - 2017 - 2018 - 2019 - 2020 - 2021
 
A Lasting Impression by Gregory North
Beechley Calling by Ellis Campbell
Crossed Tracks by Ron Stevens
Cutting Back by Ron Stevens
Dear Captain Holman by Brian Beesley
Desertion by David Campbell
Eleven Miles by Kym Eitel
For Always and Forever by Arthur Green
Gallipoli by Keith Lethbridge
In Praise of the Shearing Shed by Don Adams
Mother Snowy by Lee Taylor-Friend
Mulling over Mafeking by Max Merckenschlager
Musquito, The Black Bushranger by Max Merckenschlager
My Country by Brian Beesley
Nails in the Mango Tree by Kym Eitel
Of Wills and Wonts by Ron Stevens
Rain by Zondrae King
Strike me Pink by Zondrae King
The Magnificent Seven by Max Merckenschlager
The Miner's Church by V.P. Read
The Old Timer by Donald Crane
The Road Scholar by Max Merckenschlager
The Romance-Writing Ringer from Roo Creek by Carolyn Eldridge-Alfonzetti
The Shame of Staying Put by Ron Stevens
The Surrogate Dad by Peter Mace
The White Ribbon by David Campbell
Time and Change by Colleen McLaughlin
Wrath and Splendour by Kym Eitel
________________________________________________________________________________________________
2008 - 2009 - 2010 - 2011 - 2012 - 2013 - 2014 - 2015 - 2016 - 2017 - 2018 - 2019 - 2020 - 2021
 
A Bell in the Mist by Kym Eitel
A Letter Home - September 14 1946 by David Campbell
A Tribute to Jillie by V.P. Read
Birth of our Spirit by Ed Walker
Brolga Dreaming by V.P.Read
Corryong - A Town Unique by Ellis Campbell
Country Women by Max Merckenschlager
Departures by Ron Stevens
Distant Dialogue by Ron Stevens
Ernie McBurney's Ride by Ellis Campbell
Fairy Fears at Just Five Years by Arthur Green
Firestorm, Flynn and Sarah-Jane by Arthur Green
Flash Flood by Kym Eitel
Homecoming by Ron Stevens
I'm Sorry, Laurie! by Kym Eitel
Jumping the Rattler by David Campbell
King Clydesdale by Max Merckenschlager
Monarchs of the Air by Arthur Green
Of Men and Rats by Ron Stevens
Says Martin Cash by Max Merckenschlager
Somebody's Darling by Milton Taylor
Sorry, Sorry Day by Max Merckenschlager
That Trip to Cape York by Claire Reynolds
The Bang Tail Muster by Dennis Scanlon
The Clockoholic by Veronica Weal
The Ghost of Crackenback by Kym Eitel
The Only War we Had (Beachhead Vietnam) by Graham Fredriksen
The Power of Kokoda by Dean Trevaskis
The Stranger by Ron Stevens
________________________________________________________________________________________________