Regular Events
Regular Events State by State
There are a host of regular events across the country. If you are travelling, call in and make yourself known. You will be among friends.



Membership
Membership Information
Forms and direct deposit information.
Festival Snippets
2021 Cervantes Art Festival Bush Poetry Competition Winner
 
Terry Piggott
2020 Orange Banjo Paterson Festival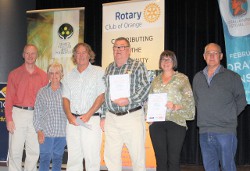 Judges Gregory North Carol Heuchan and Jim Lamb (far right), Open winners Andrew Pulsford, Bob Pa Kettle and Caroline Tuohey.
 

2019 WA Championships, Toodyay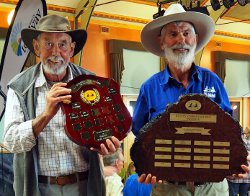 Overall winner Roger Cracknell, Bill Gordon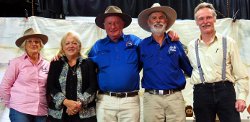 Officials: Meg Gordon, Christine Middleton, Tim Sheed, Bill Gordon, Geoffrey Graham.
Toodyay WA Act Belong Commit Bush Poetry Festival 2018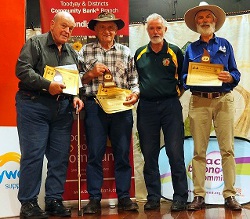 Michael Darby (winner), Peter Blyth (2nd),
Brian Raynor (Toodyay Shire President),
Bill Gordon (3rd)



Entertainers at Variety Concert during Toodyay Festival - Tom McIlveen, "Cobber" Lethbridge, Peter Blyth, Susan Ashton.
_______________

Poetry with the Rainbow Serpent.
Poetry and picnic, Beaudesert Qld.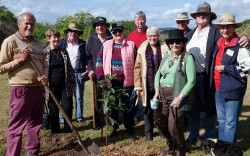 _______________

2018 Oracles of the Bush, Tenterfield NSW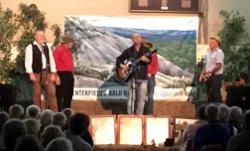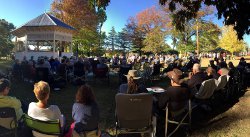 _______________


2018 Man From Snowy River Festival, Corryong Victoria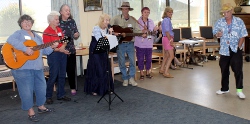 Aged Care entertainment from Liz Smeaton, Val Kurley, Carol Reffold, Brenda Joy, Bruce Clark, Jan Lewis, Mon Galvin and Tony Lambides-Turner
_______________

2018 John O'Brien Festival, Narrandera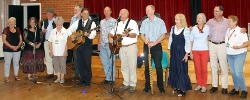 _______________

2018 Milton Show Bush Poetry Competition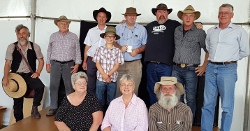 Back: Craig Green, John Raine, John Peel, Lucas Mcdonald, Ken Potter, Colin Defries, Peter Dawson, Mike Lavis
Front: Anne Rogers, Sue Pearce, Mark Thompson, (absent Ruth Myers).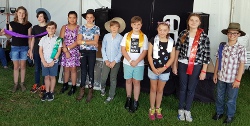 Ivy Lawson & Leila Pepperel, Brodi Tebbutt, Chelsea Soo, Charli Firmstone, Eva Gautier, Kobi Silver, Charli Mcdowell, Emily Hendry, Lucas Mcdonald.
_______________

2017 Drovers' Camp Reunion,  Camooweal Qld.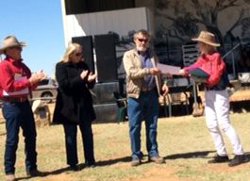 The Performance Poetry Section winners
Larry Robinson (3rd), Deena Smith (2nd),
Barry Graham (1st), MC Brenda Joy.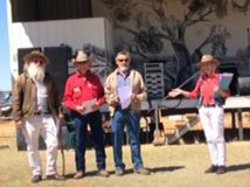 The Overall Performance Winners (judged from two sections)
Jingo March (3rd for yarn and poem),
Larry Robinson (2nd for poem and song) and
Barry Graham (1st and Drovers' Camp Talent Award trophy winner for yarn and poem), MC Brenda Joy.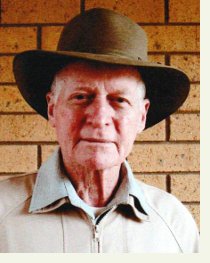 Camooweal Post Office Bronze Spur Award
Written Winner: Donald Crane
_______________
2017 Milton Show Bush Poetry Competition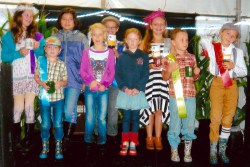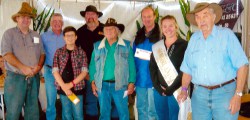 _______________

2016 ABPA NSW Championships
Binalong NSW.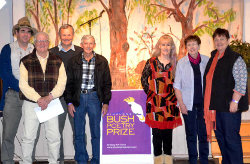 Ken Potter (Illawarra), Ted Webber (Young), Ralph Scrivens (Illawarra), Terry Regan (Blue Mountains), Rhonda Tallnash (Victoria), Heather Searles (Hunter Valley) 
and Sue Pearce (Tumut)
_______________

2016 Drovers' Camp Reunion, 
Camooweal Qld.





Line up of competitors and co-ordinators in the Drovers' Camp Talent Award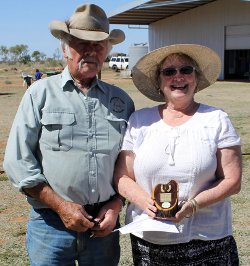 Drovers' Camp Talent Award winner, Carmel Lloyd with husband John (both of Calen Qld.)
_______________

2016 Bundy Bush Poets Muster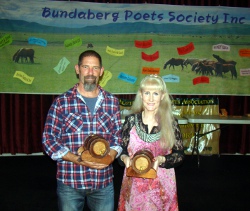 Overall winners:
Dean Trevaskis (NSW) & Rhonda Tallnash (Vic)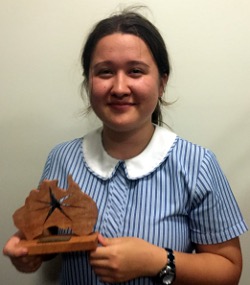 Marina Bishop, Bush Lantern written poetry Secondary Schools winner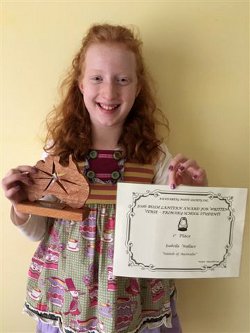 Isabella Wallace, Bush Lantern written poetry Primary Schools winner (Vic)
_______________

2016 Man From Snowy River Festival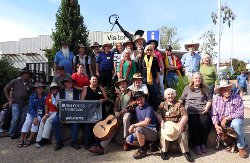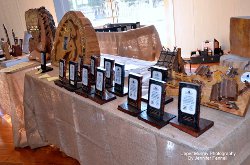 _______________

2016 Tamworth Country Music Festival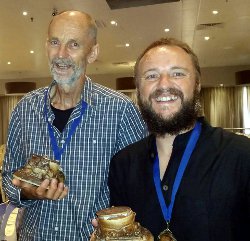 Golden Damper Winners
Tom McIlveen (Original Section)
Jason Roweth (Established Section)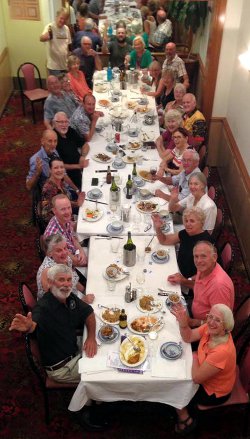 Poets' Dinner
_______________

2015 Camooweal Drovers Camp Festival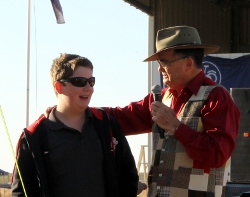 Great new performer and winner of the Junior performance competition, Jack Muller (age 14) with Noel Stallard at the poets breakfast.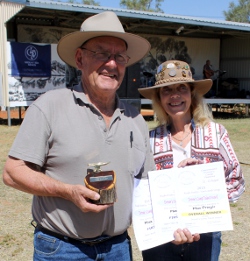 Overall winner of the Drovers' Camp Talent Award for performance, Max Pringle with Brenda Joy DCTA co-ordinator.
_______________

2015 Queensland Championships
at the Bundy Bush Poetry Muster in Bundaberg, Queensland



Queensland Champions Kathy Vallance of St Arnaud, Vic. and Lynden Baxter of Monto, Qld.



Written Champion Shelley Hansen of Maryborough with her Bush Lantern trophy
_______________

2015 Australian Championships at Man From Snowy River Festival in Corryong, Victoria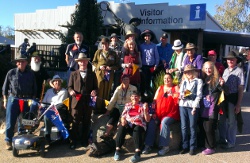 _______________

2015 Tamworth Country Music Festival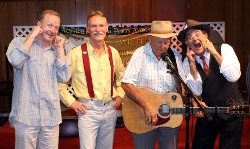 Gregory North, Geoffrey W Graham, Ray Essery & Pat Drummond at St Edward's Hall concert.

_______________

Golden Damper Awards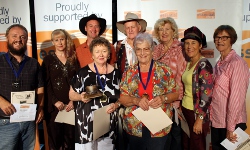 Finalists - Established: Jason Roweth, Rhonda Tallnash, John Peel, Barry Ellem, Cay Ellem, Jacqui Warnock, Claire Reynolds. 
Lyn Tarring and Gabby Colquhoun at front.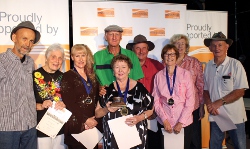 Finalists - Original: Tom McIlveen, Kathy Edwards, Rhonda Tallnash, Paddy O'Brien, Dave Elson, Claire Reynolds, Cay Ellem, Gary Lowe, Lyn Tarring (front).

_______________

2014 WA State Championships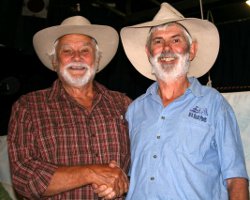 East meets West
ABPA President Hal Pritchard
and WABPYS President Bill Gordon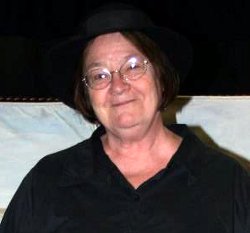 WA State Champion Christine Boult

_______________


2014 Queensland State Championships
at the Bundy Bush Poetry Muster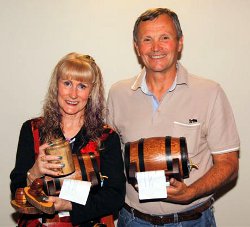 State Performance Champions 
Rhonda Tallnash and Ralph Scrivens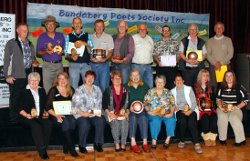 Award winners at Bundy

_______________

2014 Man From Snowy River Bush Festival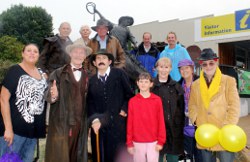 Some of the poets gathered at the Man From Snowy River statue in Corryong, Victoria.
Unfortunately it was raining and only a small group were there when the photographer was available.
Back L to R: Ken Tough, Bob Markwell,
Tim Sheed, John Peel, Noel Bull.
Front: Jenny Markwell, Geoffrey Graham (Banjo Paterson), James Howard (Henry Lawson), Kaylin Handley, Rhonda Tallnash, Jan Lewis (Poetry event Manager), Tony Lambides-Turner.
_______________

2014 Logan Village Music and Heritage Festival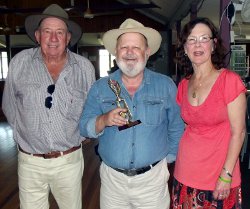 Jim Tonkin, Wally Finch and Gerry King

_______________

2014 Kangaroo Valley Folk Festival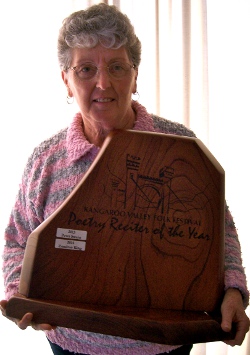 Zondrae King - Reciter of the Year

Australian Bush Poetry Events Calendar                                   Go to Results
For entry forms or further information, click on the link below the respective event.
For any updates or corrections, contact the webmaster.
WRITTEN EVENTS are in RED

Melbourne Books Writers' Hub may be of Interest too.

____________________________________________________________________________________________________

FEBRUARY 2022

12-20 February - Banjo Paterson Australian Bush Poetry Festival and ABPA National Championships, Ex-Services Club, Orange NSW.
WEB    ENTRY FORM     CONDITIONS     LATEST UPDATE

____________________________________________________________________________________________________

JANUARY 2022

14-23 January - Tamworth Country Music Festival. Golden Damper Bush Poetry Competition 18-20 January, Tamworth NSW.
See 7 January Closing Date.

7 January - Closing Date - Golden Damper Bush Poetry Competition, Tamworth Country Music Festival, Tamworth NSW.
ENTRY FORM & CONDITIONS
____________________________________________________________________________________________________

DECEMBER 2021

24 December - Closing Date - Kembla Flame Written Bush Poetry Competition, East Corrimal NSW.
ENTRY FORM


____________________________________________________________________________________________________

NOVEMBER 2021

30 November - Closing Date - Blackened Billy Verse Competition -  electronic entries only (postal entries close 20 November). Gladstone, Queensland.
ENTRY FORM

21 November - Closing Date - Creative celebration of the International Year of Caves and Karst – Australasia. Write a story, rhyme, poem, song, sketch, paint, sculpt, photograph or create a video.
ENTRY CONDITIONS

20 November - Closing Date - Blackened Billy Verse Competition (electronic entries close 30 November). Gladstone, Queensland.
ENTRY FORM

5-7 November - WA State Championships, performance and written competitions (see 8 October closing date), WA.
WEB

____________________________________________________________________________________________________

OCTOBER 2021

15 October - Closing Date - Lambing Flat FAW & National Cherry Festival Writing Competition, Young NSW.
ENTRY FORM

8 October - Closing Date - Silver Quill written competition, Bateman WA.
ENTRY FORM     CONDITIONS

3 October - Closing Date - Ipswich Poetry Feast, Ipswich Queensland.
WEB

1 October - Closing Date - Cervantes Art Festival Bush Poetry Competition. NB entries to be 12 point font size (not 16) and Poems that have won a first prize in another bush poetry competition are not eligible. Cervantes WA.
WEB

____________________________________________________________________________________________________

AUGUST 2021

31 August - Closing Date - Betty Olle Poetry Award, Kyabram Victoria.
ENTRY FORM PAGE 1     PAGE 2

30th August - Closing Date - Toolangi CJ Dennis Poetry Competition, Healesville Victoria.
ENTRY FORM

____________________________________________________________________________________________________
APRIL 2021


30 April - Closing Date - 50th Bronze Swagman Award for Bush Verse. Winton, Queensland.
INFO    PDF
Results
For the results of an event, click on the link below. A new window will pop up with the respective results. On conclusion, close the pop-up results window to return to this one.
Results are displayed in reverse chronological order (most recent at the top)
____________________________________________________________________________________________________
RESULTS of 2021 EVENTS

22 October - Cervantes Art Festival Bush Poetry Competition, Cervantes WA.
RESULTS & JUDGE'S REPORT

3 October - Nandewar Poetry Competition, Narrabri NSW.
RESULTS & JUDGE'S REPORT

25 September - King of the Ranges Bush Festival written bush poetry competition, Murrurundi NSW.
RESULTS & JUDGE'S REPORT

September - Adelaide Plains Poetry Competition, Redbanks SA.
RESULTS

12 September - Logan's Muddy River Queensland Championships Performance Bush Poetry Competition, Beenleigh Queensland.
RESULTS

28 August - Bronze Spur Award, Camooweal Queensland.
RESULTS

20 August - Sutherland Shire Literary Competition, Sutherland NSW.
RESULTS

7 August - Eastwood/ Hills FAW Annual Literary Competition, Eastwood NSW.
RESULTS

4 July - Golden Wattle and Queensland State Championships for written bush poetry, North Pine, Queensland.
RESULTS

May - Eyre Writers Literary Awards 2021, Port Lincoln, SA.
RESULTS

11 April - Man from Snowy River Bush Poetry & Music Competition, Corryong, Victoria.
RESULTS     REPORT

28 March - Oracles of the Bush performance and written competitions, Tenterfield NSW.
RESULTS

22 March - 'Cloncurry Prize - Spirit of the Outback' poetry competition. Cloncurry Queensland.
RESULTS

17 February - Blackened Billy Verse Competition. Gladstone Qld.
RESULTS     JUDGES' REPORT

6 February - Kembla Flame written bush poetry competition, East Corrimal NSW.
RESULTS

26 January - Dusty Swag Awards, Portarlington Victoria.
RESULTS


____________________________________________________________________________________________________
RESULTS of 2020 EVENTS

December -  Lambing Flat Regional FAW Writing Competition, Young NSW.
RESULTS

November - C J Dennis Poetry Competition. Toolangi, Victoria.
RESULTS

1 November - WA State Championships. Toodyay WA.
RESULTS

1 November - Silver Quill Written Competition. Toodyay WA.
RESULTS

31 October -  Bronze Swagman Junior Performance Bush Poetry digital competition, Winton, Queensland.
RESULTS

23 October -  Ipswich Poetry Feast Writing Competition. Ipswich Queensland.
RESULTS

21 October - Betty Olle Poetry Award, Kyabram Victoria.
RESULTS

October - Nandewar Poetry Competition, Narrabri NSW.
RESULTS

11-13 September - Logan Bush Poets Annual Bush Poetry Competition. Performance and written. Logan Queensland.
RESULTS AND REPORT

August - Bronze Spur Award, Camooweal Queensland.
RESULTS

August - Brisbane EKKA Royal Queensland Show Bush Poetry competition, Brisbane Qld.
RESULTS (with video)     Article on Champion John Davis

2 August - Adelaide Plains Poetry Competition, Redbanks SA.
RESULTS

1 August - Eastwood Hills FAW Boree Log Award, Sydney NSW.
RESULTS

July - 49th Bronze Swagman Award for Bush Verse, Winton Qld.
RESULTS

June - Laura Literary Awards, Laura SA.
RESULTS

April - Sutherland Shire Literary Competition, Sutherland NSW.
RESULTS

April - Tom Collins Poetry Prize, Swanbourne WA.
RESULTS

5 April - Tenterfield Oracles of the Bush Festival (written only), Tenterfield NSW.
RESULTS

7 March - Milton Show open performance poetry competition, Milton NSW.
RESULTS AND REPORT

27 February - King of the Ranges Festival Bush Poetry Competition, Murrurundi NSW.
RESULTS     REPORT

22 February - Banjo Paterson Australian Poetry Competition, Orange NSW.
RESULTS

20 February - Blackened Billy Verse Competition, Orange NSW.
RESULTS

16 February - Boyup Brook Country Music Festival Written Bush Poetry Competition, Boyup Brook WA.
RESULTS

23 January - Golden Damper and Frank Daniel Award performance competitions, Tamworth NSW.
RESULTS

12 January - Kembla Flame written bush poetry competition, Minnamurra, NSW.
RESULTS

____________________________________________________________________________________________________
RESULTS of 2019 EVENTS

8 December - Lambing Flat FAW Cherry Festival Writing Competition, Young NSW.
RESULTS

1 December - Jackie's Spring Competition.
RESULTS

1 December - Toolangi C J Dennis Poetry Competition, Healesville Victoria.
RESULTS

3 November - WA Bush Poetry Championships - Silver Quill written and performance competitions, Toodyay WA.
RESULTS - WRITTEN     PERFORMANCE

1 November -  Ipswich Poetry Feast written competition, Ipswich Qld.
RESULTS

18 October - Cervantes Festival of Art written bush poetry competition, Cervantes WA.
RESULTS AND REPORT

17 October - The Betty Olle Poetry Award, Kyabram Victoria.
RESULTS

13 October - Victorian Song Championships and bush poetry at Benalla Muster, Victoria.
RESULTS

7 October -  Nandewar Poetry Competition, Narrabri NSW.
RESULTS

8 September - Queensland Bush Poetry Championships, Beenleigh Queensland.
REPORT AND RESULTS

26 August -  Camooweal Drovers' Camp Festival and Bronze Spur Award, Camooweal Qld.
REPORT & RESULTS

24 August - Eastwood/Hills FAW Boree Log competition, Sydney NSW.
RESULTS

4 August - Adelaide Plains Poets Inc 'Location' Poetry Competition, Redbanks SA.
RESULTS

30 July - The Bronze Swagman Award for written bush verse, Winton Queensland.
RESULTS

10 July - Laura Literary Awards, Laura SA.
RESULTS

1 July - Henry Lawson Memorial & Literary Society Poetry Competition 2019, Brighton Victoria.
RESULTS

5 June - Gulgong Literary Awards, Gulgong NSW.
RESULTS     HUMOROUS     SERIOUS

3 June - Grenfell Henry Lawson Festival Verse and Short Story Competition, Grenfell NSW.
RESULTS

7 April - Man from Snowy River Bush Festival, Corryong Victoria.
RESULTS     REPORT     WRITTEN

7 April - Oracles of the Bush Festival, Tenterfield NSW.
RESULTS

15 March - John O'Brien Bush Festival, Narrandera NSW.
RESULTS

3 March - Dunedoo Bush Poetry Festival performance and written competitions, Dunedoo NSW.
REPORT AND RESULTS

2 March - Milton Show Poets' Breakfast walk-up and open performance competitions, Milton NSW.
REPORT & RESULTS

23 February - Orange Banjo Paterson Australian Poetry performance competition, Orange NSW.
RESULTS

17 February - Boyup Brook Country Music Festival Written Competition, Boyup Brook WA.
RESULTS

25 January - Golden Damper Performance Competition, Tamworth NSW.
RESULTS AND REPORT

25 January - Blackened Billy Written Verse Competition, Tamworth NSW.
RESULTS

20 January - Jackie's Spring Poetry and Verse Stories for Kids Competition.
RESULTS

18 January - Kembla Flame Written Bush Poetry Competition, Minnamurra NSW.
RESULTS


____________________________________________________________________________________________________
RESULTS of 2018 EVENTS


2 December - Lambing Flat Fellowship of Australian Writers Writing Competition, Young NSW.
RESULTS

4 November - WA Bush Poetry State Championships and Silver Quill written competition, Toodyay WA.
WRITTEN RESULTS     REPORT AND PERFORMANCE RESULTS

21 October - C J Dennis Poetry Festival competition, Toolangi, Victoria.
RESULTS

19 October - Ipswich Poetry Feast, Ipswich Qld.
RESULTS

18 October -  Betty Olle Award Poetry Award. Kyabram Victoria.
RESULTS

6 October - Nandewar Poetry Competition. Narrabri NSW.
RESULTS

20 September - Waltzing Matilda Bush Poetry Awards - Junior Festival, Winton Qld.
RESULTS

9 September - Logan Performance Bush Poets performance competition, Beenleigh Historical Village and Museum Qld.
RESULTS

September - Milton-Ulladulla Junior Written Poetry Competition, Milton-Ulladulla NSW.
RESULTS

26 August - Drovers Camp Festival Talent Award, Camooweal Qld.
RESULTS

26 August - Bronze Spur Award, Camooweal Qld.
REPORT & RESULTS

21 August - Sutherland Shire Literary Competition, Sutherland NSW.
REPORT & RESULTS     WEB

10 August - Eastwood Hills FAW Literary Competition, Eastwood NSW.
RESULTS & REPORT

13 July - Griffith Riverina FAW Literary Competition, Griffith NSW.
RESULTS

7 July - Bronze Swagman Award for Bush Poetry, Winton Qld.
RESULTS

9 June - Grenfell Henry Lawson Festival, Grenfell NSW.
RESULTS

2 June - Laura Literary Awards, Crystal Brook SA.
RESULTS

25 May - Gulgong Henry Lawson Literary Awards, Gulgong NSW.
RESULTS

3 May - Mudgee Valley Writers Youth Literary Award, Mudgee NSW.
RESULTS

6-8 April - Tenterfield Oracles of the Bush festival, Tenterfield NSW.
REPORT AND RESULTS

5-8 April - Man From Snowy River Bush Festival, Corryong Victoria.
RESULTS

16-18 March - John O'Brien Bush Festival, Narrandera NSW.
RESULTS

4 March - Eyre Writers Awards, Port Lincoln SA.
RESULTS

4 March - Dunedoo Bush Poetry Festival, Dunedoo NSW.
RESULTS

3 March - Milton Show Poetry Competition, Milton NSW.
REPORT AND RESULTS

18 February - Boyup Brook Country Music Festival written bush poetry competition, Boyup Brook WA.
RESULTS

17 February - Banjo Paterson Australian Poetry Competition, Orange NSW.
RESULTS

27 January - Golden Damper Awards for Performance Bush Poetry and Frank Daniel , Tamworth NSW.
RESULTS

26 January - Blackened Billy Verse Competition, Tamworth NSW.
REPORT AND RESULTS

21 January - Kembla Flame Written Bush Poetry Competition, Illawarra Folk Festival, Bulli NSW.
RESULTS


____________________________________________________________________________________________________
RESULTS of 2017 EVENTS


December 2017 - Tom Collins Poetry Competition, Swanbourne WA.
RESULTS

3 December - South West Slopes Credit Union Writing Competition. Short story and poetry sections, Young NSW.
RESULTS

5 November - ABPA National Bush Poetry Championships, Toodyay WA.
RESULTS

5 November - Rolf Boldrewood Literary Awards, Dubbo NSW.
RESULTS

20-29 October Cervantes Festival of Art, Cervantes WA.
RESULTS

21 October - Toolangi C J Dennis Poetry Competition, Toolangi Victoria.
RESULTS

19 October -  The Betty Olle Poetry Award, Kyabram Victoria.
RESULTS

13 October -  Ipswich Poetry Feast, Ipswich Qld.
RESULTS

8 October - VBPMA Aussie Entertainment Muster and Victorian Song Championships, Benalla Vic.
RESULTS

1 October - Nandewar Written Bush Poetry Competition, Narrabri NSW.
RESULTS AND REPORT

17 September - Townsville Eistedfodd, Townsville Qld.
REPORT AND RESULTS

16 September - Henry Lawson Memorial and Literary Society Verse and Story Award, Brighton Vic. 
RESULTS

14 September - 22nd Annual Waltzing Matilda Junior Bush Poetry Festival, Winton Qld.
RESULTS

11 September - Bronze Swagman Award for Bush Poetry, Winton Qld.
RESULTS

9 September - Milton Show Society Junior  Poetry Competitions, Milton NSW.
RESULTS

27 August Camooweal Drovers' Camp Festival, Camooweal Qld.
REPORT AND RESULTS

22 July - Banjo Paterson Writing Awards, Orange NSW.
RESULTS

19 August - Words in Winter Trentham Bush Poetry Competition - original and performance, Trentham Victoria.
RESULTS

15 July - Kununurra Agricultural Society's annual ag show poetry and yarn competition, Kununurra WA.
RESULTS

6 July - Bronze Swagman Award, Winton Qld.
RESULTS

5 August - Eastwood Hills Annual Literary Competition, Eastwood NSW.
RESULTS

1 July - Henry Kendall Poetry Award, Gosford NSW.
RESULTS

16 June - Poetry by the River, Bush poetry picnic event run by Beaudesert  Bush Bards.
REPORT

12 June - Perisher Peak Festival Broken Ski Award and Snowy Poetry Cup, Perisher Valley NSW.
RESULTS

12 June - Henry Lawson Festival Verse and Short Story Competition, Grenfell NSW.
RESULTS

11 June - Henry Lawson Society Literary Awards performance and written, Gulgong NSW.
RESULTS

30 May - Adelaide Plains poetry competition, Redbanks SA.
RESULTS

29 May - Dusty Swag Awards written poetry competition, Portarlington Vic.
RESULTS

29 April - Laura Literary Awards, Crystal Brook SA.
RESULTS

25 April - Boondooma Homestead Anzac Poetry Competition, Boondooma Qld.
RESULTS

2 April - Oracles of the Bush, Tenterfield NSW.
RESULTS

2 April - Man From Snowy River Bush Festival and ABPA Victorian State Championship, Corryong Vic.
RESULTS

4 March - Dunedoo Bush Poetry Festival written competition, Dunedoo NSW.
RESULTS AND REPORT

4 March - Milton Show Adult Performance Bush Poetry Competition, Milton NSW.
REPORT AND RESULTS

19 February - Boyup Brook Country Music Festival Writers Competition, Boyup Brook WA.
RESULTS

18 February - Banjo Paterson Australian Poetry Competition, Orange NSW.
RESULTS

28 January - Tamworth Country Music Festival - Blackened Billy written verse competition, Golden Damper performance poetry competition, Inaugural Frank Daniel People's Choice walk-up Award and 2017 ABPA Committee members, Tamworth NSW.
RESULTS

27 January - Blackened Billy Verse Competition, Tamworth NSW.
RESULTS

13 January - Kembla Flame written bush poetry competition, Illawarra NSW.
RESULTS

____________________________________________________________________________________________________
RESULTS of 2016 EVENTS


4 December - Lambing Flat Regional FAW Writing Competition, Young NSW.
RESULTS

6 November -  ABPA WA Championships, Toodyay WA.
RESULTS

6 November - Rolf Boldrewood Awards, Dubbo NSW.
RESULTS

23 October - C J Dennis Poetry Festival, Toolangi Vic.
REPORT AND RESULTS

21 October - Ipswich Poetry Feast, Ipswich Qld.
RESULTS

13 October - Betty Olle Poetry Award, Kyabram Vic.
RESULTS

7-9 October - Aussie Entertainment Muster - Victorian Song Championship, Poets Breakfasts, Workshops, jammalong etc. at Benalla Bowls Club, NE Victoria.
RESULTS AND REPORT

3 October - Nandewar Poetry Competition, Narrabri NSW.
RESULTS AND REPORT

11 September - ABPA NSW Bush Poetry Championships and Binalong Poetry Prize, Binalong NSW.
RESULTS AND REPORT

11 September - Logan Village Music and Heritage Festival Bush Poetry Competition, Logan Village Qld.
RESULTS AND REPORT     FACEBOOK

28 August - Drovers' Camp Talent Award and Bronze Spur written competition at Drovers' Reunion , Camooweal Qld.
RESULTS AND REPORT

13 August - 'Copper Croc' Poetry Awards, Theodore Qld.
RESULTS AND REPORT

6 August - FAW Eastwood Hills Boree Log Award for Bush Verse, Sydney NSW.
RESULTS AND REPORT

9 July - Banjo Paterson Writing Awards, Orange NSW.
RESULTS

9 July - Bronze Swagman Award, Winton Qld.
RESULTS

1-3 July - Bundy Bush Poetry Muster, Bundaberg Qld.
RESULTS

13 June - Perisher Peak Festival Broken Ski Poetry Award, Perisher Valley NSW.
RESULTS

12 June - Festival of the Fleeces Poets' Breakfast, Merriwa NSW.
RESULTS

12 June - Grenfell Henry Lawson Society Literary Awards, Grenfell NSW.
RESULTS

11 June - Henry Lawson Society Literary Awards, Gulgong NSW.
RESULTS

1 May - Rathdowney Bush Poetry Competition, Rathdowney Qld.
RESULTS

3 April - Man from Snowy River Bush Festival (incorporating the Victorian Bush Poetry Championships 2016), Corryong Victoria.
RESULTS     JUNIOR

3 April - Oracles of the Bush Festival, Tenterfield NSW.
RESULTS

18-20 March - John O'Brien Festival, Narrandera NSW.
RESULTS

6 March - Dunedoo Bush Poetry Festival, Dunedoo NSW.
RESULTS     WRITTEN

21 February - Boyup Brook Written Bush Poetry Competition, Boyup Brook WA.
RESULTS

21 February - Banjo Paterson Bush Poetry Competition, Orange NSW.
RESULTS

23 January - ABPA Golden Damper Bush Poetry Performance Competition, Tamworth NSW.
RESULTS

22 January - Blackened Billy Verse Competition, Tamworth NSW.
RESULTS
 
____________________________________________________________________________________________________
RESULTS of 2015 EVENTS

 
5 December - Young Cherry Festival, Young NSW.
RESULTS - WRITTEN     RESULTS - PERFORMANCE

1 November - WA State Championships, Toodyay WA.
RESULTS - WRITTEN     RESULTS - PERFORMANCE

1 November - Festival of Art Bush Poetry Competition, Cervantes WA.
RESULTS

November - Rolf Boldrewood Literary Awards
RESULTS

23 October - Ipswich Poetry Feast Poetry Writing Competition, Ipswich, Qld.
RESULTS     WEBSITE

17-18 October - Nandewar poetry competition, Narrabri NSW.
RESULTS

17-18 October - Kangaroo Valley Folk Festival poetry competitions, Kangaroo Valley NSW.
RESULTS

17 October - Toolangi C.J. Dennis Poetry Festival written poetry competition, Toolangi Victoria.
RESULTS     WEBSITE

9 October - Rutherglen Agricultural Show Bush Poetry Competition, Rutherglen Victoria.
RESULTS

28 September - Gilgandra Coo-ee Festival Written Bush Poetry, Gilgandra NSW.
RESULTS

4 September - Kembla Flame and Kembla Star Written Bush Poetry Competition presented at Folk By The Sea Festival, Kiama NSW.
RESULTS

28-30 August - North Pine BUsh Poets Camp Oven Festival, Kalangur Qld.
RESULTS

21-23 August - Camooweal Drovers Camp Festival, Camooweal Qld.
RESULTS     REPORT

8 August - EKKA Bush Poetry Competition, Brisbane Qld.
RESULTS & REPORT

1 August - Eastwood/Hills Fellowship of Australian Writers Boree Log Award for Bush Verse 2015, Eastwood NSW.
RESULTS

3-5 July - Bundy Bush Poetry Muster & Queensland Championships, Bundaberg Qld.
RESULTS     REPORT

23 June - Orange Banjo Paterson Literary Awards, Orange NSW.
RESULTS

20 June - National Henry Lawson Society Poetry Competition, Melbourne Victoria.
RESULTS

6-8 June - Henry Lawson Poetry Awards, Gulgong NSW.
RESULTS

6-8 June - Grenfell Henry Lawson Literary Awards, Grenfell NSW.
RESULTS

5-8 June - Perisher Peak Festival, Perisher Valley NSW.
RESULTS

June - 44th Bronze Swagman Award for Bush Poetry, Winton Queensland.
RESULTS

8 May - Copper Croc Poetry Awards, Theodore Queensland.
RESULTS

9-12 April - Australian Bush Poetry Championships at The Man from Snowy River Bush Festival, Corryong Victoria.
RESULTS

5 April - Rathdowney Heritage and Country Market bush poetry competition, Rathdowney Queensland.
RESULTS

26-29 March - Oracles of the Bush in Tenterfield NSW.
RESULTS

18 March - Eaglehawk Dahlia and Arts Festival Literary Competition, Eaglehawk Victoria.
RESULTS

13-15 March - John O'Brien Festival at Narrandera NSW.
RESULTS

8 March - Dunedoo Bush Poetry Festival, Dunedoo NSW.
RESULTS     REPORT

21 February - Milton Show Society  Bush Poetry Adult Performance Competition, Milton NSW.
RESULTS

17 February - Banjo Paterson Australian Poetry Competition 2015, Orange NSW.
RESULTS

15 February - Boyup Brook written bush poetry competition, Boyup Brook WA.
RESULTS & REPORT

24 January - Golden Damper performace bush poetry award, Tamworth NSW.
RESULTS & REPORT

23 January - Blackened Billy written competition, Tamworth NSW.
RESULTS & REPORT

21 January - ABPA fund-raising concert, Tamworth NSW.
REPORT

20 January - Australian Bush Laureate Awards 2015, Tamworth NSW.
RESULTS

____________________________________________________________________________________________________

RESULTS of 2014 EVENTS


December - Finalists announced for Australian Bush Laureate Awards 2015, presented on Tuesday 20th January 2015 at Town Hall Tamworth NSW.
WEBSITE

6 December - Young Cherry Festival Bush Poetry Competition and poets breakfast, Young NSW.
RESULTS

December - Rolf Boldrewood Literary Awards, Dubbo NSW.
RESULTS     PDF

26 October - WA State Championships, Toodyay Bush Poetry Festival, Toodyay WA.
REPORT & RESULTS

25 October - Dorrigo Folk and Bluegrass Festival Poets Breakfast Competition in Dorrigo NSW.
RESULTS

24 October -  Ipswich Poetry Feast - Poetry Writing Competition, Ipswich Queensland.
RESULTS

19 October - Kangaroo Valley Folk Festival Written Poetry Competition, Kangaroo Valley NSW.
RESULTS

18 October - Toolangi CJ Dennis written Poetry Competition, Toolangi Victoria.
RESULTS

12 October - Aussie Bush Entertainment Muster, Benalla Victoria.
REPORT & RESULTS

5 October - Nandewar Poetry Competition, Narrabri NSW.
RESULTS

28 September - Gilgandra Coo-ee Festival written poetry competition, Gilgandra NSW.
RESULTS

14 September - Logan Village Music and Heritage Festival. Performance bush poetry competition, Logan Queensland.
RESULTS

12-14 September - Binalong Bush Poetry Prize and NSW Championship, Binalong NSW.
RESULTS

23-24 August - Camooweal Drovers' Camp Festival and Bronze Spur Award for written poetry, Camooweal Queensland.
RESULTS

22-24 August - North Pine Bush Poetry Festival and Graham Fredriksen Memorial Written Bush Poetry Competition, Kallangur Queensland.
RESULTS

15 August - FAW North Shore Vibrant Verse Poetry Competition 2014, Sydney NSW.
RESULTS

5 August - Mudgee Valley Writers 13th Biennial Competition, Mudgee NSW.
RESULTS

2 August - Eastwood/Hills NSW Fellowship of Australian Writers Boree Log Award for Bush Poetry 2014
RESULTS

20 July - 'Kembla Flame' written bush poetry award on the Illawarra coast of NSW.
RESULTS

4-6 July - 19th Bundy Bush Poetry Muster incorporating Queensland State Performance Championships 
RESULTS

June - Bronze Swagman Award for Bush Poetry in Winton Outback Queensland.
RESULTS

6-9 June - Gulgong Henry LawsonSociety of NSW Literary Awards in Gulgong NSW.
RESULTS

6-9 June - Broken Ski and Snowy Poetry Cup Awards at the Perisher Peak Festival, NSW.
RESULTS

26 April - Copper Croc Poetry Awards, Theodore QLD.
RESULTS & Judges's Report

3-6 April - Man From Snowy River Bush Festival, Corryong Victoria.
RESULTS

6 April - Oracles of the Bush, Tenterfield NSW.
RESULTS

March - Free Xpression Magazine Literary Competition
RESULTS

March - Eaglehawk Dahlia and Arts Festival, Eaglehawk Victoria.
RESULTS

March - Eyre Writers Awards, Port Lincoln SA.
RESULTS

16 March - Yass Show Poetry Performance and Written Competition, Yass NSW.
RESULTS and Judge's Report

13-16 March - John O'Brien Festival, Narrandera NSW.
RESULTS

27 February - 2 March - Dunedoo Bush Poetry Festival, Dunedoo NSW.
REPORT and RESULTS

February 2014 - Boyup Brook Country Music Festival written competition, Boyup Brook WA.
RESULTS and Judge's Report

January 2014 - Essential Energy Golden Damper performance competition and Blackened Billy written poetry award, Tamworth NSW.
RESULTS

January 2014 - Australian Bush Laureate Awards, Tamworth NSW.
RESULTS

____________________________________________________________________________________________________
RESULTS of 2013 EVENTS

  
November 2013 - Toodyay WA Bush Poetry Festival
RESULTS (Link to their web page) 

October 2013 - The International Cowboy Written Results
RESULTS, Report and Winning Poem

October 2013 - Cervantes WA written competition
RESULTS

April 2013 - The Inaugural 'Copper Croc Poetry Awards'
2013 Copper Croc Report and Results

April 2013 - Tumut Festival of The Falling Leaf
2013 Tumut Falling Leaf Report

April 2013 - Victorian Bush Poetry Championships at Man from Snowy River Festival
2013 MFSR Report and Results

March 2013 - Yass Show Poetry Comp
2013 Yass Show Report

March 2013 - Adelong Show "Best of the Bush" Bush Poetry Competition
2013 Adelong Report

January 2013 - Tamworth Blackened Billy Verse Competition &
2013 ABPA TAMWORTH GOLDEN DAMPER AWARDS proudly sponsored by Essential Energy
 
____________________________________________________________________________________________________
RESULTS of 2012 EVENTS

 
October 2012 - Cervantes Art Festival, WA. 

October 2012 - Hunter Bush Poets Poetry Festival, Mandalong NSW. 

October 2012 - Nandewar Poetry Competition, Narrabri NSW. 

August 2012 - Camooweal Drovers Camp Festival, Camooweal Qld. 

July 2012 - ABC Radio Far North Queensland Bush Poetry Competition. 

July 2012 - Kembla Flame, Dapto NSW. 

July 2012 - Bundaberg Bush Poets Muster, Bundaberg Qld. 

May 2012 - Beef Australia, Rockhampton Qld. 

April 2012 - Australian Bush Poetry Championships Man From Snowy River Festival, Corryong Victoria
ADULT RESULTS ... JUNIOR RESULTS
 
March 2012 - Dunedoo Written Bush Poetry Results 2012 

March 2012 -  17th Annual Junior Waltzing Matilda Bush Poetry Awards, Winton Qld.

February 2012 - Boyup Brook Written Poetry Results 2012 

January 2012 - Tamworth Blackened Billy Verse Competition &
2012 ESSENTIAL ENERGY TAMWORTH GOLDEN DAMPER AWARDS

____________________________________________________________________________________________________
RESULTS of 2011 EVENTS

 
October 2011 - Australian Written Championships - Morriset 

August 2011 - Camooweal Drover's Camp Festival Report

August 2011 - NORTH PINE BUSH POETS' CAMP OVEN FESTIVAL Results 

July 2011 2011 Bundy Bush Poets Bash (Including the Bush Lantern Award for Verse) Results

June 2011 2011 Henry Lawson Society of NSW Inc (Gulgong) Results

May 2011 2011 NSW PREMIER'S LITERARY AWARD WINNERS ANNOUNCED

March 2011 DUNEDOO—NSW State Championships

January 2011 Tamworth Country Energy Golden Damper Awards 2011
Report by Jan Morris

January 2011 THE BLACKENED BILLY WRITTEN VERSE COMPETITION
Judges Report

____________________________________________________________________________________________________
RESULTS of 2010 EVENTS

 
December 2010 YOUNG NSW NATIONAL CHERRY FESTIVAL - Poet's Competition
Report by Greg Broderick

November 2010 LAND of the BEARDIES – NEW ENGLAND HERITAGE in Verse Competition
Report by Neville Campbell

November 2010  DALGETY SNOWY RIVER - Snowy Ride Celebration
Report from Lee Taylor Friend

November 2010 MALDON FOLK FESTIVAL Vic.
Report by Geoffrey W Graham

October 2010 RUDD'S PUB Bush Poetry Competition – NOBBY Qld.
Report

October 2010 THE TOOLANGI CJ DENNIS POETRY FESTIVAL
Report from Stephen Whiteside

October 2010 HUNTER BUSH POETRY FESTIVAL – Morisset NSW
Report

October 2010 URALLA BOWLO PERFORMANCE BUSH POETRY COMPETITION
Report Kelly Walters Uralla Bowlo Events Coordinator

October 2010 VICTORIAN STATE CHAMPIONSHIPS – Wedderburn Vic.
Report by Jan Lewis

MONTROSE COLORADO USA
Report

October 2010 NANDEWAR POETRY COMPETITION
Report