Member Achievements
The ABPA acknowledges the achievements of members and past members who specialise in specific areas which help to promote the cause of the ABPA and of bush poetry in general.

Here are the special achievers from previous months:

Noel Stallard OAM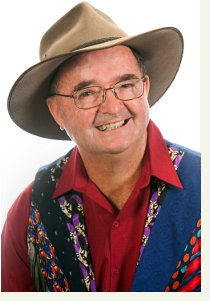 It is with great pride and pleasure we acknowledge ABPA member and past president Noel Stallard who was awarded a Medal of the Order of Australia in the 2019 Australia Day Honours list.
Noel has been a stalwart of our Association and a very enthusiastic, hard-working and much loved presenter of bush poetry.
He was ABPA President from 2006 to 2009 and presents the Verse for Vinnies bush poetry shows in Brisbane six times a year. Noel and his wife Ann have been running the event since 2012 and have raised over $90,000 for the St Vincent de Paul Society.
Noel came to bush poetry through the works of Monsignor Patrick Hartigan who wrote under the name of John O'Brien. "'We'll all be rooned', said Hanrahan" is probably his most famous line and is from the poem
Said Hanrahan
. Noel has been a regular at the John O'Brien Festival in Narrandera NSW for many years, reciting O'Brien poem and appearing as "Father Pat" the priest.
Still writing and reciting, Noel was at the recent Tamworth Country Music Festival with a tribute show to the drovers through the poetry of Bruce Simpson. He and Marion Fitzgerald performed two shows during the festival which were very warmly received.
More information about Noel as well as his books and recordings are available from his
website
.
The ABPA congratulate Noel on his award and are proud to have him as an ambassador for bush poetry.
See the full OAM citation here
(pdf).
---
Jeff Close OAM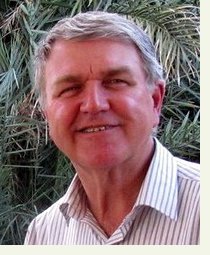 We are also proud to recognise ABPA member Jeff Close as a recipient of a Medal of the Order of Australia in the 2019 Australia Day Honours list.
Jeff has a very long involvement with bush poetry with his interest beginning in childhood. For many years he has been the coordinator of the
Bronze Swagman
written bush poetry awards based in Winton Queensland as well as the Junior Bush Poetry Performance Competition. Jeff began a teaching career in Winton in 1976 and still continues a strong involvement with the town despite now living in Hampton Queensland. He is incredibly community-minded and gives generously of his time and efforts to support events and organisations in both places.
In Winton he has been a stalwart of the Historical Society, the Tourist and Progress Association, the Outback Festival, the Outback Writers' Festival and the Waltzing Matilda Centre where he is a current board member.
Closer to home, Jeff is the owner and manager of Rhonda's Refits and
Outback Books
in Toowoomba. He has been involved in the Crows Nest and District Tourist and Progress Association which instituted Crows Nest Day and helped establish the Crows Nest Visitor Information Centre, the Business Association, Community Arts & Crafts and the Heritage Bank. Jeff has been an active member of the local Agricultural, Horticultural & Industrial Society and Hampton Food and Arts Festival.
He's also the author of several books on historical places and people. How does he fit it all in?
Congratulations to Jeff, a great supporter of rural Australia and bush poetry.
---
Shelley Hansen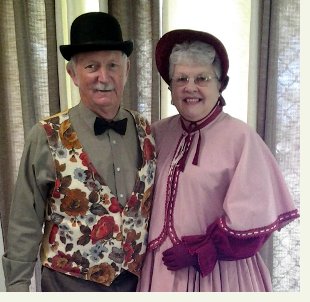 Shelley Hansen is a fifth-generation resident of Queensland's Fraser Coast.  She grew up in a family where Australian poetry was enjoyed and recited, and early influences included Paterson, Lawson, and a much-loved CJ Dennis.
Shelley has achieved many awards with her written poetry, and her poem Teddy Teddy which won the 2016 ABPA Queensland Written Bush Poetry Championship has been used by Zonta Clubs and various sectors of the Police and Public Service to highlight the effects of domestic violence on children.  Her commemorative poem Flying Doctor has featured as a fundraiser for the RFDS, and her tribute to aviator Bert Hinkler Our Bert has been endorsed and publicised by the Hinkler Hall of Aviation.
Her success in an international poetry competition led to publication of her book Lady of Lines – An Australian Journey in 2015.  She has also released a studio-recorded CD of original bush poetry.  Her monthly emailed newsletter eLines is a one-page collection of poetry topics and is available free to subscribers.
Shelley describes herself as a "storyteller", with a special interest in Australian history – particularly the untold tales.  She has been commissioned to write and perform various commemorative poems for local landmarks, including the iconic Hervey Bay Pier, and the historic Maryborough Hospital.  Shelley and her husband Rod perform regularly at local and regional events, often in period costume (as pictured above) in line with heritage themes.  They are an established part of the annual Shipping Reunion which celebrates 19th century immigration to the Port of Maryborough.
Recently Shelley has begun a collaboration with local graphic artist Jackalina Designs, to produce a range of merchandise featuring poetry and artwork depicting one of Maryborough's icons – the old "Queenslander" house.
In 2012 ABC Radio Wide Bay began to feature local poetry as part of Rick Whittle's breakfast show.  Shelley was the inaugural poet – and she and Rod are now well into their seventh year of regular Saturday morning recitals.
This year Shelley was commissioned to write and compile a concert of poetry and prose, celebrating the Tambo region on the Barcoo River.  Incorporating classic and modern poetry, plus original narrative and verse, this presentation is being performed as part of Tambo's grey nomad tourist season.  It features the adventures of Tambo's famous son, cattle rustler Harry Redford – along with other fascinating aspects of the region's history.
Shelley also recently won the traditional verse section of the inaugural Sutherland Shire Literary Awards with her poem
Jack, My Friend
.
Shelley's story, monthly news and a selection of her poems can be found on her
website
.
---
Ray Essery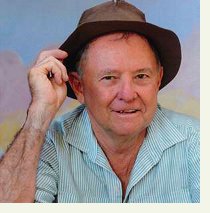 Ray Essery 'The Mullumbimby Bloke' is without doubt one of the most highly regarded performing Bush Poets in Australia today.
This 'North Coast, NSW' poet can leave his audience in stitches with hilarious tales that reflect his years as a dairy farmer, navy man and Sydney pub manager. Likewise he can dig deep into the kitbag of his family memories to deliver heartfelt recollections of his early life, taking his audience on a nostalgic journey back to when life on the North Coast was just a little less complicated. 
This mischievous, lovable larrikin is equally at home performing at any of Australia's major festivals as he is entertaining at a corporate event. 
Ray Essery is a story teller, a historian, a romantic, a comic and above all else, an entertainer. 
Ray's autobiography
One Hell of a Ride
is available from   or phone Ray on 0438 843 817.
---
The late Prousty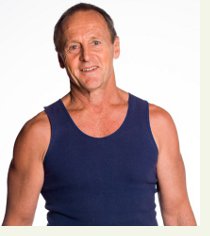 Dave Proust, better known as 'Prousty' was born on an egg producing chook farm in a little valley called Dooralong. He went to a one teacher school, Dooralong Primary School with only 26 kids. His parents worked long hours on the farm as did he and his brothers and sister. This hard rural life was where he evolved his deep love for the Australian Bush and rural way of life.
Prousty married his wife Therese when they were young and they had six Children in quick succession.
He had many jobs including working as a rouseabout, he worked on a cattle station in the Northern Territory, he was a licensed plumber and was a professional firefighter for over 26 years.
Prousty didn't do particularly well at school, not because he wasn't bright but because of his dyslexia. It was being dyslexic that started him down the poetry road as he found poetry easier to read than normal text. He listened to his dad, Peter, recite The Man from Snowy River with passion and action, cracking the whip at the appropriate moments and changing the volume and level of his voice as he went, so when Prousty started performing, it was his father's animated style that he recreated.
Prousty didn't write his first poem until he was nearly 40 and on hearing this poem his friend Mike entered him in The Golden Damper Poetry Performance Competition in Tamworth where he won the original section with a tragic poem about his Mate dying from cancer, "Mates". He went on to win the Golden Damper three times and was runner up 3 times.
It was Ray Essery who encouraged him to write comedy, saying "Life's too serious, people want to have a laugh" so through Ray's input Prousty has become one of the better know Comedy Performance Bush Poets in the country.
Working 2 jobs and with all those kids Prousty didn't enter in very many poetry competitions, although while holidaying in the USA he did win the American Cowboy Poetry Rodeo Competition.  Prousty was in high demand for many of the major country music festivals performing poetry and as an MC.  He was also in demand as a performer at corporate functions. He could also be seen doing the odd TV commercial, his last was on "Whats Up Down Under" which is aired on channel 10.
Not bad for a kid from Dooralong with Dyslexia.
[Prousty passed away in October 2021.]
---
The late Tim Borthwick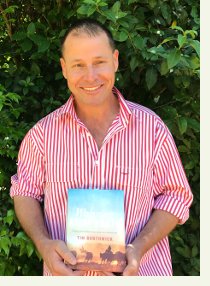 ABPA member, Tim Borthwick from Toowoomba Queensland, had long held an appreciation for bush poetry and story telling, but he was nearly 30 before he began putting pen to paper and dabbling in the art himself. He was always intrigued by the way some of the greats, such as Banjo Paterson and Henry Lawson could tell a tale not only in rhyme but in rhythm as well, and it is to them that he owed his love of verse. He enjoyed writing, as much for the pleasure and satisfaction than anything else, and he found it a great way to convey a yarn. He had been writing for over 18 years, and had self-published five times.
Although Tim rarely competed in competitions, he entered and won the Winton Bronze Swagman Award in 2014 and was runner up in 2017.  His association with Winton also included helping to run the inaugural Outback Writers' Festival in 2016, which fortuitously led to an invitation to prepare a manuscript of his poems with background information and this concept was taken up by Harper Collins.  The outcome was the publication of his book
Waltzing Australia
which was released in 2017 together with an audio presentation of the poems by Jack Thompson.
Tim couldn't have be happier with the response this book received.  He realised how fortunate he was to be given the opportunity to produce Waltzing Australia.
[Sadly, Tim passed away in August 2018. See
article in Queensland Country Life
.]
---
Jason Roweth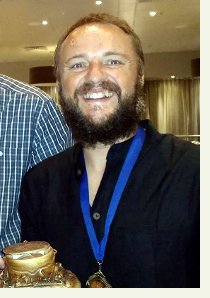 A natural storyteller, Jason Roweth presents a dynamic combination of new and old Australian traditional poems, songs and yarns. He'll take you on a journey, make you laugh, and make you think. A versatile performer, Jason holds an audience in a small room, or under lights – he has a rare ability to make a large space feel small; bring the relaxed warmth of a yarn on the verandah to the big stage.
Jason has spent the last twenty years as a singer, reciter and musician, researching, performing and recording Australian traditional music and poetry. He is a keen educator, performing regularly for primary school children in the Bathurst region, where he makes learning a byproduct of an interactive evening of singing, dancing and sharing stories under the stars.
When reciting, Jason draws from the great Australian writers - Henry Lawson, Banjo Paterson, Denis Kevans, Roger Montgomery, John Dengate and many others less well known.
Jason's skills have been recognised with some prestigious awards, including ABPA Golden Damper Winner 2016, National Folk Festival Reciter of the Year in 2015, and National Folk Festival Yarnspinner of the Year in 2013. 
---
Jan Lewis, ABPA Facebook editor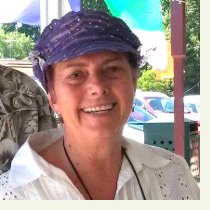 In January, the ABPA welcomed Jan Lewis as
Facebook
Editor.
Jan Lewis, also the Victorian State representative, has been involved with the ABPA since its inception.
Jan is also volunteer event manager of the annual bush poetry events at The Man From Snowy River Bush Festival, and has organised many Victorian and Australian Championships.
Her other role is secretary of Victorian Bush Poetry and Music Association and editor of their
Facebook page
too!
Jan lives in the village of Cudgewa, Northeast Victoria with her partner Linton, and they enjoy attending folk festivals, fitting them around farm responsibilities and visiting their tribe of children and grandchildren.
---
Catherine Lee, 2018 Blackened Billy Winner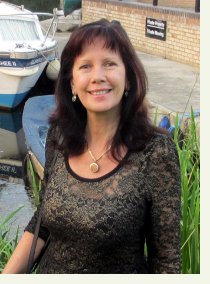 Catherine is a freelance professional proof reader and editor who has lived in many exotic locations in recent years. She has always loved poetry with rhyme and metre, and has been writing in this style for as long as she can remember. As a child she performed in poetry recitation competitions, but this is not something she continued as an adult, preferring instead to concentrate on the writing.
She began entering competitions in 1994, but it was while living in Papua New Guinea in the late nineties that she was asked to share her poetry in public for the first time, reading to a group of mostly Australians. Their response was so positive that she was persuaded to self-publish a small book which she subsequently sold at the local market. Meanwhile, over the years she has had some articles, poetry and short stories published in magazines within Australia, PNG, the Philippines, Singapore and Bangkok.
Traditional style poetry is her first love however, and Catherine has won many awards for her writing including the Blackened Billy, the Bryan Kelleher Literary Award for two consecutive years as well as a nomination for the Australian Bush Laureate Awards.
Catherine is host editor of the International Xpressions and Famous Poets' Birthdays pages for FreeXpression, and a keen promoter of traditional Australian verse overseas whenever opportunities arise. As well as writing, reading and playing the piano, she feels travel has greatly enriched her life and considers it an enormous privilege to experience such diverse cultures and locations and meet so many different people. These experiences, along with memories of her own culture and surroundings, provide her with inspiration.
Catherine says she can be a bit of an idealist at times, but she truly believes that a smile speaks all languages and poetry and music speak directly to the heart and soul.
See Catherine's 2018 Blackened Billy winning poem
here
.
---
Dr James Fitzpatrick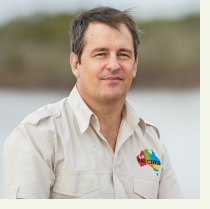 A newcomer to the ABPA competition scene,
Dr James Fitzpatrick
won the National Championship Male Performance Award in Toodyay, West Australia in both the Original Serious and the Original Humorous categories. 
James has worked for over twenty years as a paediatrician and researcher in some of Australia's hardest to reach places. He is the President of PATCHES Paediatrics delivering cutting-edge child development and disability services to remote communities through the child protection and justice systems. He is a leading expert on the devastating Fetal Alcohol Spectrum Disorder.
His poetry, collected in his book
Philosophy that Rymes – A Poetry Anthology
 by Dr James Fitzpatrick, "…epitomises the medical humanities—the coming together of art, science and sheer hard work—to reflect on life, medicine, sorrow, hope and love in the heart of Australia."  From personal experience, his poetry "…takes on some of the country's most intractable issues in verse… which reveals deep insights and stirs raw emotions."
For information and ordering go to James's
website
.
---
Bill Gordon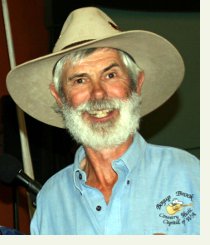 At the end of 2015 I had been farming for 50 years. In that time my life has taken many twists and turns. I started as a farm hand working for my father. Then I graduated to becoming stud groom, showing Dad's Angus cattle at Sydney Royal Show and several country shows in NSW (the family farm was near Orange).
At the time I married Meg I was running my own Angus stud and commercial cattle herd plus prime lambs.
After we moved to Boyup Brook in 1978 with three boys under 4ys. It was Merino sheep plus oats. The collapse of the wool market in 1990 forced us into cropping canola and barley. We are still growing those crops, but the sheep enterprise has shifted focus onto the live export market.
So my farming career has not been simply doing the same thing year after year. I have also been a wool classer, mechanic, chook farmer, bush vet, bookkeeper and worn many other hats in my time as a farmer.
The 'Bush Poet' hat is fitting very comfortably at the moment.
Recently we have been leasing the farm and spending a lot of time travelling, writing poetry, attending and performing at festivals, and catching up with family and friends right across Australia. The camper trailer has been giving good service and nowadays we could be anywhere...
Bill Gordon
President
WA Bush Poets and Yarnspinners
---
Mary Finch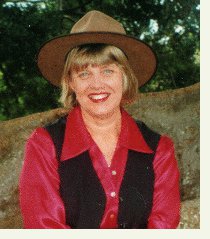 By choice, for many years Mary Finch was content to remain in the background as main supporter, adviser, and coach to her husband Wally. Her own gifted talent for performance poetry seemed destined to remain dormant indefinitely. However, she was eventually coerced to perform. 
Right from the outset, Mary's potential to be a great poet was so obvious she spent very little time in Novice Competition.  In fact, she broke her Novice status one day and performed in Open the next — being placed in the top three of every category with some serious competition from a large line-up.  Considering her background, perhaps, there is no surprise in that.
In an earlier life, Mary spent six years full time study at the Queensland Conservatorium of Music (giving us a fair indication her first love is singing).  From her comprehensive formal training Mary gained a large variety of skills in various disciplines such as language (English and Italian), voice projection, and heap of other assets invaluable to performance of both poetry and singing. These facets went well within the country music scene.
Once Mary started performing bush poetry in her own right, she also discovered talents for judging and organising events in our genre  —  which she thoroughly enjoys as it gives so many opportunities to put her formal training and performance skills to best use.  In her comments to the competitors, she tries to be as helpful as possible and to give positive, sincere encouragement. 
Mary's poetry and songs done from the perspective of a fun-filled, feminine point of view, are performed straight from the heart.
---
Award Winning Australian Writing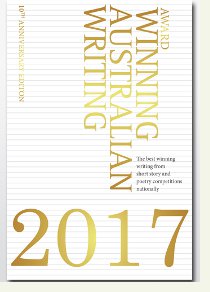 Five ABPA poets have poems in the upcoming 10th anniversary edition of the very prestigious
Award Winning Australian Writing
(AWAW) book, published by Melbourne Books. It is
available online here
.
Despite featuring mainly free verse poetry and short stories, the new edition will feature bush poetry from: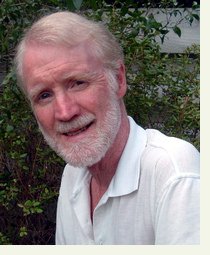 David Campbell
:
A Man Alone
which won the C J Dennis Poetry Award at the Laura Literary Awards, Laura, South Australia;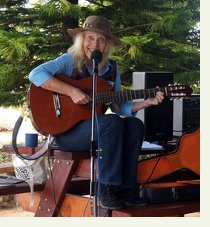 Brenda Joy
:
Solace
which won the Boyup Brook Country Music Festival Bush Poetry Competition;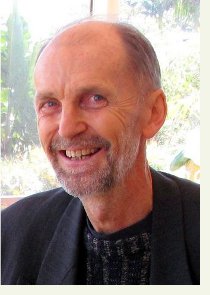 Tom McIlveen
:
Bobby is Back
which won the ABPA West Australian State Championships Serious Section;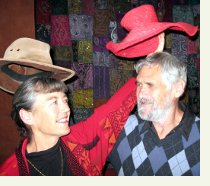 Max Merckenslager
: (that's him on the right)
An Outback State of Mind
which won the ABPA Betty Olle Awards.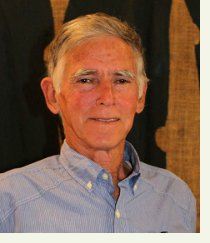 Will Moody
: Eternity which won Poetica Christi Press Poetry Competition;
Not only is this great exposure for bush poetry and its award-winning writers but also for festivals holding bush poetry competitions around the country. For example, Laura Literary Awards run by the Rocky River 'Riters only recently included a Bush Poetry section in their awards and last year the winning poem was the only rhyme and metered poem in the 2016 Award Winning Australian Writing. So that is a double for Laura straight off!
Congratulations to these talented poets and thanks to
Melbourne Books
.
David Campbell has recently had an article published in
The Australian
newspaper accusing
Contemporary Australian Poetry
editors of neglecting rhymed verse.
See the article here
.
---
Carol Heuchan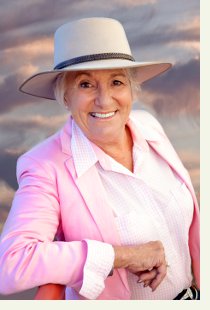 Carol Heuchan, from Cooranbong in NSW, has always been a country girl. A capable horsewoman  who spent many years on a sheep and cattle station in the Snowy Mountains, she has 'had a go' at most horse sports though her forte was the world of elite show horses. She competed with success at over fifty Royal Shows around Australia and in more recent times, became the Main Arena Commentator at Sydney Royal Easter Show and in 2017 was honoured to judge their prestige horse events.
Despite her high profile Bush Poetry career, it only started in 2003 when her first book came out and friends took her to Tamworth – her first ever competition. Success led to success and in a short time, she amassed a heap of elite awards (including winning the richest prize in Poetry history) and then withdrew from competition to become a professional Bush Poet.
Highlights include nine Bush Laureate Awards, an ABC Television series ('Bush Slam'), successfully contesting the World Poetry Debate, and performing at some of the largest (and the smallest!) events in Australia (and New Zealand) as well as corporate functions and Charity events throughout the country. 
Just to make sure she doesn't get a minute's rest, she also regularly commentates at major horse events, live streamed to some eighty thousand viewers around the world.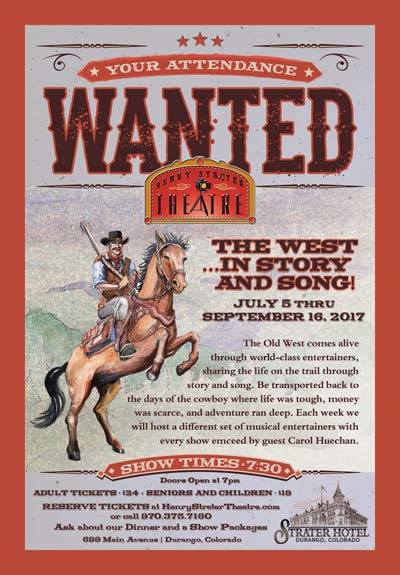 But poetry is her focus.  In 2009 Carol was, with Milton Taylor's endorsement, invited to perform at the National Cowboy Poetry Gathering in Elko, Nevada, USA. And that was just the beginning. She has done nine professional performance tours of US and Canada to date and in June this year, headed off for probably the ultimate gig.
Carol has a three month contract in Durango, Colorado! Her rural background and her original poetry fit the genre well, it seems. She is to MC and do poetry four nights a week at the historic Henry Strater Theatre in a very exciting production which will target the huge summer tourist trade that Durango attracts.  Each week a different singer/musician comes in to perform with Carol and they are some of the top Western artists in the US.  Ticket sales are already well under way apparently, with package tours linked to the fabulous Strater Hotel. 
Why an Australian to tell the story of the West, you ask?  In her own words, 'Sometimes people who lead extraordinary lives do not realise just how extraordinary they are and it is only when someone from the outside looks in, that the adventure, the romance, the excitement unfolds.'
And if that's not exciting enough, she has already been booked for our Championships WA, then New Zealand in November. In 2018 she's back to US again — Northern Colorado (Golden) in January, then Alpine, Texas (yippee) in March, then Kamloops, Canada. 
Congratulations Carol — our international Aussie bush poet!
---
Mel & Susie

ABPA members and mad poets Melanie Hall and Susan Carcary recently performed at Zig Zag Public School NSW but are soon to open their exciting new venture — A Hidden Gem Bush Theatre. Visit their beautiful and unique off-grid art camp in Lightning Ridge, NSW.  They host special tours, performances and The Mel and Susie Show. There will be daily tours in winter and special evening performances full of comedy, history and lots of local colour.  You can also catch their daily performance at Opal Caravan Park. Visit the Ridge and check them out!


---
Kelly Dixon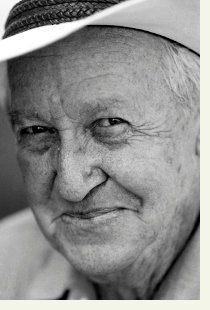 Kelly Dixon was born in Dirranbandi in 1933. Son of a teamster/bush contractor and only schooled to primary level, he left home at 14 years to become a stockman, drover, truckie, station manager, grazier — skills that have stood him in great stead as he currently operates, with his wife Marion, a beef cattle property in the Atherton Tablelands and is these days thinking about retirement.
Kelly started writing verse at about twelve years of age, and graduated to competition level about fifty years later.  He had his first songs published around 1975 and now has 143 published around the world by some 47 recording artists. These days he is recognized by Sony USA as among the world's top writers.
He is a life member of the Country Music Hall of Fame and has won many awards at the Tamworth Music Festival and at various poetry competitions around Australia.
---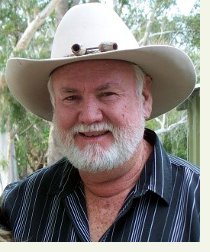 "Having written and been interested in Bush Poetry for many years, I began performing at the Bundaberg Bush Poets Muster in 1996.  I have been fortunate over the years since then to win numerous awards for my performance bush poetry and yarn spinning in competitions all around the eastern states. 
Since 1996 I have won awards for my written bush poetry, which have been included in the eight books of bush verse and yarns I have published along with three albums. I have been a finalist on four occasions at the Golden Gumleaf Bush Laureate Awards at Tamworth three times with my books and once with my wife Chris for our combined CD, 'Chris and The Grey', I was Co-ordinator for the Bundy Mob's Bush Poets' Muster, two years Joint Co-ordinator of the Oasis Bush Poetry Competition at Tamworth as well as the Easter in the Country weekend at Roma.  I also co-ordinated the bush poetry at the Katherine Country Music Festival and the Far North Bush Poetry Festival.  I've acted as compere at many events and see it as an important role in keeping any function running smoothly.
Since 1999 Chris, and on occasions my dad, joined me in our own show of Bush Poetry and Yarns, which we called 'Laughter & Tears from the Bush'. We have toured Western Queensland from Miles through to Camooweal, the Tamworth Country Music Festival, Easter In the Country at Roma, the 1770 Festival as well as Festivals, Expos, Farmfest, the Barcaldine Heritage Centre and numerous other venues throughout Queensland and Northern New South Wales.
We've performed at The Tamworth Country Music Festival in front of Grace Bros. (now Target) for many years. We were resident bush poets at the Bailey Bar Caravan Park at Charleville during the 2000/3 winter months and had the opportunity to meet so many folk and to introduce quite a few of them to bush verse.
In November 2004 I released my debut Bush Ballad EP/CD, 'The Bushman & The Balladeer', a tribute to R M Williams and Slim Dusty. In 2005 and 2006 I entered The Lyrics Only section of the Katherine Country Music Muster's Northern Territory Song Writing Competition and won both years. Then in 2006, 2007, 2008, 2009, 2010, 2011, 2012, 2013, 2014 and 2016 I thought I'd enter the TSA Awards at Tamworth and was nominated a finalist in the Lyrics Only Section of their National Song Writing Contest.   I won the section in 2006, 2007, 2009, 2010, 2011 and 2013.
Chris and I still enjoy performing our Bush Poetry, Ballads and Yarns Show today."
Thanks Merv, especially for the way in which you have integrated and promoted Bush Poetry into the Bush Ballad scene both as a performer and hardworking compere.
Merv's website.
---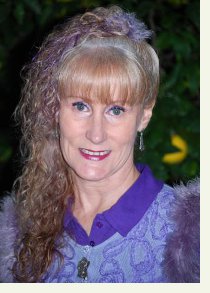 G'day!  I'm Rhonda Tallnash from Violet Town in Victoria and my interest in everything Australian probably stems from birth being a descendant of the free settlers who came to Australia shortly after Captain Arthur Phillip.  I've had the privilege of living in the city in Carlton as a small child, then being raised in Research when it was still a rural community, moving to Kangaroo Ground and St. Andrews to live semi-rurally with my husband David Kitchen and then making the final move to regional Victoria.  We were extremely happy to move further and further away from the 'big smoke'!
I began to write my all-Aussie rhyming children's stories in the 1980s when, as a Special Educationalist I realised that children needed a solid basis of oral language to enable them to become literate, that rhythm and rhyme is wonderful for developing this and that we were losing our wonderful Aussie slang and sayings that my grandparents just rattled off every day.  During my 58 years I have performed with choirs (including Channel 9's Carols by Candlelight) and as a soloist, competed in calisthenics and danced in amateur productions as well as being the choreographer.
In 2010 I walked into the Mildura Country Music Festival 'walk-ups' with my book 'Fair Dinkum Ned' under my arm and I was put on stage by Neil McArthur who I suspect thought I was nuts!  That was it, I was bitten by the bush poetry 'bug' that had been lurking in the background of my being since my Grade 4 Teacher taught me 'Mulga Bill's Bicycle' in 1967.
My first competition was the Golden Damper in 2012 where I managed to become a finalist and from then I have participated in competitions and performed as much as practicable going to Dunedoo, Corryong, Binalong, Benalla, Bundaberg and Toodyay. Performing has also taken me as far afield as Renmark and Cairns.  I am the current Australian and New South Wales Bush Poetry Female Performance Champion and I held the Queensland title during 2014.  I have also been fortunate in winning the Dunedoo Bush Poetry Festival and Young Cherry Festival events.
In 2016 I was elected Secretary of the ABPA – in the usual army volunteering style of not stepping back quickly enough!  I have been meeting as many poets and friends as possible around the traps this year.
We are grateful for Rhonda's enthusiasm and energy in her role of ABPA Secretary. Thank you from the Committee and the ABPA membership.
Rhonda's website.
---
John Davis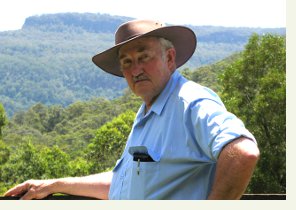 John was born in Broken Hill and has spent most of his working life either on the land or working at other rural pursuits although he did spend about eight years as a part owner of supermarkets and two years working in security and a further two years working in an abattoir.
He has either owned or part owned several grazing properties ranging in size from 800 acres up to 112,000 acres and has worked on properties from Australian Capital Territory, Central, Northern and far Western New South Wales and has also spent short periods of time on cattle stations in Queensland Gulf country and the Northern Territory Barkley tablelands. He has also done stints at shearing and horse breaking.
Although he has been fond of and interested in Australian Bush poetry for most of his life he didn't become involved in either writing or performing poetry until after 2005.  Understandably, much of John's writing has been inspired by and reflects his life in the Bush. He has published a book of his poems and also produced a CD.
It is special when someone not only performs and writes themselves, but also encourages others, especially young people, to do so. For the past ten years, John and his wife Ruth have organised and run an annual competition for primary school children and to this end they have a solid group of sponsors (including the local Federal member) who supply about $800 and several trophies for prizes for these children. Over the past five years the competition for children has been picked up by the local show Society and John and Ruth have further organised this particular competition at the local agricultural show – so that equates to running two performance competitions and one written competition for school children each year. Then, as well as their work for children, for the past two years they have run and organised a very successful open (adult) competition, at the show.
In addition, for the past eleven years John and Ruth have convened and run a social Bush poetry group in the Milton Ulladulla area. 
That's certainly a great deal of organizing John and Ruth! Thank you to you both
.
John's email address is
---
The late John Major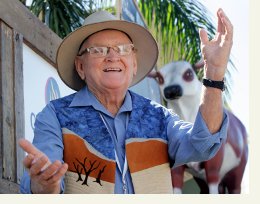 "I first became interested in Bush Poetry in the late 40's and early 50's when in Primary School. I memorized quite a few of Banjo's and Henry's. The school teacher used to get me up to say a poem to the higher grades, and I really enjoyed it. After School I used to perform a poem for a wedding, a birthday and other functions. I met Tex Morton in Rockhampton when I was a teenager, and he gave me some of his work, which I still recite.
"My first trip to Tamworth Music Festival was in 1989, and I was walking past the Imperial Hotel and I could hear someone saying Bush Poetry, so I went inside and there were 3 poets and about 20 people listening. John Phillipson came over to me and asked if I knew a poem and I said yes. He then asked me if I would recite one, so I got up and I said Tex Morton's "The Transport Man". I became really good friends with John and my wife Joy became really good friends with John's wife, they were both Patchworkers.
"Although there were only about 20 people there in 1989, three years later there were 300 people there, it was just amazing how the Bush Poetry took off, and lots of people started writing modern Australian Bush Poetry. In 1994 we had a meeting at the Imperial hotel and formed "The Australian Bush Poets Association" I was at the first meeting along with 21 others. The poetry performances grew so much, and so many people came to listen to us we had to shift out to the Longyard.
"One of the first big events was The Waltzing Matilda Festival in 1995 in Winton, 100 years since Banjo Patterson wrote the poem out there. It was a great festival and still remembered by lots of people. After this event I started travelling all over Australia doing Bush Poetry Shows, however I still love going back to Winton.
"Bush Poetry has done a lot for me and taken me all over Australia. It has been a part of my life for many years."  
[John passed away on 12th January 2017].
---
Tony Lambides-Turner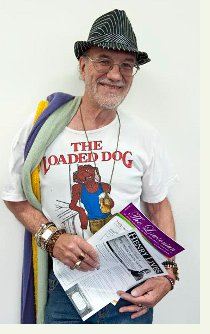 "I am a proud Australian born 1948 and raised in Oakleigh a suburb of Melbourne. Resident of Chelsea last 30 years. Commenced writing in 2008, joining a creative writing group in Chelsea. Branched-out into poetry and haven't looked back.
"Describing myself in three words, I am a: Guide, Mentor and Leader, to others commencing their literary journey."
Background: Surveyor/land/mining/exploration, landscape-gardener (Burnley.)
Member since February 2013: the Henry Lawson Literary and Memorial Society Inc. Proud acting President: 2015.
Tony is continually involved in local community and charity events. He leads a small band of like-minded, talented performers, 'Henry's Thespians', who regularly entertain and present workshops at aged care facilities, disadvantaged centres, schools, churches and halls around Victoria.
He is constantly liaising with bush poets around Australia and attends Bush Poetry festivals and gatherings distributing free books with Australian themes and authors with the aim of "…creating a greater awareness of Bush poetry, and of the relative societies and groups" and in particular, "…encouraging the youth of Australia for they are the future of Bush Poetry."
In addition, Tony is the Editor/Publisher of Henry Lives: H.L.S. Monthly Melbourne newsletter: Commenced February 2104 now in its 24th edition.
He has been a publisher and contributing author for Australian themed and historical anthologies aimed at "…reviving memories from the past, back to life, with the aim of bringing joy to others," and "… to rekindle these near-lost times." Tony is currently working on a publication,
It Will Never Happen Again
, aimed at spreading greater knowledge of indigenous Victorian history especially towards informing "…young curious and inquisitive minds" and hopefully fostering greater "…understanding and tolerance".
Further details of these publications and of Tony's activities and enterprises can be obtained by contacting him on
We thank Tony for all he does for Bush Poetry and for sharing his profile with us.
---
2016 Golden Damper Winners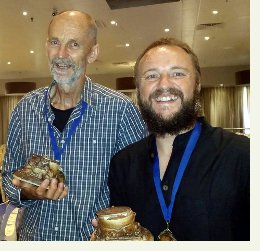 The coveted Golden Damper Awards have been won by Tom McIlveen of Port Macquarie NSW (for Original) and Jason Roweth of Milthorpe NSW (for Established). The performance competition was held in Blazes Auditorium of the Wests Leagues Club in Tamworth NSW during the Country Music Festival.
After three heats, 9 competitors for Original and 6 for Established competed in the final in front of an audience of around 150 people (pretty good for a 7 am start!)
Co-ordinator Graeme Johnson did a great job of making sure everything ran like clockwork with the help of his team of judges, time keepers, collators and MCs.
Thanks to all for making it another quality competition.
See full results at
Events & Results
.
---
Bill Kearns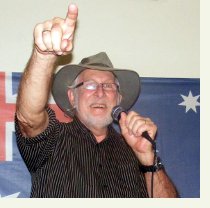 Bill Kearns was brought up on a dairy farm in the Clarence Valley and has lived all his life in the Grafton area. Bill is now retired from his last job as the manager of non-clinical support services at a local Public Hospital.
A lifetime lover of traditional poetry, Bill set out about twenty five years ago to be a serious writer of verse but alas he fell into the clutches of a band of Australian Bush Poets and was totally corrupted. He discovered a talent for writing comic verse and an ability to see the weird and warped in seemingly normal everyday situations.
Dubbed "The Master of Bull", Bill's performances have been described as incorrigibull, disreputabull, irascibull but always enjoyabull. Bill's greatest pleasure is to give a laugh or five whenever he performs, he reckons he saw very few people admitted to hospital suffering from laughing. He has however, retained a serious side and is sometimes known to slip a serious poem into a performance when you least expect it.
Bill has officiated as a judge in many bush poetry competitions including ABPA State championships and is often called upon to sit in judgment of one of his own poems being performed in the contest. Bill's ability as a writer has seen his works in demand to be recited by many people in contests throughout Australia with considerable success. His poems have been part of the traditional section of Tamworth's Golden Damper competition for the past 10 years and the dynamic duo of Bill as writer and Lyn Tarring as reciter won back to back titles in 2014 and 2015 in the traditional section. As a mark of respect, Lyn presented one of her Golden Damper trophies to Bill at the last Bundaberg Poets Muster. It now sits proudly above Bill's desk.
Bill has released a number of books and CDs and has performed at all kinds of venues from small country halls and retirement homes to the Tamworth Country Music Festival and the Gympie Muster.
I would not think that there was a lady poet in Australia (and probably very few male poets) who had not performed one of Bill's poems and I don't think that there would be a supporter of bush poetry who had not heard one being performed. Congratulations Bill on your capacity to do what you love to do, i.e. "give a laugh or five…" to so many.
---
David J Delaney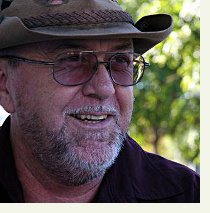 I am a former Brisbane boy who used to live and work in Cairns with my very patient, and darling wife, I sometimes wonder where I get the time to write but always seem to manage to pen something, also as well as being a member of the ABPA, I am a member of the Tropical writers group Cairns and the book Creators Circle among other literary sites on the web.
Having had limited education including no formal education in writing, now at 60, I wanted to show that someone like myself without higher schooling could write and enjoy it. For me, school, Rocklea State School, (when I was there) was a place to 'hang out' with my mates and I actually only completed 3 months of high school (Salisbury) before leaving at the age of 15.
After numerous jobs throughout my youth I eventually moved into furniture removals where I stayed for approximately 25 years. For 17 of these, my wife and I operated our own removal business, and I was able to travel extensively throughout NSW and Queensland.
Since leaving the removal industry several years ago and having some 'thinking' time, my experiences, memories of driving the highways and tracks, the vast and beautiful outback, my wife, daughters, grand children and family, stories from mates, work colleagues and close war veterans have given me the inspiration for my writings.
The release of my 1st book
"My small book of poems"
in May 2007 was one incredible step for me. The size of my book was purposely done to gauge the reaction of the public. Despite not being proof read and having mistakes the response was both humbling and amazing, with comments from the likes of John Williamson, Mel from Sunrise, Steve Ahmet from Easylistening 846, Pat Morrish of Far North ABC Radio and many others & including sales to the U.S, U.K, Ireland, Japan & more. This has inspired me to keep writing and in March 2008 I released my 2nd and equally popular
"Rhymes of Times"
.
My 3rd book
"Out of Australia"
is a 100 poem compilation and has been published in America after communicating with ASA Publishing company in Michigan. Out of Australia is available from selected online bookshops.
My latest book
"Another Chapter"
I published in India as a thank you for winning (with a bush poem) the prestigious Rabindrananth Tagore award in late 2013 this book is a collection of new poems and short stories.
My first three books are available from Amazon and all are available via myself, please contact me for details
Thanks for all that David and we hope you continue to enjoy your travelling existence and to enjoy contributing to the bush poetry scene wherever you may wander.
---
Dennis Scanlon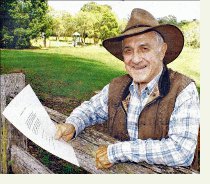 Bush poet Dennis Scanlon of Tyalgum has returned home from Canberra after being selected to present his poems at the Australian War Memorial.
Mr Scanlon read from seven of his original Anzac themed poems during a poetry day at the Australian War Memorial.
Vision of him reading those poems will appear in the Memorial's education and continued learning program.
The 71 year old began writing poetry during his retirement a decade ago. However, it wasn't until the Tyalgum "Diggers" asked him to write a poem in 2013 honouring the Australian Light Horse that Mr Scanlon's attention turned to the Anzacs.
"There had always been music in my life and when I retired it started to bubble back," he said. "I started to write things down that had happened to me during my life and those stories started to come out in meter and rhyme."
"My poetic style was always bushy because I've spent my life working with livestock and meat. However, there had always been a deep sense of Anzac tradition in me because my father was in World War II".
"My father, like many blokes, died young from injuries and illness received during the war. In my life there has always been a sense of the waste of war but also a sense of the sacrifice and that comes through in my poetry."
Mr Scanlon said he was honoured to present his poems at the War Memorial during such a historic year. "I was very much humbled," he said.
"I knew that the poems I was writing were strong enough because the Australia Light Horse had started to see the merit of them."
Mr Scanlon has been volunteering with the Mudgeeraba Light Horse Museum, and is visiting local schools to talk about the Anzac spirit and tradition.
Mr Scanlon's poems will be featured in a booklet produced by The Light Horse Museum for Gold Coast schools. It will be available this month.
Contact Dennis: Mob: 0427328633. Email:  
Article courtesy of Bob Anthony, Gold Coast Sun newspaper.
---
It's more of a future achievement but Greg will be the resident poet at the Matilda Country Tourist Park in Winton, Queensland next winter (2016). The park has had a poet performing for guests for about 25 years. Gloria Hitson was the first, followed by the late Milton Taylor and then
Mel and Susie on Tour
(Melanie Hall and Susan Carcary). The girls are moving on to an exciting new venture and Greg is pleased to be taking their place and continuing a wonderful tradition of performing bush poetry for travellers.
It all happened at the Winton Outback Festival in September while Greg was staying at his hotel — the North Gregory (well, his hotel by name — almost!). Along with the excitement of the announcement there was the thrill of sharing the stage with Marco Gliori and John Best during this iconic festival.
In August 2015, Greg was honoured to be commissioned to write a poem for Blue Mountains tourist attraction, the Treasured Teapot Museum. After extensive refurbishment it was opened by past NSW Governor Marie Bashir in front of 300 people.
Greg will be performing at the 2015 St Arnaud festival in Victoria in November so Victorians will have the chance to catch his unique performance style. He gets around!
---
Maureen Clifford aka The Scribbly Bark Poet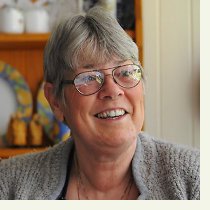 Maureen is the editor of a fortnightly online poetry magazine published by The Australia Times Group. She has been doing this now for 2 years on a voluntary basis and has poets from around the world and our own home grown Aussie bush poets submit work to her. She is also an active member of the ABPA and a member of Writers Dock, Linkedin, and Poets Collective.
Prior to retirement Maureen worked for 30 years in the Health Insurance Industry and for a short period of time was a self-employed grazier helping to raise Merino sheep and run a property at Stanthorpe. A staunch animal activist, Maureen is also involved in a small capacity with Hoofs2010Inc — a brumby rescue group and runs their Facebook page for the children's group Li'l Brumbies as well as the FB page for ABPA and TAT Poetry.
She now lives in an old renovated Queenslander just outside of Brisbane with her two rescued furbabies, both of whom often feature in her poetry. In addition to poetry and short story writing, Maureen also does photo restorations and restores old furniture and has, in her words, "…mastered the art of doing nothing and doing it well when the mood strikes. One of the joys of retirement."
N.B. Actually, Maureen leads an extremely busy life and she is of great service to the ABPA. We thank her for her avid promotion of bush poetry through her communication link-ups.
You can read more of Maureen's work on her personal
blog page
and gain details of her published print and e-books from her email 
---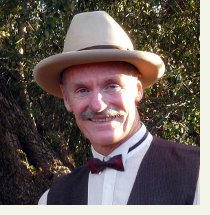 Geoffrey, as a youngster at Robertson NSW, grew up with a love for the bush fuelled by the frequent recitations of Banjo et al from his father, Arch. After stints in boarding schools at Tamworth, and Hurlstone in Sydney, Geoffrey did time at UNE at Armidale where he obtained a B. AG EC and Diploma in Education.
While lecturing in Farm Management at the Murrumbidgee College of Agriculture at Yanco, developing the skills of young people to go on the land, Geoffrey also produced his own revues, had his second rock 'n' roll band and followed in his father's footsteps, reciting the works of 'Banjo' Paterson et al. So developed two main passions: 1 Life as a performer, and 2 Helping others with their journeys.
In the early 80s, Geoffrey studied the art of acting and entertaining at the Victorian College of the Arts. On the completion of the course he dabbled in television, film and theatre. Geoffrey continued to perform his Dinkum Oz entertainment comprising a mix of comedy, music and of course verse. The performance arenas varied from school shows, to standup comedy, festivals and motivational talks. His acting, whip cracking, characterisations and down-to-earth style, allowed him to entertain a wide range of audiences. His entertaining emerged in locations as diverse as Aboriginal settlements in outback W.A, the Australian Embassy in Laos, the Wallaby restaurant in New York, the Funny Bone, Dallas, plus every state in Australia. Along the way he owned and ran his own entertainment restaurant, 'Dinkum Oz', (formerly Smacka's place) in North Melbourne.
In 1995 Geoffrey performed his self-devised one-man show 'The Man from Ironbark" in Winton in Queensland. The show, based on the life and works of 'Banjo' Paterson, received great acclaim from Australians from all walks of life. He now has a stable of themed one man shows, the most recent being 'Voices of War: an Anzac story' which he kicked off in Tamworth in January 2015.
He has constantly toured his self-devised Australiana productions throughout schools, clubs et al. These included Arts Council tours and workshops aimed at self-esteem issues, writing and performance skills.
Geoffrey has been called a 'folk comic', 'theatrical communicator' and since his entry into the world of Ironman events he's been given the tag 'Iron poet'. His sporting obsessions (martial arts) have taken him to Okinawa in 2014 and next October he'll be competing in the Hawaii Ironman.
Apart from entertaining and acting Geoffrey works as an MC, judges competitions, is the President of the BGBP (Bendigo Goldfields Bush Poets) and is proud of the fact that he was one of the founding members of the ABPA. He has produced several CDs and two books and has more in the pipeline.
See more about Geoffrey on his
website
.
---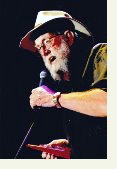 Jack Drake's poetry is drawn from his variety of country life experiences, through his early days on his father's sheep property in Otago New Zealand, his years in the W.A. wheat field area, his Gold Coast days and finally to his years in the mountains south east of Stanthorpe.
Jack's wife Stella tells us, "Jack broke in his first horse at age 14 and for the rest of his life he has been a 'horse man'. He has been a farrier and a saddler and has followed rodeo circuits. On the Gold Coast he ran the first Aussie Outback Show at Koala Town and worked with horse drawn vehicles. Once settled near Stanthorpe he ran a horse back trail riding business, drove a horse drawn Phaeton carriage for weddings and winery tours, ran pack horse schools and worked the farm with heavy horses."
In amongst all this, Jack promoted Australian bush poetry by running O'Mara's High Country Poets' competitions in Stanthorpe.
He won the Women's Weekly/Asthma Foundation 'Poet of the Year' in 2001 with his iconic verse, The Cattle Dog's Revenge and his book of poems and short stories of the same name won a Golden Gumleaf award for Book of the Year in 2004.
"His interest in historical events saw Jack, among other things, run a re-enactment of the court case on the centenary of Breaker Morant's execution, a re-enactment of a bush ranger hold up for the Stanthorpe Show Society and take on the persona of a packhorse mailman for the centenary of the Stanthorpe Post Office celebrations. He was commissioned to portray Sir Henry Parkes and deliver his Federation speech for the Centenary of Federation celebrations in 2001."
One of Jack's favourite interests in historical matters produced his extensive two volume set of books which compare the frontier stories of Australia with those of America's wild west.
Jack is very interested in encouraging youngsters to take an interest in our unique Australian Bush Poetry and with this in mind, he has produced a teachers' package for schools based on his Golden Gumleaf award winning CD Australian Bush Poetry Classics including the history of each poem and its author plus activities for the children relative to each poem.
…and in Stella's words, "…mix all of these life experiences with a wicked sense of humour and you get JACK DRAKE."
www.jackdrake.com.au
---
The late Milton Taylor

Vale — Milton Taylor 15.06.43 – 16.05.15 'Everybody's Darling'
Milton Taylor,  from  Hartley, New South Wales, (but originally a Queenslander) died Saturday 16th May after suffering for the last five years with a rare immune condition.
We lost, without doubt,  the greatest poet of modern times in this country. He wrote and performed 'people's poetry' — from witty gems to literary masterpieces, some utterly hilarious and others incredibly moving.
His works are recited and loved by people of all ages and all walks of life throughout Australia and in the United States, where performance tours took him for ten years.
Despite a multitude of major awards (not the least of which was the Australian Bush Laureate Award for his contribution to Bush Poetry) and despite a huge fan base, he was immensely humble, sharing his talent to inspire many other poets and bringing the sheer joy of poetry to children.
He was loved for more than his writing.  He touched the lives of so many and was admired and respected for the gentleman he was. To say he will be missed is an understatement indeed.
Milton remained a man of principle, wit, honour and courage to the very end.
To his daughter Michelle and her family and to his soul mate Roelie, deepest condolences.  Know that the world weeps with you.
Carol Heuchan.
Milton Taylor was an encouragement and inspiration to so many bush poets. Not only was he a wonderful bloke to know, he was a sensational performer and excellent writer of bush poetry. Many of his award-winning poems appear on the
poetry
page of this site. On the
Roll of Honour
page you'll see Milton was five-times Australian Champion — more than anyone else.
Very few people are able to master both writing and performance and even fewer can create and deliver both joy and pathos with equal effectiveness. Milton was such a master. He will be greatly missed in bush poetry circles.
Gregory North.
On a starry, starry night, a great poet, a wonderful man, a special friend and a dearly treasured loved-one departed.  In this world he left a space... in us all a void.  Vale Milton Taylor (15 June 1943 - 16 May 2015). 
Milton's ashes will be scattered on the Thomson River at Longreach, on Saturday afternoon 1st August 2015.  His many western friends are invited to join in this final farewell. RSVP by ringing me on 0432 372 193.
Roelie Hartwig.
---
Trisha Anderson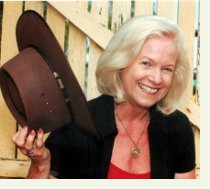 Trisha Anderson, at first glance, is probably not what people are expecting when meeting an Australian Bush Poet! Firstly, she doesn't have a 'cork adorned Akubra', although she does occasionally wear a hat — she doesn't often wear jeans and riding boots and she wasn't born in the bush! She is however, the daughter of well known cartoonist, naturalist and author Ian Gall, and it was his love and knowledge of nature, animals and the Australian bush that Trisha grew up with and which inspired her love of all things Australian. Always interested in the wonderful stories and poems of early Australia, she was drawn to the genre of bush poetry when it was enjoying it's 'rebirth' over twenty years ago.
For quite some years she was content to be in the audience until Robert Raftery — a well-known Queensland poet — wrote a piece especially for her to perform. After a few months of 'panic and nerves' and with Robert's and the late Bobby Miller's encouragement, she eventually found herself on the stage — and, as they say, the rest is history! She then became a keen performer and competitor, achieving many successes at festivals from Winton to Tamworth to Perth and many places between.
Her love of traditional poetry is evident in many of her performances as she relates these wonderful poems from such writers as Banjo Paterson, Will Ogilvie and Dorothea Mackellar to audiences across Australia. They are sometimes serious, sometimes humorous but they always challenge the emotions of her audience.
Trisha was the founder of PALMA ROSA POETS in the 1990s and for many years she invited poets from all over Australia to perform in the beautiful heritage-listed Hamilton home which was the headquarters of the English Speaking Union. This was always a popular and entertaining evening which sadly came to an end in 2010 when Palma Rosa was sold.
For the last 15 years she has organized the BUSH POETS at the EKKA where groups of bush poets perform their poetry on various stages throughout the Ekka — Brisbane's Royal National Show.
She also organises — with the help of fellow bush poet Noel Stallard — the RNA EKKA BUSH POETRY COMPETITION on the first Saturday of the Show (this year the competition is on August 8th).
Over the past 15 years, during the Tamworth Country Music Festival, Trisha has organised the BUSH POETTES. As the name implies this is a fun afternoon's entertainment showcasing all the female talent performing in Tamworth — most of whom are, or have been winners or finalists in the many competitions held throughout Australia during the year.
At the Australian Bush Laureate Awards in Tamworth in 2014 Trisha was very honoured to be presented with the JUDITH HOSIER HERITAGE AWARD — this award is presented in recognition of the 'contribution and support of the genre of Bush Poetry' over the years. Trish says, "It was a very humbling experience as some of the previous recipients have been Slim Dusty and Ted Egan — and many of our award winning poets such as Bruce Simpson, Kelly Dixon, Blue the Shearer and many, many more."
Although Trish says she is just as happy these days "…being a Grandma to my five beautiful grandchildren, spending time with family and friends and pottering in my garden…", we are pleased that she still occasionally travels around our countryside giving pleasure to many and helping others to perform. Thank you Trish for all you have done to promote bush poetry and poets.
Trish can be reached at 
---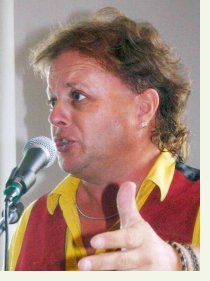 Graeme Johnson aka "The Rhymer from Ryde" was fortunate to drift into the bush poetry genre during one of its "Golden Ages" in the mid to late Nineties when luminaries such as Bobby Miller, Charlee Marshall, John Phillipson, Johnny Johannsen and others of their ilk 'held court' wherever they appeared. He was also fortunate to meet and befriend other modern day icons such as "Blue the Shearer", Milton Taylor and of course the late great Frank Daniel. (It was actually Frank himself who originally coined the moniker, "The Rhymer from Ryde" which Graeme has used ever since).
All of these wonderfully diverse characters had a direct influence on Graeme's career and it was only through their help and advice that Graeme became another one of our Bush Poetry devotees and ardent performer and writer. So it was no surprise that when he was in a position to give something back to his fellow poets that he did exactly that.
From the late 'nineties onwards Graeme was already organising poets' breakfasts for the likes of the Galston Country Music (1999-2008) and South Coast Country Music Festivals (2002-2011) employing his fellow poets to perform on these bills. From some of Australia's most recognised poets to the up and comers of the new generation Graeme more than likely used their services at some stage over this period.
In more recent times Graeme has continued this tradition through his popular Rhymer's Roundup shows at the Tamworth Country Music Festivals 2013-2015.
As an accredited ABPA judge for both written and performance competitions, Graeme officiates at ABPA Championships and other bush poetry competitions. He is also Event Co-ordinator for the ABPA Golden Damper performance competition in Tamworth.
Graeme would like to thank all those he has worked and 'shared the stage' with over time for contributing to "…some of the best days of my life". He also asks that "…special mention be made to my 'other half' (yes she does exist), wife Narelle, who has had to listen to way more bush poetry than Work Health & Safety regulations would normally allow."
Visit Graeme's
website
.
---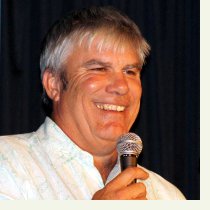 Murray Hartin has been part of the Australian bush poetry and entertainment scene since first stumbling into — and winning — the inaugural Tamworth Poetry Competition at the 1987 Country Music Festival. The victory led to a career in journalism and then, in 1996, he took the bold step to become a full-time poet.
Along the way he was part of the evolution of the poets' breakfasts at The Longyard, featured on that group's first cassette and with Marco Gliori staged the Festival's first night-time poetry concerts in a very hot little church in the early '90s which in turn morphed into 'The Naked Poets' — the madcap group that went on to record five CDs and perform to thousands of people over a 13-year period.
Thirteen years with The Naked Poets — "… well, it certainly hasn't done me any harm.  And we are all still great mates. We released a Double Best of The Naked Poets album last year that is the pick of the five Naked Poets albums — lots of fun."
A three-time Golden Gumleaf winner for Recorded Performance of the Year and two for Book of the Year, Muz makes his living as a professional entertainer, performing guest speaking roles and MC duties at corporate functions, sporting lunches, charities dinners and festivals across the country.   For the last four years, at the Tamworth Country Music Festival Muz has been part of the team 'The Four Funny Buggers'.
Murray's yarn Turbulence is the most recited, most requested and most played poetic work in recent memory and in 2007 his stunning poem Rain From Nowhere touched the hearts of people Australia-wide. The emotional distance between these two poems is as wide as Muz's repertoire and gives an indication there is more to this Moree-born knockabout than meets the eye.
But to Muz, it's all about performance. "The only reason you're there is because of the audience. You have to send out energy to them which they then chew up and throw back at you via laughter or applause." 
Muz has two CDs, Muz! and The Tater Slater Caper plus a DVD, Bigger Than God's Undies, plus his new book A Whole Lotta Muz, a combination of poems and newspaper columns, which are all available on his
website
.
---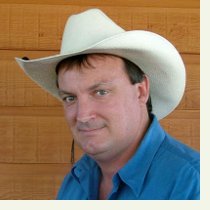 Born into a mixed farming family Gary developed a bond with country life that has remained strong to this day. Childhood memories revolve around working beside both of his parents, learning skills essential for rural life. Gary started a cadetship with the Department Of Primary Industries working in rural research before taking up a position as Trials Agronomist with Cargill Seeds.
A promising sportsman, it was during this cadetship that Gary was involved in a vehicle accident that resulted in him fracturing his spine in five places and having to re-think his future. It was during the three year debilitating period of rehabilitation that Gary took up his pen and turned his hand to writing Bush Poetry. Gary defied the doctors and returned to rural endeavours. Twenty years later, after running his own cattle property at Chinchilla, working as a Drought Relief Officer based at Goondiwindi and as the Community Development Officer at Millmerran, it was time to admit that the doctors were right and to accept being invalided out of the workforce with chronic back pain.
Gary's poetry career has seen him focus his efforts on performance poetry and he has won numerous prizes over the years, including the first ever Australian Bush Poetry Championship and a couple of Australian Bush Laureate Awards. While appreciative of these awards Gary gets more satisfaction from some of the more obscure events that through the years have highlighted the public's appreciation of his work. His written poetry has been broadcast and featured internationally, has inspired Olympians, sportsmen and cancer sufferers and has motivated groups to help those suffering the effects of drought.
Gary was selected as a member of the Australian Performing Arts Team in both 2010 and 2011, becoming the first ever performing poet from any of the 50+ participating countries to compete at the World Championships of Performing Arts in Los Angeles.
In 2011 Gary was awarded the "Street Of Dreams Award" at Tamworth, an award which recognised the most popular Bush Poet or Balladeer in Australia and was voted on by the public. Gary had no knowledge of the award, or his win, and thought he was just performing a spot at the presentation concert.
To Gary, these types of acknowledgement from outside the 'poetry community' mean more than those from within the industry, as they are recognition that bush poetry has the potential to touch anyone's life, not just those who are already fans of our art-form.
Gary lists his other significant achievements as initiating and/or running poetry performances at: Australian Camp Oven Festival (Millmerran), Chinchilla Melon Festival, Mud Bulls and Music, Tara Festival Of Culture and Camel Races, Gidgee Coal Awards, Yellow Belly Festival, Texas Country Music Festival, Munna Creek Balladeers Festival, and Bouldercombe Country Music Festival. He is proud of the fact that through his efforts he has not only promoted performance bush poetry to the wider community but has provided a considerable number of opportunities for his fellow performers to get paid engagements.
Gary credits his late father for instilling a love of bush poetry and his wife Cindy, daughters Kelly and Shannon and step daughters Shareene and Danica for providing an amazing and unselfish amount of support throughout his bush poetry journey. Gary has published three books of poetry and released 3 albums to date
---
Max & Jacqui Merckenschlager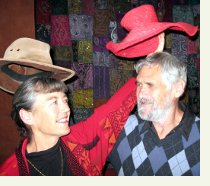 Max Merckenschlager began writing poetry with rhyme and metre in 1997, after being successful in the Snowy Times 'Another Banjo' competition. He recalls, "the thoughtful choice of language of Paterson, in particular," and he has endeavoured to follow his example. "This is what has set the work of old masters 'up there' among today's gifted writers."
Max and his wife Jacqui remember the camaraderie of many bush enthusiasts during their days of organising and running Murray Bridge's 'SA Stumpy Awards' and they have been involved in the organisation of local poetry and song events each year since then.
Both Max and Jacqui have written for Ginninderra Press anthologies including the lovely little celebration of Sir Hans Heysen's art "That Which My Eyes See." They launched their own book 'Captured Moments' as part of SA Art's 'Ripples' Program in 2010 and included a play and excerpts from a co-written musical.
Jacqui's poetry is free verse with a strong sense of the lyrical. Her topics include social and environmental issues. She has been invaluable in assisting Max with judging poetry and song at Tamworth in 2013, and in co-editing Award Winning Bush Verse and Stories, published by Melbourne Books which won the Australian Bush Laureate Award in Tamworth in 2012.
Max's songs have had success and his many major awards for bush poetry include 7 wins including 4 statuettes between 2004 and 2011 at Grenfell, Dubbo's Rolf Boldrewood Literary Award and Tamworth's Bush Laureate award for published poem of the year. He has received 3 ABPA national awards for championship poems.
Although health is more of an issue now, Max and Jacqui feel that "…maybe this will mean there will be more travel opportunities ahead to visit many of these widely spaced and interesting Australian towns and cities!" So watch out for this talented pair around the Aussie track.
---
Catherine Lee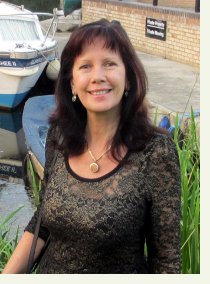 Catherine Lee has enjoyed a nomadic existence for years and as well as New Zealand and Australia has to date had the pleasure of residing in Papua New Guinea, Singapore, the Philippines, Indonesia, the Maldives and Thailand. Previously a PA, she is now a freelance professional proof reader/editor.
She has always loved poetry with rhyme and metre, and has been writing in this style for as long as she can remember. As a child she performed in poetry recitation competitions, but this is not something she continued as an adult, preferring instead to concentrate on the writing. She began entering competitions in 1994, but it was while living in Papua New Guinea in the late nineties that she was asked to share her poetry in public for the first time, reading to a group of mostly Australians. Their response was so positive that she was persuaded to self-publish a small book which she subsequently sold at the local market. Meanwhile, over the years she has had some articles, poetry and short stories published in magazines within Australia, PNG, the Philippines, Singapore, and this month in Bangkok. Traditional style poetry is her first love however, therefore a huge highlight was winning four major competitions in a row one year including the Blackened Billy, not least because she was also able to make it to Tamworth and meet many of her fellow poets in person. Another highlight was winning the Bryan Kelleher Literary Award for two consecutive years, and a third was a thrilling and very humbling nomination received as an Australian Bush Laureate contender.
Catherine is host editor of the International Xpressions and Famous Poets' Birthdays pages for FreeXpression, and a keen promoter of traditional Australian verse overseas whenever opportunities arise. As well as writing, reading and playing the piano, she feels travel has greatly enriched her life and considers it an enormous privilege to experience such diverse cultures and locations and meet so many different people. These experiences, along with memories of her own culture and surroundings, provide her with inspiration.
Catherine says she can be a bit of an idealist at times, but she truly believes that a smile speaks all languages and poetry and music speak directly to the heart and soul.
---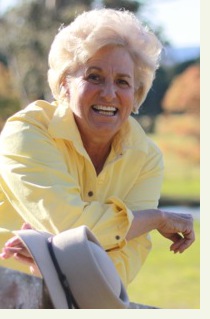 Carol Heuchan hadn't even seen a bush poetry competition before friends took her to Tamworth ten years ago. Horses were her world — she taught riding, broke in and trained horses, mustered stock in the Snowy River country. She had competed all her life at the highest level with show horses and judged internationally.
But she made the transformation from stable to the stage and took the Bush Poetry world by storm and after a couple of years of competing and amassing prestigious awards by the score, she made the brave move to make poetry her career and has been a full time, professional poet ever since.
But she says she has had a lot of luck along the way. Winning a Case JX55, thirty four thousand dollar tractor (just for writing a little poem), was a great kick start. As was being one of twelve poets/lyricists chosen to be part of the ABC Television series Bush Slam (host H G Nelson) which has been shown nationally, prime time, about six times. Then, on top of Australian and State Championships for performance and umpteen written awards, she has nine Australian Bush Laureate Awards to her credit. But the greatest good fortune, she said, was having Milton Taylor as her mentor and friend.
Carol's first books were, naturally enough, about horses but she soon broadened her repertoire to suit all occasions, all ages and people from all walks of life, kids to corporate, little charity gigs to the the biggest overseas gatherings. She travels extensively — entertaining, compering, workshops, guest speaking, commission writing and getting out of heaps of housework.
2015 will see her off for two months, on her sixth performance tour of the US and Canada (still pinching herself that she is paid to do what she loves).
Six years ago she was performing Bush Poetry when 'scouted' by the Royal Agricultural Society of New South Wales and since then has been the Main Arena Commentator for the duration of the Easter Show.
Unbelievable incidents? Sheik Mohammed Al Maktoum commissioned her to write a poem (which she performed on Sports Channel around the world). And Prince Phillip, the Duke of Edinburgh, said 'Good Morning' to her in Windsor Great Park in London last month when she was doing some 'horse research'!
CDs, books available from:
www.carolpoet.com.au
---
Glenny Palmer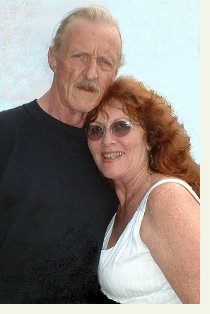 Approaching Glenny to contribute to this section, despite her many achievements as one of our first and most successful female bush poets, she felt that in recent times her greatest contribution was to publish the poems of her partner, John 'croc' Moss, and to establish in his honour, a new bush poetry event in Theodore, Queensland, where they spent his last years together.
We thank Glenny for demonstrating that even when times are really tough, if you put your energy towards something worthwhile "it can be done".
"Prior to the sad day when my poetic sweetheart 'croc' succumbed to his terminal 'Motor Neurone Disease', I had decided that his unique poetry should be made available to the world before we lost him forever. With the help of many of our dear ABPA poet friends (predominantly Zondrae King) his first book, 'The World According to croc' was created.  The rush was well and truly on then to provide a viable bush poetry venue in the heritage sheds on my property, where 'The Copper Croc Poetry Awards' and the release of croc's book could be staged. Some of our poets travelled great distances to not only say their goodbyes to croc, but to get stuck in with hammers and shovels to actually help create the venue! However, as I was to later write in my farewell poem to croc, 'Angels on their mission leave such scant time for goodbye'…croc was buried just the day before the scheduled event. The Aussie spirit kicked in and we forged on to stage the most wonderful farewell for him. We had campfires burning, sausages sizzling, and wonderful performances from Brenda Joy, Bob Pacey, Zondrae King, and our darling Kym Eitel, who was so bravely fighting her own similar battle.
As yet these awards are for written work only, but I hope to expand that as the response is so encouraging. Space precludes my acknowledging all of those who so lovingly contributed, but I will never forget them, or their invaluable input into what is now an acknowledged yearly event on our bush poetry calendar.
Glenny's CDs and Croc's and her books are available at glennypoet at bigpond dot com
You can find out more about Glenny and access her useful advice on the
Techniques
page.
---
The late Philip Rush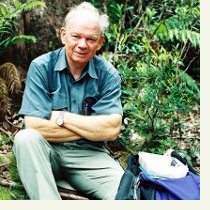 "The thirty-first of December this year will see me complete twenty-one years of being Tasmania's ABC 'Country Hour' poet. As of today I have presented a poem, usually with a rural flavour, throughout Tasmania's ABC network as the last item on Friday's 'Country Hour' nine hundred and thirty-one times. On the second Sunday in February next year, I will have completed twenty-one years as a guest speaker and poet on Tasmania's ABC 'Sunday' programme. Nearly seven hundred five to seven minute talks about almost anything, from school swimming lessons I gave in the local creek in some rural schools I taught in, to cancer, dementia, the wilderness, the history of soccer,
On arriving in Tasmania in December 1993, I went to the ABC in Hobart and suggested to the Head of the Rural Department that I could be the "Country Hour" poet.  His reply was for me to record on tape that afternoon four poems, and he would see how they were received. They must have 'hit the spot' and I now go to Hobart every Friday, where I read the new poem live on air. My poems have been the last item on the 'Country Hour' each week, and, as mentioned earlier, I am heading towards a thousand 'Country Hour' poems since that day I put the first four on tape!
Many listeners asked for copies of the poems, so I started self-publishing them — my first book being 'Australian Poems that would Stun a Sheep'.  Before getting it printed, I rang the 'Australian Society of Authors' and asked how many copies I should print.  Their answer was, "Print three hundred, and you'll have 276 left after you've given two dozen away to your friends and neighbours!" They weren't quite right, for that book has fifteen reprints, and over twenty thousand copies sold. Twenty other books have followed, seven or eight of them in the Bush Laureate Award finals, and one being the 'Original Verse Book of the Year, 2006.'
There are now over one hundred and fifty thousand of my poetry books in print, and they are still selling quite well — thank you for any reader who has one or more of my books!
A final comment — all of my self-published poetry books have been printed in Hobart — I refused to have them printed overseas.  Much easier to keep track, and each book has been excellently presented, thanks to the expertise of those at Monotone printers.
Will I do any more?  I'm not sure. Maybe, maybe not! Perhaps enough is enough!"
The ABPA says thanks to Philip for his innovative approach to promoting bush poetry.
[Philip has since passed away.]
---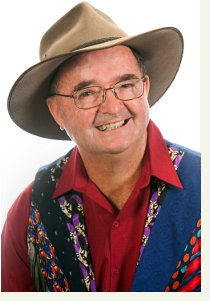 Noel Stallard's expertise and experience spreads across the whole spectrum of the Bush Poetry scene. As a multi-award-winning performer and writer, Noel is in demand for performances, workshops, and judging at festivals and functions all around Eastern Australia. He has appeared at ABPA National and State Championships and competitions, at The Gympie Muster, the Tamworth Country Music Festival, Port Fairy Folk Festival, The Widgee Muster, The John O'Brien Festival and Norfolk Island's festival.
In addition to the presentation of his own poetry, Noel has been a great promoter of the work of both classic and contemporary bush poets. In particular, in the
persona
of John O'Brien he has brought the poetry of Father Patrick Hartigan to life especially at the annual John O'Brien Festival which is held in March in Narrandera, NSW.
To combine with his many successes with his original material at the annual Australian Bush Laureate Awards in Tamworth, Noel's CD of Bruce Simpson's poetry gained the 'Golden Gumleaf' for Album of the Year at the ABLA in 2010.
Further to these specific achievements, having taught for 35 years, Noel specializes in working with children. Accredited with both the Queensland Education Department and the Queensland Arts Council, his inter-active workshops bring delight to youngsters in both city and country areas.
Noel's illustrated children's books
, The Bush Animals' Band
and
See What I See in the Sea
were finalists in Tamworth's ABLA Awards with
The Bush Animals' Band
taking out the 2009 Golden Gumleaf for 'Children's Book of the Year'.
Further, as an act of charity Noel and his ever-supportive wife Ann, run the
Verse for Vinnies
concerts in which invited feature poets perform to raise funds for the St.Vincent de Paul Society. Sunday afternoon audiences to these bi-monthly, two hour events are around 160 and to date over $29,000 has been raised to assist those who struggle for sustenance in our community.
From 2006 to 2010 Noel was President of the Australian Bush Poets Association and he is currently President of the North Pine Bush Poets Association. In Tamworth at the 2011 ABLA, Noel was awarded the very prestigious 'Judith Hosier Heritage Award' for "…outstanding achievement in nurturing Australia's unique heritage of rhymed verse…"
We thank Noel for all that he has done, and all that he continues to do for Australian culture, for the genre of bush poetry and for the ABPA.
Noel's profile and Performance Tips are available on this website. Click on
Techniques
.
To learn more about Noel and to obtain his products visit his website
noelstallard.com
.
---
Wally Finch — Agricultural Show Arena Spectaculars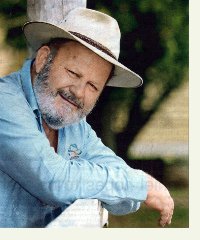 Since 2002 Wally has been involved from concept to writing to performance in bringing Arena Spectaculars to Agricultural Shows throughout regional Queensland and northern New South Wales. Agricultural Shows are the oldest form of continuous entertainment in Australia. They are a genuine part of our heritage in very real danger of being lost.  Some have already vanished forever.
The Arena Spectaculars are a kaleidoscope of imagery and sound with huge casts held together by the narrative of one bush poet, Wally.  Over the years they have covered historical subjects from Ned Kelly to Phar Lap. Because they are heritage based and easy to identify with, they have been instrumental in bringing crowds back to their local shows. For the team, their largest audience was on the Gold Coast a few years back when they performed to over 27,500 across three days.
This year their presentation of the Waltzing Matilda Arena Spectacular for the anniversary of Banjo Paterson's birth 150 years ago, was at the Toowoomba Show from 27th – 29th March.  Although, ironically, rain affected the schedule and the Thursday night had to be cancelled (only the second cancellation in 110 performances from 29 different shows), those who braved the weather on the opening,  including the Queensland Governor, Ms Penelope Wensley, enjoyed the music and bush poetry presented. When the full show went on on the Saturday night, there was an enthusiastic crowd of over 5,000.
Wally said "Our heritage offers us such a rich field of discovery as poets, writers, and, story tellers and the Arena Spectaculars demonstrate a different dimension of how our Bush Poetry can reach out to large audiences in regional and rural areas.  Imagine what we could do in capital cities."
Back to top.
On This Site
Membership Information
Forms and direct deposit information.

---
Forum
Take part in our online forum.
---
Multimedia
See and hear some of our modern Bush Poets.
---
Yarn Spinning
Poets often tell yarns too.
Read some great Aussie yarns.
---
Regular Events
You'll find regular poetry gatherings around the country.
---
Featured Poets
Meet a poet or two.
---
Member Achievements
Read about what some of our members have achieved.
---
Roll of Honour
Australian Bush Poetry Champions and ABPA executive members.
---