Multimedia
See and hear poems from some of our members.
Assorted multimedia files featuring some of our modern bush poets.
Elegy
2022 Blackened Billy-winning poem by Irene Dalgety Timpone.

---
C J Dennis Festival via Zoom highlights 2021

---
2015 Australian Bush Laureate Awards Finalist

This may be a new direction for bush poetry — another poem by Yvonne Harper with images to watch as you listen.

---
Spirit of Matilda
An original poem by Brenda Joy, a tribute to Banjo Paterson's iconic song Waltzing Matilda. This is a live recording from Man from Snowy River Bush Festival, Corryong, Victoria, April 2019. Accompanied by Linton Vogel on piano accordion.
Spirit of Matilda (view on YouTube)
---
Sorry Day Song

A song for Reconciliation created from the award-winning poem by Max Merckenschlager. The poem won a statuette at Grenfell's Henry Lawson Festival in 2008. The song placed first in WA Poets Inc Lyrics competition in 2012 and was selected by 'RabbitPoetry' for inclusion in their 2013 sound edition.

Max is passionate about Reconciliation. He and his wife Jacqui are members of Murray Bridge's Ngopun Together Reconciliation Group.

Sorry Day Song (mp3 audio).
Anthology On Sale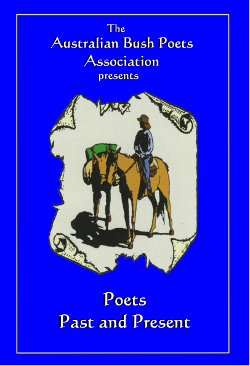 Anthology of ABPA poets past and present is now on sale $28 posted (within Australia).
A who's who of modern bush poetry.
62 poets, 192 pages.

More information here (pdf).
---
On This Site
Membership Information
Forms and direct deposit information.

---
Forum
Take part in our online forum.
---
Multimedia
See and hear some of our modern Bush Poets.
---
Yarn Spinning
Poets often tell yarns too.
Read some great Aussie yarns.
---
Regular Events
You'll find regular poetry gatherings around the country.
---
Featured Poets
Meet a poet or two.
---
Member Achievements
Read about what some of our members have achieved.
---
Roll of Honour
Australian Bush Poetry Champions and ABPA executive members.
---