Membership
Membership Information
Forms and direct deposit information.


New Anthology On Sale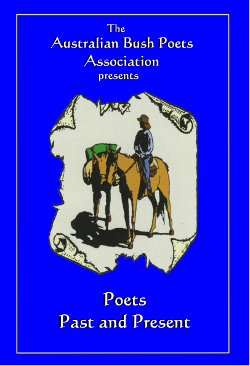 New anthology of ABPA poets past and present is now on sale $28 posted (within Australia).
A Who's Who of modern bush poetry.
62 poets, 192 pages.

More information here.


On This Site

Register of Modern Bush Poets
Many Poets have products and services available
_________________

Roll of Honour
Australian Bush Poetry Champions
and ABPA executive members
_________________

Multimedia
See and hear some of our
modern Bush Poets
_________________

Yarn Spinning
Poets often tell yarns too.
Read some great Aussie yarns
2021 ABPA Committee
ABPA Committee Executive
President - Tim Sheed
Vice President - Ray Essery
Secretary - Meg Gordon
Treasurer - Christine Middleton
Committee Members
Tom McILveen
Manfred Vijars
ABPA State Delegates
NSW - Bill Kearns
Victoria - Jan Lewis
Queensland - Peter Frazer
WA - Irene Conner
Magazine Editor - Neil McArthur
Public Officer - Gregory North
Facebook Editor - Jan Lewis
Webmaster - Gregory North

President's Report June-July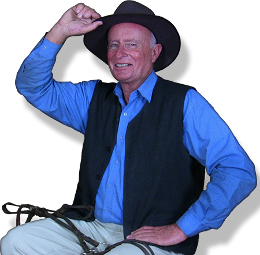 As I write this report we are once more in lockdown here in Victoria. Hopefully the track and trace has improved markedly from previous lock downs and we will soon be back in business.
On a more positive note we attended the Man From Snowy River Festival in Corryong back in April. It was good to see friends we hadn't caught up with for quite a while and to see how much poetry we had forgotten. A little rusty at times but overall people were as good as ever.
The festival was well attended although numbers were capped. The last time we attended fourteen thousand people went through the gates.
It is heartening to see that many of our bush poetry events have returned and are being very well attended. It was my privilege to present Jan Lewis with a Life Membership of the ABPA for her tireless work in organizing the Bush Poetry Championships in conjunction with The Man From Snowy River Festival, the Victorian Bush Poetry Musicians Benalla Muster and much more.
Preparations are on track for the Banjo Paterson Poetry Festival in Orange next February incorporating the ABPA National Bush Poetry Championship.
Also, the Golden Damper and Frank Daniels poetry competitions will be taking place in conjunction with the Tamworth Country Music Festival in January 2022.
Finally, the ABPA Committee are delighted to welcome new member David Stanley from Bathurst to the committee. David was the winner of the ABPA Golden Damper Original Poetry section at Tamworth in 2020.
Timothy Sheed
President.
Welcome to the ABPA website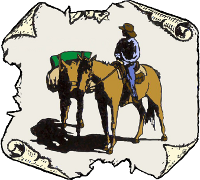 WELCOME
, membership of the Australian Bush Poets Association (ABPA) is comprised of writers, performers and individuals who are interested in bush poetry and enjoy written and live stories in rhyme and metre. If you have an interest in this piece of Australian culture called Bush Poetry, you are welcome here.

Aims
The objectives of the Australian Bush Poets Association is to foster and encourage the growth of Bush Poetry in Australia. By definition, Australian Bush Poetry is metred and rhymed poetry about Australia, Australians and/or the Australian way of life.

Membership
To join the Australian Bush Poets Association and receive our bi-monthly magazine, go to our Membership page.

The ABPA keeps in touch with our members through this website (and forum) and our bi-monthly magazine of Bush Poetry news, events, results of written and spoken competitions as well as samples of contemporary bush poetry. Many members have books, CDs and other products. These can be advertised in the magazine. For rates, click here. The deadline for ads and other content for the magazine is the 22nd of the month preceding publication. Magazines are published at the beginning of February, April, June, August, October and December.



Check out our Facebook page.


The Man From Snowy River Bush Festival
Corryong, Victoria hosted their 25th Man From Snowy River Bush Festival in April. It was a great event thanks to Jan Lewis and her team of committed and jovial volunteers. Here are some of the gang.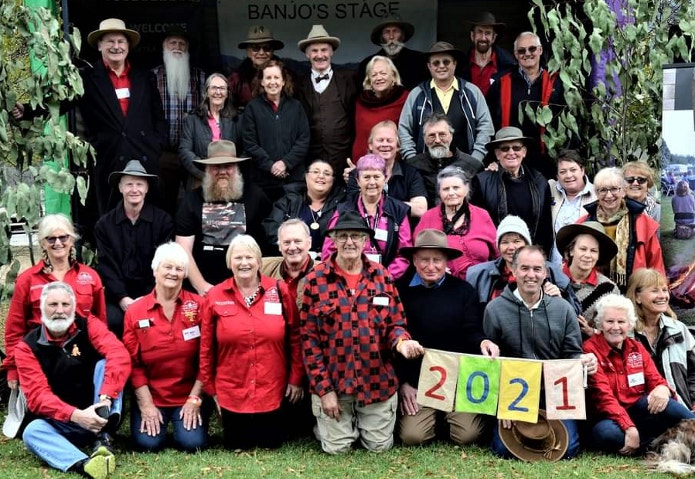 Jan was also made a Life Member of the Australian Bush Poets Association. Here's president Tim presenting Jan her gift on the new Banjo's stage (made possible with help from Jai Thoolen and the WA Bush Poets and Yarnspinners).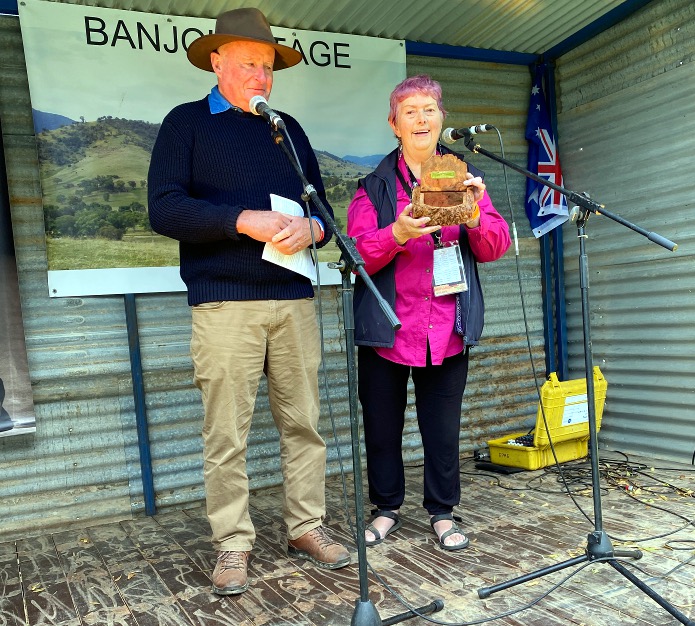 Maurie Foun, Kevin McCarthy, Simon Dillon and friends presented a Campbell the Swaggie tribute concert.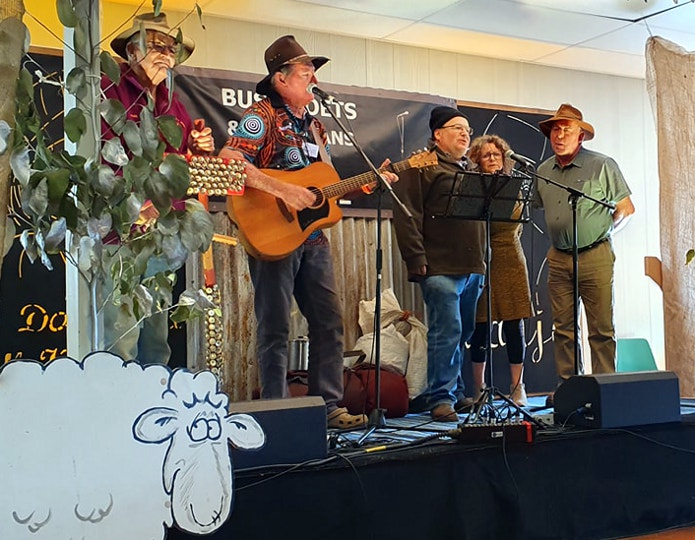 Featured performers included Gregory North, Geoffrey W Graham, The Rhymer from Ryde and Christine Middleton and several tribute concerts recognised performers past and present. Poets came from near and far to take part in walk-up events and concerts for local aged care residents.





The Man From Snowy River recital was contested by James Thomas, Rhonda Tallnash, with local Maurie Foun emerging the winner.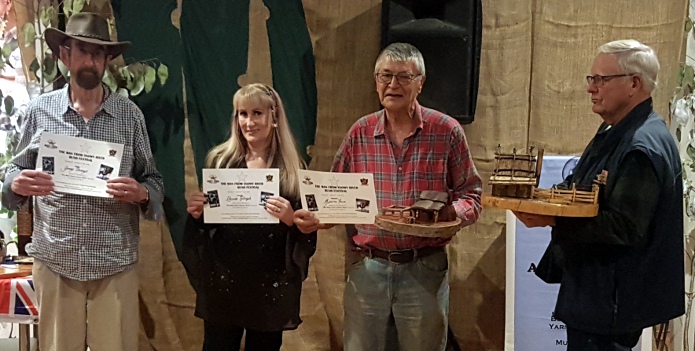 Tributes to the late Carol Reffold and Betty Walton were tearfully presented with Lisa Ride winning the Carol Reffold Memorial One Minute Poem competition and Lynne Frederick the runner-up.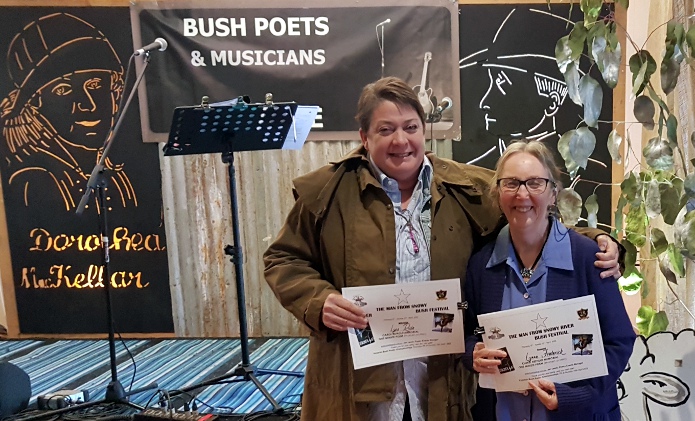 Full results here.
With thanks to Rob Christmas and Geoffrey W Graham for photographs.


See previously featured poets.

See previously featured achievers.



Vale Ron Stevens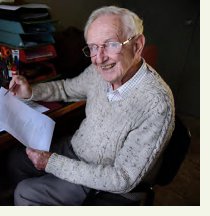 Ron passed away on 2nd April after a long illness from Asbestosis.
He was born in Richmond, NSW, in 1926. He and his wife, Clo have lived in Dubbo, NSW since 1994. After spending from 1944 to 1974 in the RAAF and RAN, Ron took a BA at Macquarie University, majoring in English and History, after which he indulged his interest in writing, particularly poetry.

He was a Writing Fellow and honorary life member of the Fellowship of Australian Writers, a long-term member of the ABPA, the Henry Lawson Society of NSW and the Outback Writers Centre, Dubbo.

He travelled widely through the Eastern States, to poetry festivals to give workshops and also to compete in written and performance competitions. Among his many written first prizes have been 'The Bronze Swagman', Winton, 'The Blackened Billy', Tamworth (two), 'The Banjo Paterson Literary Award', Orange (four), 'The Henry Lawson Society of NSW Literary Award', Gulgong (five) and the NSW and Victorian, 'ABPA State Championships'.

His first-prizes in performance competitions included 'The John O'Brien Festival', Narrandera and "The Leonard Teale Memorial Award', Gulgong.

Ron judged many competitions over the years and as schools liaison officer with Dubbo RSL Sub-branch he judges local schools' competitions. For many years he wrote and recited an appropriate poem for the Anzac Day Dawn Service.
His four self-published books of winning verse are now out of print but more recent poems were regularly printed in the literary magazine Free XpresSion and in the ABPA Magazine. Many of his more recent first-prize winning poems are included in the Poetry Section on this Website.

Ron was highly respected throughout the Bush Poetry community and in particular for his poetic tributes to our serving men and women which make a significant contribution to the national history of Australians at war.