Welcome to the Australian Bush Poets Association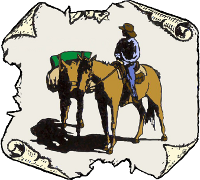 WELCOME. Membership of the Australian Bush Poets Association (ABPA) is comprised of writers, performers and individuals who are interested in bush poetry and enjoy written and live stories in rhyme and metre. If you have an interest in this piece of Australian culture called bush poetry, you have come to the right place.

Aims
The objectives of the Australian Bush Poets Association are to foster and encourage the growth of bush poetry in Australia. By definition, Australian bush poetry is metred and rhymed poetry about Australia, Australians and/or the Australian way of life.

Membership
To join the Australian Bush Poets Association and receive our bi-monthly magazine, go to our Membership page.

The ABPA keeps in touch with its members through this website (and forum) and our bi-monthly magazine of bush poetry news, events, results of written and performance competitions as well as samples of contemporary bush poetry. Many members have books, CDs and other products. These can be advertised in the magazine. For rates, click here. The deadline for ads and other content for the magazine is the 22nd of the month preceding publication. Magazines are published at the beginning of February, April, June, August, October and December.



Check out our Facebook page.
New EKKA Champion
The Royal Brisbane Show (EKKA) bush poetry competition was run on Sunday 13th August and won by Justin Geange.
Full results here. Justin was first in original bush poem, first in caravan bush poetry and overall champion.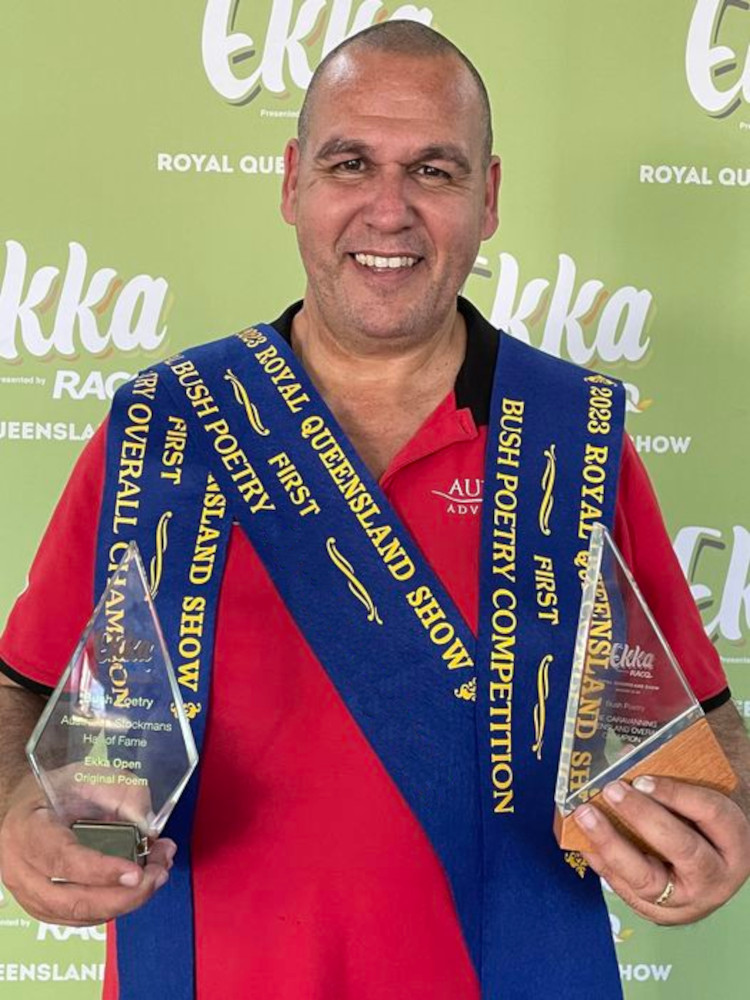 Peter O'Shaughnessy wins Boree Log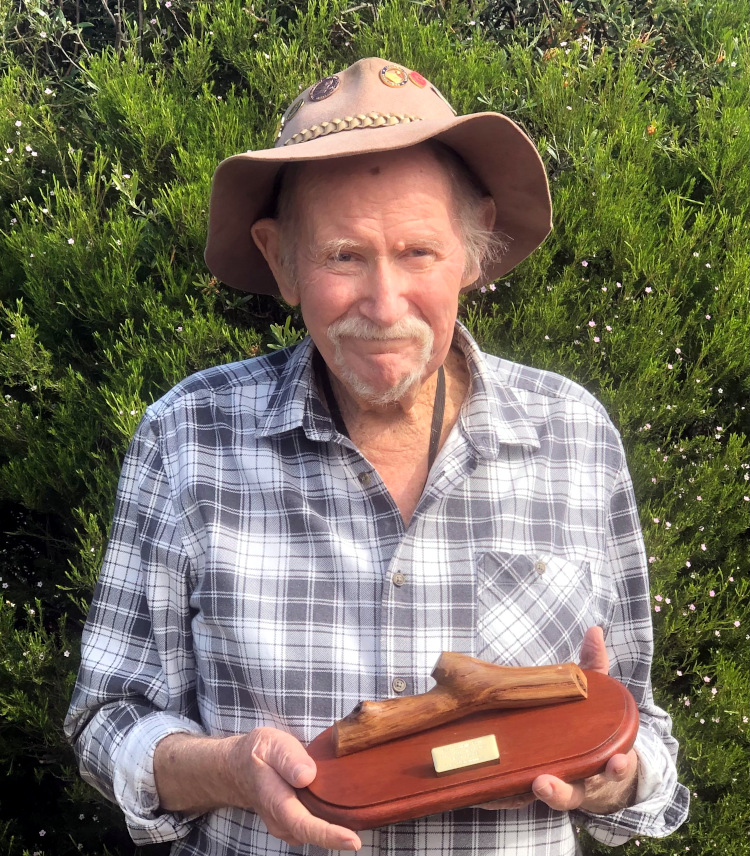 The Eastwood/Hills FAW Boree Log Award has been won by Peter O'Shaughnessy from Western Australia. Congratulations Peter.

See full results here.
Vale John Lees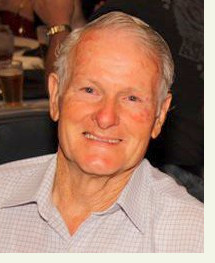 In the early hours of Friday 25th August, John Lees of Bundaberg, Queensland passed away after suffering a stroke in May. He was 88 years old.

John and his wife Sandy were outstanding organisers and hosts of the Bundy Muster bush poetry festivals for 22 years. They were also staunch supporters of the Bundaberg Poets Society and any budding bush poetry performers.

John took on technical aspects such as stages, sound and lighting with his trademark attention to detail and friendliness.

Sandy and John have attended many bush poetry events across the country over the years, always enjoying themselves and offering help. They were invaluable support to the Naked Poets, handling ticketing and merchandise at many of their shows, especially during the Tamworth Country Music Festival.

Always ready to offer constructive advice and help poets in whatever way he could, John was a generous and enthusiastic supporter of poets at all levels.

Outside of bush poetry, John had also been involved in square dancing and was a highly-skilled and sought-after motor trimmer and upholsterer. He never really retired and worked from his shed in the backyard until very recently.

John Lees was a great mate to so many bush poets and will be sorely missed. Our sympathies go to his wife Sandy and their three children and their families.

John's funeral was held on Friday 1 September where Ray Essery spoke eloquently on behalf of the poets who knew and respected John. Thank you Ray.


Vale Donald Crane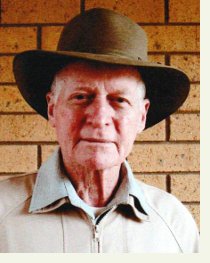 Donald Crane was born and educated in Moree, NSW and died in Toowoomba, Queensland on 30th July 2023, aged 92. His funeral service was held in Toowoomba on Tuesday 8th August and can be viewed here.

His entire working life was spent in the cattle industry — twenty years on large commercial properties in northern NSW and south west Queensland. In 1968 he joined the CSIRO as Livestock Overseer/Manager at Narayen Research Station, Mundubbera.

It was only since retiring in 1988 that Don started writing bush verse and success came with his very first poem. A Funny Breed of Cattle won the Queensland Country Life poetry competition and was a cheeky look at the youth who frequent Queen Street Mall in Brisbane. The challenge of competing with other writers of bush poetry provided the inspiration to continue writing and competing in written bush verse competitions around the country.

Don won over a dozen prestigious written competitions and said it was "the icing on the cake" to win the Bronze Swagman Award for written bush poetry in 2013 with his poem Midnight Muster. The poem pays tribute to legendary stockman Jim Wormwell and tells of a real-life, authentic and personal experience taken from the author's own working life.

He also accumulated a swag full of places and highly commended awards. Several of his poems were published in the Melbourne Books' Anthology, Award Winning Bush Verse and Stories 2012 and 2013. He also had his own book of verse published and launched at the Outback Writers Festival in Winton, Queensland shortly before his death.

Although a non-performer, Don travelled over 80,000 km following the bush poetry circuit around Queensland and NSW attending events as far afield as Winton, Charters Towers, Bundaberg, Tenterfield and Dunedoo. He was a familiar figure to those who competed at these festivals and was thrilled that other poets recited his poetry in competition.

The following award-winning poems by Donald Crane are on the ABPA Poetry page:
A Bovine World
Bush Mother
Dooley's Banker
Drover Dreaming
Equus Caballus (The Horse)
The Old Timer

The book Verse by Donald Crane, edited by Jeff Close, is available from Outback Books.
Past Magazines now online
The historic magazines of the ABPA from its inception in 1994 are now available here. See how we used to look!
See previously featured poets
.
See previously featured achievers
.
Anthology On Sale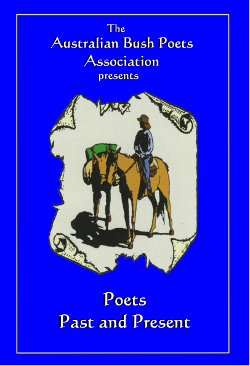 Anthology of ABPA poets past and present is now on sale $28 posted (within Australia).
A who's who of modern bush poetry.
62 poets, 192 pages.

More information here (pdf).
On This Site
Membership Information
Forms and direct deposit information.

---
Forum
Take part in our online forum.
---
Multimedia
See and hear some of our modern Bush Poets.
---
Yarn Spinning
Poets often tell yarns too.
Read some great Aussie yarns.
---
Regular Events
You'll find regular poetry gatherings around the country.
---
Featured Poets
Meet a poet or two.
---
Member Achievements
Read about what some of our members have achieved.
---
Roll of Honour
Australian Bush Poetry Champions and ABPA executive members.
---
Past Magazines
Past issues of the ABPA Magazine since 1994.
---
Magazine Advertising Rates
---
Disclaimer
---
Privacy Policy
2022 ABPA Committee
ABPA Committee Executive
President — Tim Sheed
Vice President — David Stanley
Secretary — Meg Gordon
Treasurer — Christine Middleton
Committee Members
Tom McILveen
Manfred Vijars
Ray Essery
ABPA State Delegates
NSW — Bill Kearns
Victoria — Jan Lewis
Queensland — Peter Frazer
WA — Irene Conner
Magazine Editor — Neil McArthur
Public Officer — Gregory North
Facebook Editor — Jan Lewis
Webmaster — Gregory North

President's Report August-September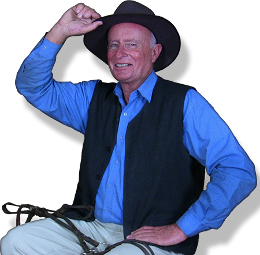 It is a relief to have passed the shortest day and be heading to warmer times.

Meg Gordon (ABPA Secretary) is in Derby and informs us that things are good in the top end (see WA report elsewhere.) Australian bush poetry is in a very strong position as the first bush poetry festival held recently in Linville, Queensland attests (see video).It was well attended and a real success with organisers having to limit the number of competing poets to fourteen per section.

NSW is planning their first State Bush Poetry Competition for a number of years in Guyra ("Poets on The Mountain Festival") on the 16th to 19th of November so keep an eye on our website.

The Victorian Bush Poets and Musicians Association are holding a statewide gathering at Broken Creek on the 15th and 16th of October with a view to future State Championships if it is a success.

I hope everyone is keeping well and warm and we will reconvene in the Springtime.

Timothy Sheed
President.