Membership
Membership Information
Forms and Electronic Subscriptions


New Anthology On Sale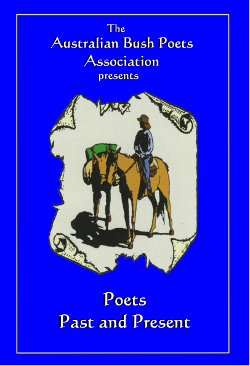 New anthology of ABPA poets past and present is now on sale $28 posted (within Australia).
A Who's Who of modern bush poetry.
62 poets, 192 pages.

More information here.


On This Site

Register of Modern Bush Poets
Many Poets have products and services available
_________________

Roll of Honour
Australian Bush Poetry Champions
and ABPA executive members
_________________

Multimedia
See and hear some of our
modern Bush Poets
_________________

Yarn Spinning
Poets often tell yarns too.
Read some great Aussie yarns
2021 ABPA Committee
ABPA Committee Executive
President - Tim Sheed
Vice President - Ray Essery
Secretary - Meg Gordon
Treasurer - Christine Middleton
Committee Members
Tom McILveen
Manfred Vijars
ABPA State Delegates
NSW - Bill Kearns
Victoria - Jan Lewis
Queensland - Peter Frazer
WA - Irene Conner
Magazine Editor - Neil McArthur
Public Officer - Gregory North
Facebook Editor - Jan Lewis
Webmaster - Gregory North

President's Report April-May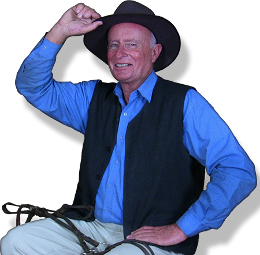 As we slowly grope our way back to something like normal, we are still quite restricted in numbers that can attend events, but as the vaccine rollout gets going we should see those numbers relaxed.
The ABPA currently offers an annual low cost Public Liability Insurance Cover for performers. The committee is now negotiating with our current insurer to have Poets Associations
throughout Australia auspiced by the ABPA. This
means that individual poets associations and their members would be covered under the Association insurance for their activities. Currently most Poet Associations source their own PLI and this can be expensive. To enable our insurer to provide a quote we require the
following information from all interested Poetry Groups and Associations to to be forwarded to
treasurer@abpa.org.au.
a) Name of the Member Groups to be noted and insured
b) Number of Members in each Organisation
c) Approximate annual turnover for each Organisation or Member group.

At this stage The Oracles Of The Bush festival is on next weekend in Tenterfield. The weekend of April 8-11 will see The Man From Snowy River Festival back in operation in Corryong and we are looking forward to attending and helping out. It will be our first live bush poetry event in eighteen months.
The National Australian Bush Poetry Championships are planned for Orange next February, running in conjunction with the Banjo Paterson Poetry Festival.
A grant has been applied for through the Building Better Regions Fund and we are hopeful of being successful with that application. The festival has strong support from the local councils and is a definite goer at this stage.
The spirit of Tamworth remains strong with some of our best poets keeping the caravan parks entertained by Ray Essery, Errol Gray and David Proust.
It was particularly pleasing to see that Kelly Dickson has finally been awarded a Golden Guitar. His "Leave him in the Longyard" is a great story up there with the Banjo Paterson classics.
To all the poets and storytellers, keep your distance, keep smiling and keep telling your stories.

Timothy Sheed
President.
Welcome to the ABPA website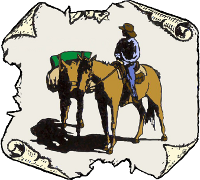 WELCOME
, membership of the Australian Bush Poets Association (ABPA) is comprised of writers, performers and individuals who are interested in bush poetry and enjoy written and live stories in rhyme and metre. If you have an interest in this piece of Australian culture called Bush Poetry, you are welcome here.

Aims
The objectives of the Australian Bush Poets Association is to foster and encourage the growth of Bush Poetry in Australia. By definition, Australian Bush Poetry is metred and rhymed poetry about Australia, Australians and/or the Australian way of life.

Membership
To join the Australian Bush Poets Association and receive our bi-monthly magazine, go to our Membership page.

The ABPA keeps in touch with our members through this website (and forum) and our bi-monthly magazine of Bush Poetry news, events, results of written and spoken competitions as well as samples of contemporary bush poetry. Many members have books, CDs and other products. These can be advertised in the magazine. For rates, click here. The deadline for ads and other content for the magazine is the 22nd of the month preceding publication. Magazines are published at the beginning of February, April, June, August, October and December.



Check out our Facebook page.


Banjo Paterson Australian Poetry Festival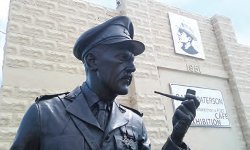 From 13th to 21st February, Orange and district ran another successful festival. It started out with a poet's brawl in Molong and ended with a Banjo Paterson show at the beautiful Strawhouse Winery in Orange. In between, there were workshops and performances in schools, a children's original performance competition, Banjo's birthday celebrations, a walk-up poetry competition and poet's breakfast. Next year the festival will host the Australian Bush Poetry Championships.
On Banjo's birthday (17th February) a spectacular new statue of Banjo in his World War I military uniform was unveiled at the Banjo Paterson More than a Poet Museum in Yeoval. Major Paterson was in charge of the remount unit in Egypt ensuring horses and mules were prepared for the Australian Light Horse and artillery regiments and the grand statue is a wonderful tribute to his war service.


 
Oracles of the Bush Festival
Tenterfield NSW put on a wonderful event from 25th - 28th March: The Oracles of the Bush Festival. With last year's event cancelled due to Covid-19, this year was joyous return for the festival for its 25th anniversary.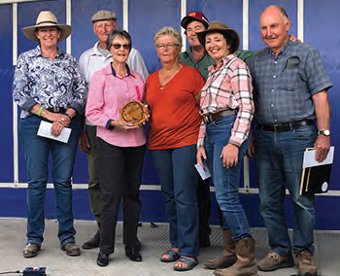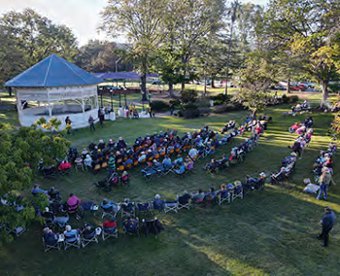 Looming Legends performance competition place-getters Mary O'Brien, Paddy O'Brien, Claire Reynolds, Marion Dreyer, Marco Gliori (MC), Debby Berryman, Ken Woodward. (Right) Sunday's Poets' Breakfast in Jubilee Park.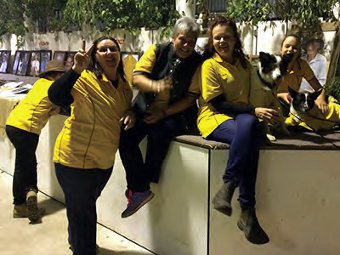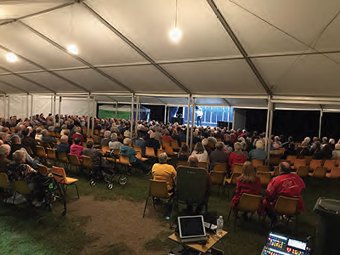 Some of the volunteer "Yellow Shirts" and Saturday night's Poets' Concert.

Full results here.


See previously featured poets.

See previously featured achievers.


Vale Hal Pritchard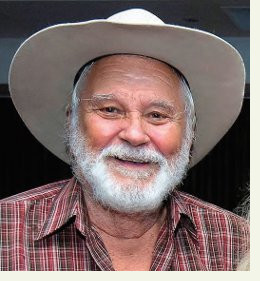 Harold David (Hal) Pritchard died on 18th January at age 79. Hal had been particularly ill during the last year. He endured bravely and now is beyond the reach of pain. He left this earth plane after a wonderful and varied life going forward to greater light and love. Over the last decade and a half, Hal brought his diverse background experiences and managerial skills into the poetic arena and his consequent contributions to the ABPA were significant.
As well as travelling Australia for nine years as an administrator, a performance judge and workshop co-presenter, Hal served as ABPA President in 2014 and 2015 and as Vice-President in 2016.
Among the thousands of tributes received from people from all walks of life are comments from his fellow ABPA committee members - "...Hal was such a great supporter for you and bush poetry in general. His selfless input into the ABPA was so appreciated. His big hands and warm heart will be missed." (Gregory North). "...Hal was an able administrator who capably met the day-to- day challenges of organising a group as complex and as scattered as the ABPA. It was a pleasure to serve on committee under his leadership. He was a good man and will be sorely missed." (Wally Finch) "...Hal was such a huge presence in our bush poetry community. Our community will be the poorer for his passing." (Robyn Sykes) "Hal's contribution to the ABPA and Aussie poetry cannot be measured. He will be sadly missed." (Shelley Hansen).
Hal is mourned by his poet wife of 54 years, Brenda Joy (who he supported in every capacity) by all the members of both sides of their loving family, and by friends and associates world-wide.



Vale Terry Regan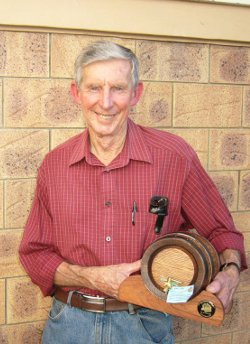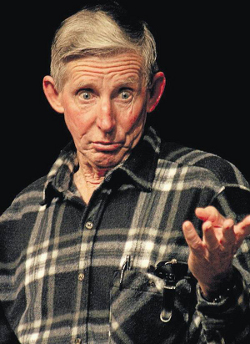 Sad to say that 2007 Australian Male Champion Bush Poet Terry Regan passed away on Tuesday 23rd February. He had been suffering from dementia and was in a nursing home in western Sydney. He had a stroke a couple of days prior and deteriorated over the following days. His funeral was at Leura Memorial Gardens in the Blue Mountains in the Blue Mountains of NSW on Wednesday 3rd March.
Terry and his beloved wife Dulcie (deceased) were at my first bush poetry event and became firm friends immediately. Terry taught me how to write bush poetry and was a great mentor and friend. He was a keen bush poetry writer and performer with a rich, deep voice. Skilled in both serious and humorous poetry, he was a favourite at many festivals right around this big country that he loved. He and Dulcie travelled far and wide in their camper, attending poetry events wherever they could.
Terry is survived by his two daughters Linda and Jenni and two granddaughters Grace and Lily and will be sadly missed.

Gregory North.