Welcome to the Australian Bush Poets Association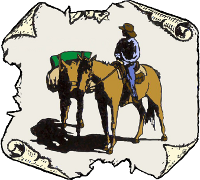 WELCOME. Membership of the Australian Bush Poets Association (ABPA) is comprised of writers, performers and individuals who are interested in bush poetry and enjoy written and live stories in rhyme and metre. If you have an interest in this piece of Australian culture called bush poetry, you have come to the right place.

Aims
The objectives of the Australian Bush Poets Association are to foster and encourage the growth of bush poetry in Australia. By definition, Australian bush poetry is metred and rhymed poetry about Australia, Australians and/or the Australian way of life.

Membership
To join the Australian Bush Poets Association and receive our bi-monthly magazine, go to our Membership page.

The ABPA keeps in touch with its members through this website (and forum) and our bi-monthly magazine of bush poetry news, events, results of written and performance competitions as well as samples of contemporary bush poetry. Many members have books, CDs and other products. These can be advertised in the magazine. For rates, click here. The deadline for ads and other content for the magazine is the 22nd of the month preceding publication. Magazines are published at the beginning of February, April, June, August, October and December.



Check out our Facebook page.
2023 NSW Championships
The NSW State Championships were held as part of the Poets on The Mountain Festival at Guyra 11-19 November.
Paddy O'Brien became overall champion and Debby Berryman runner-up. Full results here.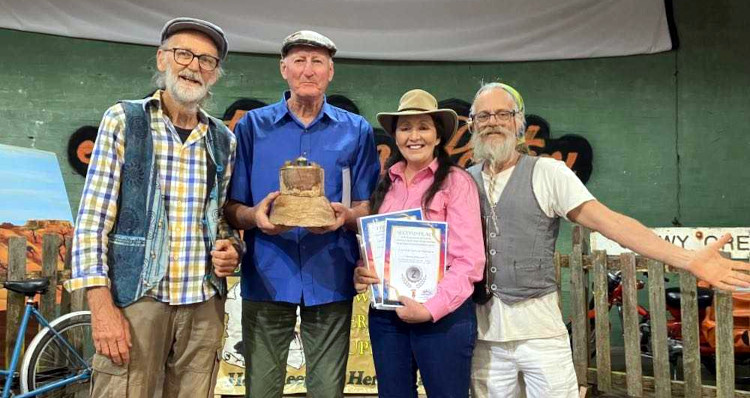 Co-ordinator Tom McILveen, Poet of the Mountain and overall champion Paddy O'Brien, runner-up Debby Berryman and Guyra's Australian Poetry Hall of Fame proprietor James Warren.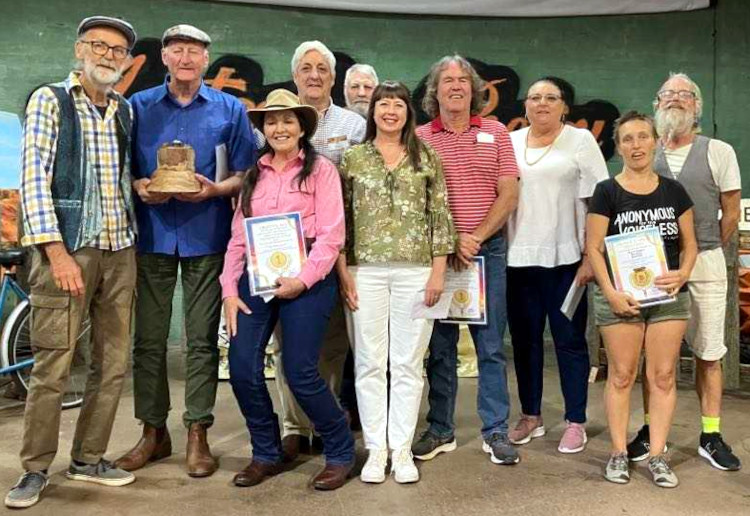 Tom McILveen with category winners and place-getters: Paddy O'Brien, Debby Berryman, Peter Frazer, David Stanley, Caroline Tuohey, Andrew Pulsford, Jenny Markwell, film award recipient Skye Campen and James Warren.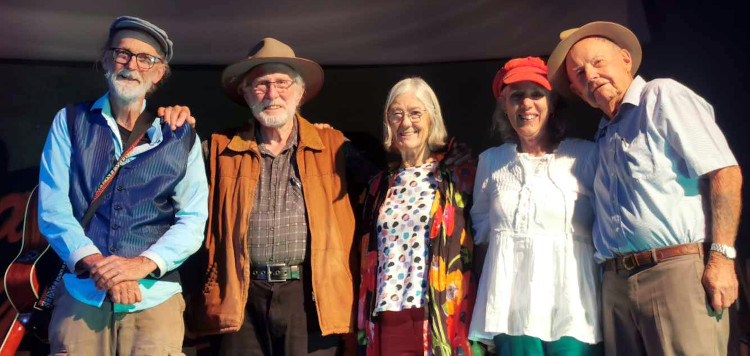 The festival included a Rhymers Variety Show featuring the Spiral Time duo of Tom McILveen and Susan Ashton (second from right), as well as NSW championship judges Bill Kearns, Robyn Sykes and Ray Essery (at right).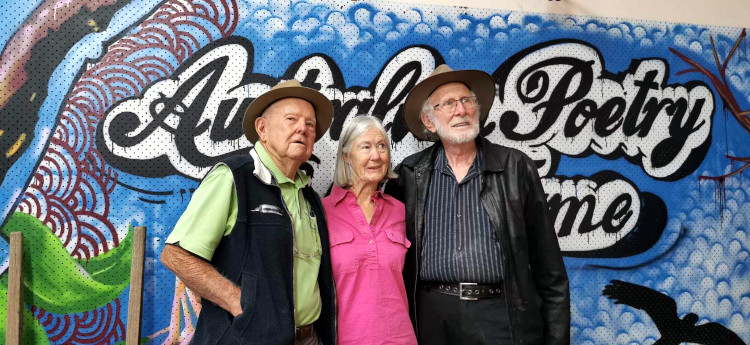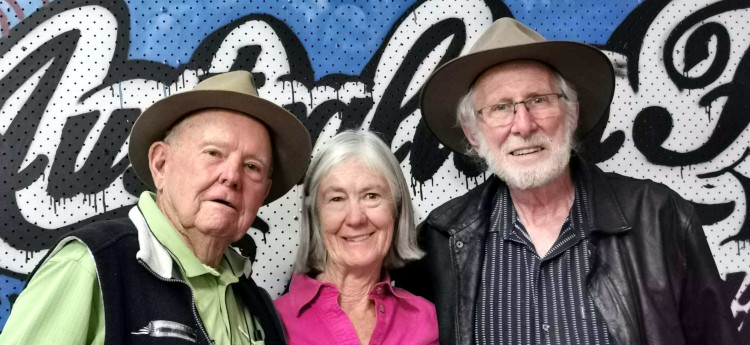 NSW championship judges Ray Essery, Robyn Sykes and Bill Kearns.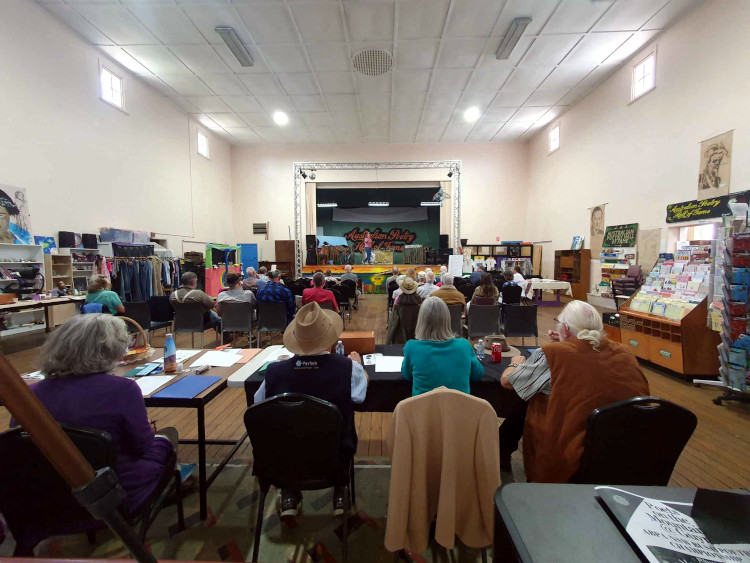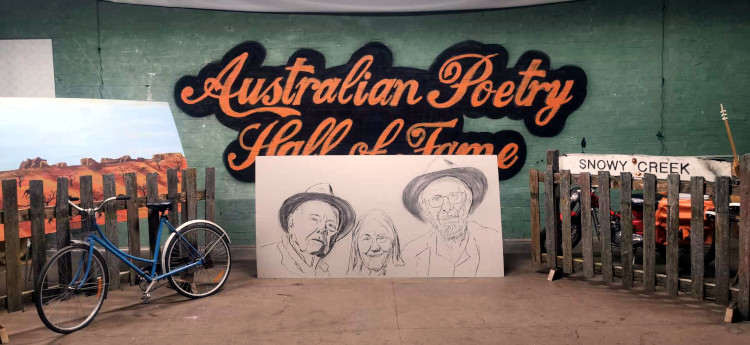 Past Magazines now online
The historic magazines of the ABPA from its inception in 1994 are now available here. See how we used to look!
See previously featured poets
.
See previously featured achievers
.
Anthology On Sale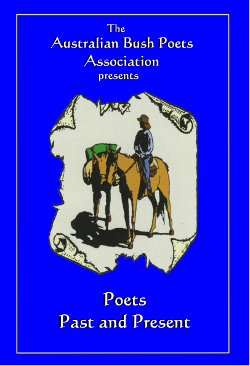 Anthology of ABPA poets past and present is now on sale $28 posted (within Australia).
A who's who of modern bush poetry.
62 poets, 192 pages.

More information here (pdf).
On This Site
Membership Information
Forms and direct deposit information.

---
Forum
Take part in our online forum.
---
Multimedia
See and hear some of our modern Bush Poets.
---
Yarn Spinning
Poets often tell yarns too.
Read some great Aussie yarns.
---
Regular Events
You'll find regular poetry gatherings around the country.
---
Featured Poets
Meet a poet or two.
---
Member Achievements
Read about what some of our members have achieved.
---
Roll of Honour
Australian Bush Poetry Champions and ABPA executive members.
---
Past Magazines
Past issues of the ABPA Magazine since 1994.
---
Magazine Advertising Rates
---
Disclaimer
---
Privacy Policy
2022 ABPA Committee
ABPA Committee Executive
President — Tim Sheed
Vice President — David Stanley
Secretary — Meg Gordon
Treasurer — Christine Middleton
Committee Members
Tom McILveen
Manfred Vijars
Ray Essery
ABPA State Delegates
NSW — Bill Kearns
Victoria — Jan Lewis
Queensland — Peter Frazer
WA — Irene Conner
Magazine Editor — Neil McArthur
Public Officer — Gregory North
Facebook Editor — Jan Lewis
Webmaster — Gregory North

President's Report December '23 - January '24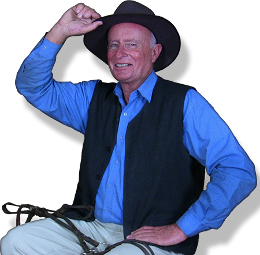 It has been a busy time for bush poetry over the last couple of months with the most recent event being the New South Wales Bush Poetry Competition in Guyra.

Prior to Guyra the, Western Australian Bush Poetry Championships were held in Toodyay in early November and were well received.

The Victorian Bush Poets and Musicians Association had a get together at Broken Creek near Benalla and it was a fun weekend. Those attending commented that it was nice occasionally having a party without competition and all said that they would attend any such future events. The combination of music and poetry at a get together such as that creates a more fun event.

Speaking of music, we have just returned from a short trip to Bedourie in western Queensland conducting ukelele workshops for the children from the small schools at Birdsville, Windorah, Jundah and Stonehenge.

The children are brought to Bedourie with the prime aim of teaching them to swim. The small town has a wonderful undercover pool and the program is called Splash and Arts. The program is run over three days and the kids camp in the town hall which is huge. There were a total of forty five participants and they loved it. The workshops culminated in a swimming carnival and concert where the kids could show what they had learnt.

Tamworth is the next big festival and the ABPA will be conducting the Frank Daniels Awards again in the same vein as last time.

The Victorian Bush Poetry Championship will be held in 2024 in conjunction with The Man From Snowy River Festival in Corryong on the eleventh to the fourteenth of April.

Poets breakfasts are a core part of most country music festivals and bush poetry is as well loved and received as it ever has been.

Onwards and Upwards for Bush Poetry,
Timothy Sheed
President.