Welcome to the Australian Bush Poets Association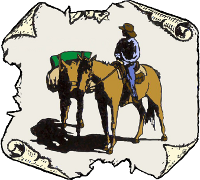 WELCOME. Membership of the Australian Bush Poets Association (ABPA) is comprised of writers, performers and individuals who are interested in bush poetry and enjoy written and live stories in rhyme and metre. If you have an interest in this piece of Australian culture called bush poetry, you have come to the right place.

Aims
The objectives of the Australian Bush Poets Association are to foster and encourage the growth of bush poetry in Australia. By definition, Australian bush poetry is metred and rhymed poetry about Australia, Australians and/or the Australian way of life.

Membership
To join the Australian Bush Poets Association and receive our bi-monthly magazine, go to our Membership page.

The ABPA keeps in touch with its members through this website (and forum) and our bi-monthly magazine of bush poetry news, events, results of written and performance competitions as well as samples of contemporary bush poetry. Many members have books, CDs and other products. These can be advertised in the magazine. For rates, click here. The deadline for ads and other content for the magazine is the 22nd of the month preceding publication. Magazines are published at the beginning of February, April, June, August, October and December.



Check out our Facebook page.
Man From Snowy River Bush Festival
Corryong, Victoria once again hosted the iconic festival and three competitions were run and won.
See full results here and the Corryong Courier newspaper report here.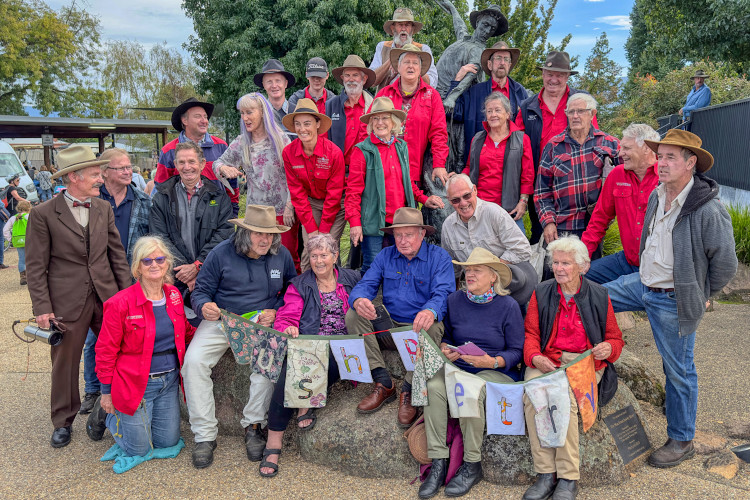 The poets gathered at the Man From Snowy River statue.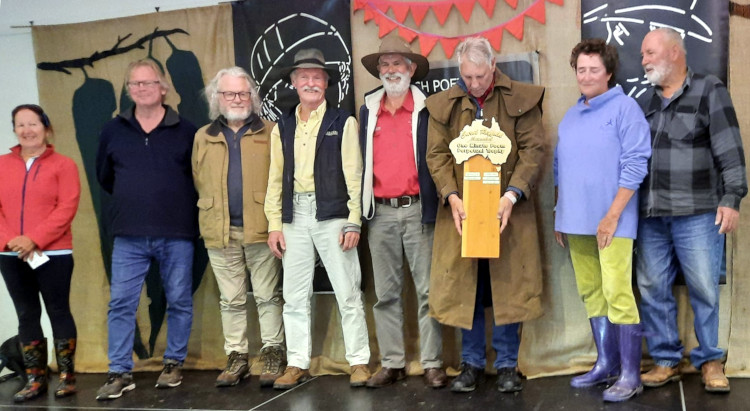 Competitors in the Carol Reffold Memorial 1-minute Cup with winner David Stanley holding the trophy and wearing the embroidered oilskin coat.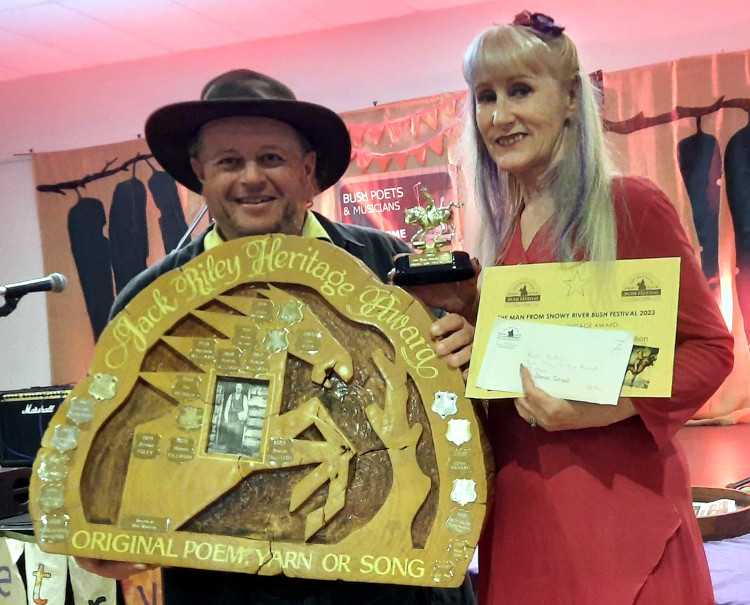 Jack Riley Award held by Graeme Johnson for winner Rhonda Tallnash.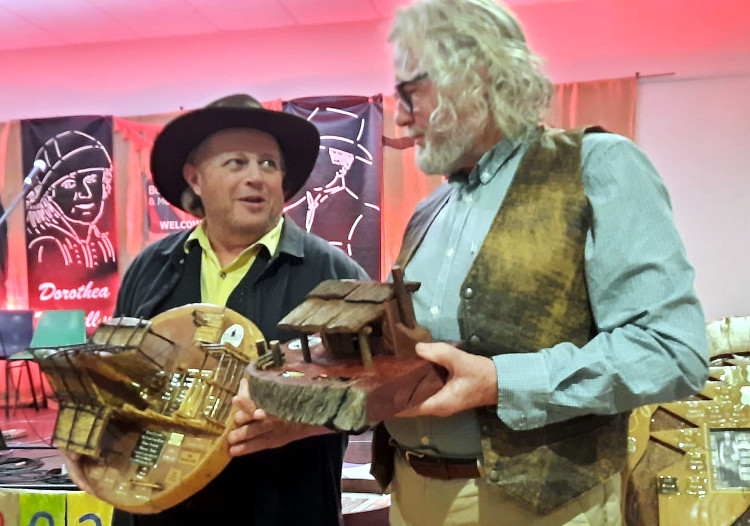 The Man From Snowy River perpetual trophy held by Graeme Johnson with winner Seamus Foley holding his personal trophy hand made by Linton Vogel.
New Australian Champion: Michael Darby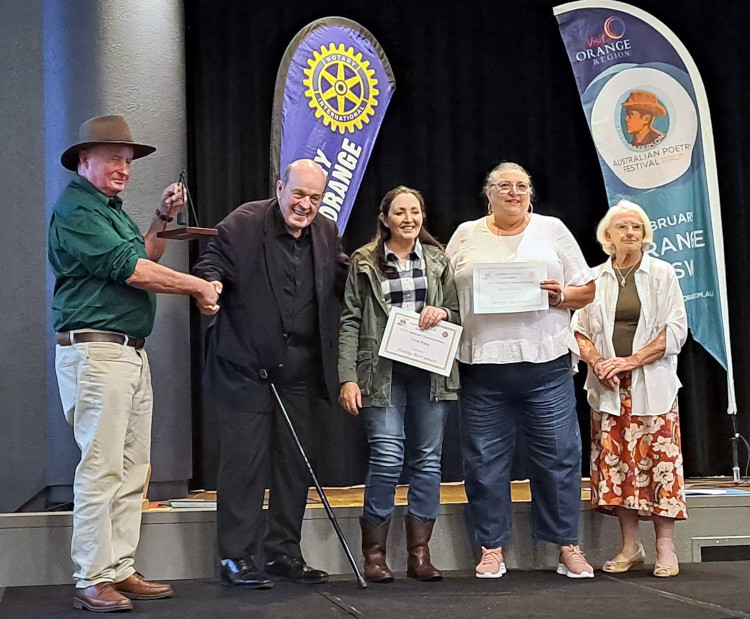 ABPA President Tim Sheed, new Australian Champion Michael Darby, third-placed Debby Berryman, runner-up Jenny Markwell and ABPA Secretary Meg Gordon.

The National Bush Poetry Championships were held in Orange, NSW during the Banjo Paterson Australian Poetry Festival and Michael Darby is the new champion. Michael is from Western Australia and gave outstanding performances during the competition. See full results here.

See previously featured poets
.
See previously featured achievers
.
Anthology On Sale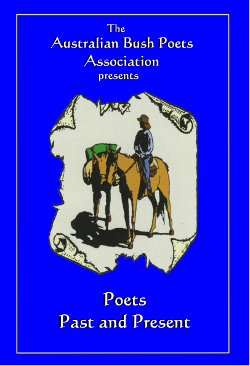 Anthology of ABPA poets past and present is now on sale $28 posted (within Australia).
A who's who of modern bush poetry.
62 poets, 192 pages.

More information here (pdf).
On This Site
Membership Information
Forms and direct deposit information.

---
Forum
Take part in our online forum.
---
Multimedia
See and hear some of our modern Bush Poets.
---
Yarn Spinning
Poets often tell yarns too.
Read some great Aussie yarns.
---
Regular Events
You'll find regular poetry gatherings around the country.
---
Featured Poets
Meet a poet or two.
---
Member Achievements
Read about what some of our members have achieved.
---
Roll of Honour
Australian Bush Poetry Champions and ABPA executive members.
---
Past Magazines
Past issues of the ABPA Magazine since 1994.
---
Magazine Advertising Rates
---
Disclaimer
---
Privacy Policy
2022 ABPA Committee
ABPA Committee Executive
President — Tim Sheed
Vice President — David Stanley
Secretary — Meg Gordon
Treasurer — Christine Middleton
Committee Members
Tom McILveen
Manfred Vijars
Ray Essery
ABPA State Delegates
NSW — Bill Kearns
Victoria — Jan Lewis
Queensland — Peter Frazer
WA — Irene Conner
Magazine Editor — Neil McArthur
Public Officer — Gregory North
Facebook Editor — Jan Lewis
Webmaster — Gregory North

President's Report April-May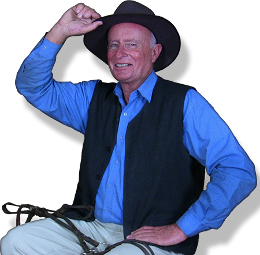 Our organization held its Annual General Meeting on the twenty third of February. The committee was returned with David Stanley moving into the Vice President position. I thank our committee members for their ongoing commitment to the wellbeing of the ABPA. Membership fees remain unchanged.

We are only into the third month of 2023 and so far we have conducted the Frank Daniels Poetry awards competition in Tamworth and the National Bush Poetry Recital Competition in Orange.

The National Competition attracted many of Australia's finest poets and the level was outstanding. Congratulations to all for participating and particularly to the winners (see photo above).

The Rotary Club of Orange did a magnificent job in organizing the event overall with sponsors, prizes and many events across the region being very well attended.

We were invited to attend a dinner meeting of the Orange Rotary Club which was a great opportunity to officially thank them for hosting our Championship and the many poetry events they organized across the region. The Rotary Club of Orange are a dynamic group of people and their president, Len Banks, is a member of ABPA.

The Man From Snowy River Bush Festival is being held in Corryong from Thursday 13th to Sunday 16th of April. It is one of the premier Bush Poetry events of the year and a great meeting place.

All in all bush poetry is in a good position with the Sheffield (Tas) Steamfest including it for the first time this year and several other venues hosting our genre.

Timothy Sheed
President.