Membership
Membership Information
Forms and Electronic Subscriptions



On This Site

Register of Modern Bush Poets
Many Poets have products and services available
_________________

Roll of Honour
Australian Bush Poetry Champions
and ABPA executive members
_________________

Multimedia
See and hear some of our
modern Bush Poets
_________________

Yarn Spinning
Poets often tell yarns too.
Read some great Aussie yarns
_________________

ABPA Strategic Plan
_________________

2015 ABPA Committee
ABPA Committee
Executive
President - Hal Pritchard
Vice President - Manfred Vijars
Secretary - Brenda Joy Pritchard
Treasurer - Gregory North
Committee Members
Robyn Sykes
Carol Reffold
John Peel

ABPA State Delegates
Qld - Wally Finch
NSW - Tom McIllveen
Vic - Jan Lewis
Tas - Philip Rush
SA - Bob Magor
WA - Irene Conner
Magazine Editor - Neil McArthur
Webmaster - Gregory North

President's Report, Feb-Mar.
As presented at the Annual General Meeting:
Departed Members
Throughout 2014 we said goodbye to many of our long term and valued members and it was with great sadness that our losses continued when we learnt that Frank Daniel's brave battle with illness ended when he died on 22nd December, 2014. The whole bush poetry community went into mourning for one of its finest sons. Many members have expressed their personal sorrow and have sent condolences to Frank's family. We join in tribute to the man we all respected and admired.
Thank You to the Outgoing Committee
Although I have thanked the Committee Members throughout 2014, it is essential that I do so again. The 2014 ABPA Committee worked tirelessly on a voluntary, unpaid basis, towards the interests of the ABPA and its members. Their commitment to service was further demonstrated by the fact that the four 2014 ABPA State Championships were either organised by or judged by Committee Members. The ABPA has been fortunate in having such a dedicated team working co-operatively together for the betterment of all.
The job of getting the ABPA into order is on-going with considerations needing to be put towards its financial state and the fulfilment of its outreaching objectives, but if the 2015 Committee perform their function as efficiently and willingly as the outgoing Committee has done, our ABPA has a bright future ahead.
Major 2014 Achievements
ABPA Competition Package
The aims of the 2014 Committee have been to get our house in order and set up the infrastructure for the ABPA to go ahead into the future as the major body to preserve and expand the wonderful, Australian cultural tradition of storytelling through rhyme and metered poetry and yarn spinning.
Formally, we needed to have a competition package that we could offer to all organisers conducting State and National Championships financially contributed to by the ABPA. This has been achieved. The hope is that this package will also be adopted by organisers not operating under the auspices of the ABPA. The aim is for uniformity of judging in performance and written bush poetry competitions throughout Australia.
ABPA Website
The ABPA Website with its capable and enthusiastic webmaster, Gregory North, has flourished throughout 2014. Special thanks must go to Greg for his initiatives and skilful implementations of so many informative and interesting aspects. I also commend Brenda Joy for the extensive work she puts in collecting and archiving the Award winning poetry , and also collecting and editing the website features 'Meet a Poet', 'Thank you to Co-ordinators' and 'Member Achievements' and again to Greg for his skill in presenting these communicative features.
Thanks also go to Maureen Clifford for the very attractive Facebook pages and for sharing bush poetry through the well-presented on-line magazine The Australia Times and to Manfred Vijars and the team of facilitators for the successful running of the ABPA Forum. All members are urged to take advantage of the interactive opportunities of this network.
ABPA Magazine
Thank you to Neil Macarthur and those who assisted him, in particular we are in debt to Frank Daniel, for his initiative and presentation of the anniversary supplements in 2014. Neil is also to be commended for his thematic collections. It is heartening to see that members have responded to Neil's request for submissions and it is to be hoped they continue to send in their contributions of poetry and items of interest in particular towards any further commemorative ANZAC tributes which Neil will be presenting in 2015. The magazine belongs to its members and relies on your input.
Promoting Bush Poetry
In particular throughout 2014, initiatives have been undertaken towards promoting bush poetry at both ends of the age spectrum. Some of us have been concentrating on the 'grey nomad' population whilst others have been focussing on the young through presentations in schools and
youth events. The future of the ABPA relies on the support of the current over 50 population and on the generation of interest in the under 18 population. We thank everyone who has put their efforts into endeavours in these two significant age regions.
The ABPA and other website outlets, offer the general public a wealth of free information relative to bush poetry events and festivals throughout Australia. It is desirable that these outlets continue to be vibrant sources to arouse interest in our genre, but it is also hopeful that once the interest has been generated, seekers will wish to also become members of the ABPA. Without membership we cannot financially support the endeavours we wish to undertake.
A new promotional brochure has been produced with a membership form backing. We hope that you will avail yourself of this brochure through the Treasurer or the Secretary and help to promulgate the benefits of ABPA membership.
Bush Poetry in Tamworth
Tamworth is one of the venues where bush poetry is both appreciated and supported. To help people inside and outside the ABPA to know where bush poetry is held during the Country Music Festival, we issued the bush poetry information sheet as a guide. Also this year we have tried to expand St.Edward's Hall as the meeting place for all bush poets and supporters at the festival. For members in particular, we have organised the get-together/fund raising concert and I thank Tom McIlveen as St.Edward's Hall co-ordinator and Geoffrey Graham, Pat Drummond, Ray Essery and Gregory North for their input towards making this event a highlight of the Tamworth calendar.
Bush Poetry Australia-wide
As we travelled around Australia, even in the remotest parts of our country, there was always someone who had seen or heard of some of our wonderful ABPA performance bush poets. Also, in the most unlikely venues we found books by ABPA writers. Interest in Bush Poetry is growing through the conjoint endeavours of ABPA members and we thank each and every one of you for helping to expand awareness and interest in both the ABPA and in Bush Poetry in general.
I wish you all a healthy, happy and successful 2015.

In poetry,
Hal


Welcome to the ABPA website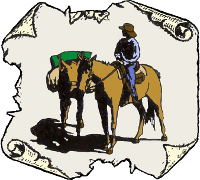 WELCOME, membership of the Australian Bush Poets Association (ABPA) is comprised of writers, performers and individuals who are interested in bush poetry and enjoy written and live stories in rhyme and metre. If you have an interest in this piece of Australian culture called Bush Poetry, you are welcome here.

Aims
The objectives of the Australian Bush Poets Association is to foster and encourage the growth of Bush Poetry in Australia. By definition, Australian Bush Poetry is metred and rhymed poetry about Australia, Australians and/or the Australian way of life.

Membership
To join the Australian Bush Poets Association and receive our bi-monthly magazine, go to our Membership page.

The ABPA keeps in touch with our members through this web-site (and forum) also a bi-monthly magazine of Bush Poetry news, events, results of written and spoken competitions as well as publishing contemporary bush poetry. Many members have books, CDs and other products. These can be advertised in the magazine. For rates, click here.



Check out our Facebook page.

Competition Package is now available with guidelines, judging and competition sheets, accredited judges list and application form and approved competitions list. If found necessary, these documents are open to amendment or changes as required following membership input and committee approval.

Roll of Honour lists Australian Bush Poetry Champions and ABPA Executive members since inception.



Frank Daniel Encouragement Award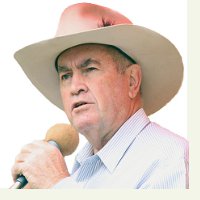 Following the passing of great bush poetry mate Frank Daniel on 22nd December 2014, his daughter Catherine has offered to donate a large perpetual trophy that can be engraved each year with the winner's name (and held for a year) and a smaller trophy that the winner can keep as an encouragement (not a best) award in memory of Frank Daniel.

Complying with Catherine's wishes, it has been negotiated with her that this award be presented to an up and coming junior poet at a selected ABPA National or State Championship each year.

ABPA President Hal Pritchard expressed the ABPA's gratitude to Catherine Daniel and advised her that the inaugural Frank Daniel Encouragement Award will be given at the Australian Bush Poetry National Championships in Corryong in April. Catherine will be going to the ABPA Nationals which adds the wonderful bonus that she will be able to present the award herself to the initial recipient.

Frank Daniel's involvement with bush poetry was both long-term and active. As an inaugural member of the ABPA, over many years he fulfilled the demanding administrative roles of President, Vice President and Magazine Editor. Frank assisted with the running of various bush poetry festivals and gained much personal success in competitions as a performing bush poet and yarn spinner.

In addition, Frank worked tirelessly for many charities and fund raising organisations and performed at community events around Canowindra where he spent his latter years. He was a much loved member of that region of NSW.

Last year Frank compiled the monthly insert for the ABPA Magazine promoting the achievements of other long-term members of our Association. We now pay tribute to Frank's own achievements and to the man we all respected and admired.

See more information on Frank on the previously featured poets page.

Frank's funeral was held in Canowindra on 29th December, 2014.



Meet a Poet – Arthur Green
Feature Poet - we are introducing our wonderful poets (both performers and writers) to newcomers and to the general public by featuring a different ABPA poet on the Website each month. Poets featured will come from the entire membership and may be professionals, semi-professionals or amateurs, but each will be a worthy role model to represent the ABPA membership.


Arthur Green is married, with three adult children, and five grand-children, and is living, together with his wife Kay, on the Sunshine Coast of Queensland. He is the past president of the Fellowship of Australian Writers, Queensland.

Besides winning a number of bush poetry competitions, Arthur has been runner-up in both the Henry Lawson Literary Awards at Gulgong and the Bronze Swagman Awards for Bush Verse. His 'Monarchs of the Air', which won the 2007 Gippsland $1,000 Golden Wattle Bush Poetry Award has been his most successful poem to date.

He has published a number of anthologies of his poems; judged both poetry and short-story competitions; read and recited his work in schools and on radio, at Maleny and Mapleton Folk Festivals, Australia Day concerts, and Judith Hosier's Restaurant Evenings at New Farm Park.

Arthur commenced writing bush poetry in 1987, and credits much of his success to the encouragement and support of both Ellis Campbell and ABPA past president, Noel Stallard, as well as the late Charlee Marshall, whom he first met in 1990, when visiting him in hospital, at the beginning of Charlee's five-year battle with cancer.

In May 1991, Arthur asked Charlee's permission to include, as a special tribute, his most moving poem, 'November', in Arthur's 'Riding the Wind' anthology, to which Charlee wrote to say, "Arthur, you can use any written word of mine in any way you wish" – which Arthur then did. Charlee passed away in 1995. His poetry touched and enriched many lives, of whom Arthur's is but one.

A special word of thanks is also due to Peter Pike of 'FreeXpresSions' as well as the late Frank Daniel of The Australian Bush Poets' Association Magazine, for their contribution in helping to spread the awareness of many of Arthur's poems among their many readers.

Editor's Note: Arthur truly shows how the community of bush poets can work together for the good of all.


See previously featured poets.



Meet Your Committee – President Hal Pritchard & Secretary Brenda Joy
Each month we will introduce a member or members of our hard working and dedicated committee.
This month we meet:

PRESIDENT Hal Pritchard
and
SECRETARY Brenda Joy.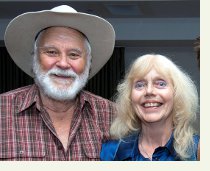 Whilst not a poet, Hal's background in management and television linked him to the entertainment world throughout his career as an electronics engineer. Brenda's background as a nightclub singer, a special needs teacher, a visual artist and a minstrel songwriter led her into the ABPA almost via natural progression. Having a wife as an award winning writer and performer also drew Hal into the bush poetry world. Initially this was on a support basis for Brenda but since taking over as President in 2014 with Brenda as Secretary (and also as his personal assistant), the partnership roles have reversed considerably.

Both Hal and Brenda are dedicated to the preservation and expansion of our Australian cultural heritage through the art of storytelling. They have always travelled extensively and their conjoint adventure in helping to run the ABPA has continued this process. When not on the road they reside in Charters Towers, North Queensland and use their holiday home on Coochiemudlo Island in Moreton Bay as a summer base.



Member Achievements – Gary Fogarty
The ABPA also wishes to acknowledge the achievements of members who specialise in specific areas which help to promote the cause of the ABPA and of Bush Poetry in general.

SPECIAL ACHIEVEMENTS – Gary Fogarty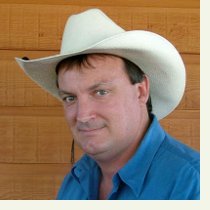 Born into a mixed farming family Gary developed a bond with country life that has remained strong to this day. Childhood memories revolve around working beside both of his parents, learning skills essential for rural life. Gary started a cadetship with the Department Of Primary Industries working in rural research before taking up a position as Trials Agronomist with Cargill Seeds.

A promising sportsman, it was during this cadetship that Gary was involved in a vehicle accident that resulted in him fracturing his spine in five places and having to re-think his future. It was during the three year debilitating period of rehabilitation that Gary took up his pen and turned his hand to writing Bush Poetry. Gary defied the doctors and returned to rural endeavours. Twenty years later, after running his own cattle property at Chinchilla, working as a Drought Relief Officer based at Goondiwindi and as the Community Development Officer at Millmerran, it was time to admit that the doctors were right and to accept being invalided out of the workforce with Chronic Back Pain.

Gary's poetry career has seen him focus his efforts on performance poetry and he has won numerous prizes over the years, including the first ever Australian Bush Poetry Championship and a couple of Australian Bush Laureate Awards. While appreciative of these awards Gary gets more satisfaction from some of the more obscure events that through the years have highlighted the public's appreciation of his work. His written poetry has been broadcast and featured internationally, has inspired Olympians, sportsmen and cancer sufferers and has motivated groups to help those suffering the effects of drought.

Gary was selected as a member of the Australian Performing Arts Team in both 2010 and 2011, becoming the first ever performing poet from any of the 50+ participating countries to compete at the World Championships of Performing Arts in Los Angeles.

In 2011 Gary was awarded the "Street Of Dreams Award" at Tamworth, an award which recognised the most popular Bush Poet or Balladeer in Australia and was voted on by the public. Gary had no knowledge of the award, or his win, and thought he was just performing a spot at the presentation concert.

To Gary, these types of acknowledgement from outside the 'poetry community' mean more than those from within the industry, as they are recognition that bush poetry has the potential to touch anyone's life, not just those who are already fans of our art-form.

Gary lists his other significant achievements as initiating and/or running poetry performances at: Australian Camp Oven Festival (Millmerran), Chinchilla Melon Festival, Mud Bulls and Music, Tara Festival Of Culture and Camel Races, Gidgee Coal Awards, Yellow Belly Festival, Texas Country Music Festival, Munna Creek Balladeers Festival, and Bouldercombe Country Music Festival. He is proud of the fact that through his efforts he has not only promoted Performance Bush Poetry to the wider community but has provided a considerable number of opportunities for his fellow performers to get paid engagements.

Gary credits his late father for instilling a love of bush poetry and his wife Cindy, daughters Kelly and Shannon and step daughters Shareene and Danica for providing an amazing and unselfish amount of support throughout his bush poetry journey. Gary has published three books of poetry and released 3 albums to date.


See previously featured achievers.