Membership
Membership Information
Forms and direct deposit information.


New Anthology On Sale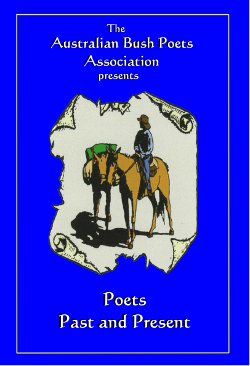 New anthology of ABPA poets past and present is now on sale $28 posted (within Australia).
A Who's Who of modern bush poetry.
62 poets, 192 pages.

More information here.


On This Site

Register of Modern Bush Poets
Many Poets have products and services available
_________________

Roll of Honour
Australian Bush Poetry Champions
and ABPA executive members
_________________

Multimedia
See and hear some of our
modern Bush Poets
_________________

Yarn Spinning
Poets often tell yarns too.
Read some great Aussie yarns
2021 ABPA Committee
ABPA Committee Executive
President - Tim Sheed
Vice President - Ray Essery
Secretary - Meg Gordon
Treasurer - Christine Middleton
Committee Members
Tom McILveen
Manfred Vijars
ABPA State Delegates
NSW - Bill Kearns
Victoria - Jan Lewis
Queensland - Peter Frazer
WA - Irene Conner
Magazine Editor - Neil McArthur
Public Officer - Gregory North
Facebook Editor - Jan Lewis
Webmaster - Gregory North

President's Report Oct-Nov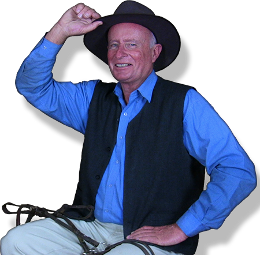 Here we are with another two months gone
by and still in lockdown in Victoria with NSW in the same situation. There is at least a light down the road that we are inching ever closer to.
Because we haven't been able to travel north
over the last two winters we have missed out on a lot but we are looking forward to a successful Tamworth Country Music Festival and the National Bush Poetry Performance Championship in Orange in February.
I think that it is reasonable to expect these events to proceed, given the way vaccinations are now progressing.
I have pointed out previously in my reports
that for the National Championship section of the Orange Festival to proceed under that banner, participants from all states and territories must be able to physically attend. Hopefully all barriers will be cleared by then. In any case the poetry events as planned will proceed under whatever badge.
Planning for the Golden Dampers is proceeding
under the management of Committee members, Manfred Vijars and David Stanley and we are hoping for a big rollout for that.
It is pleasing to see that Bush Poetry events
have been very well attended in those states that have been able to hold them and our increased memberships bode well for the future of our art.
Timothy Sheed
President.
Welcome to the ABPA website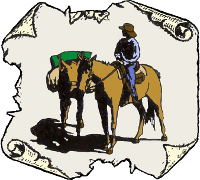 WELCOME
, membership of the Australian Bush Poets Association (ABPA) is comprised of writers, performers and individuals who are interested in bush poetry and enjoy written and live stories in rhyme and metre. If you have an interest in this piece of Australian culture called Bush Poetry, you are welcome here.

Aims
The objectives of the Australian Bush Poets Association is to foster and encourage the growth of Bush Poetry in Australia. By definition, Australian Bush Poetry is metred and rhymed poetry about Australia, Australians and/or the Australian way of life.

Membership
To join the Australian Bush Poets Association and receive our bi-monthly magazine, go to our Membership page.

The ABPA keeps in touch with our members through this website (and forum) and our bi-monthly magazine of Bush Poetry news, events, results of written and spoken competitions as well as samples of contemporary bush poetry. Many members have books, CDs and other products. These can be advertised in the magazine. For rates, click here. The deadline for ads and other content for the magazine is the 22nd of the month preceding publication. Magazines are published at the beginning of February, April, June, August, October and December.



Check out our Facebook page.
 

50th Bronze Swagman presentation and celebrations
When the Winton Business and Tourist  Association decided  to commemorate the writing of Waltzing Matilda by Banjo Paterson in the Winton district in 1895 it looked to its local poets for a lead and decided to begin an award for bush verse. Mind you, it was intended to have the swaggie trophy cast in silver, but that was too expensive, and so the Bronze Swagman was born. Noted Queensland sculptor Daphne Mayo made the original and they have been cast in Queensland ever since.

Early Winton poets Bruce Forbes Simpson, Clover F Nolan, Rhana Maxwell, Dick Davidson and others spearheaded the initiative. Over the 50 years over 3000 poems have been printed in the annual books.

The 50th winner is Jan Facey from Bargara in Queensland with her poem "Campfire Dreaming".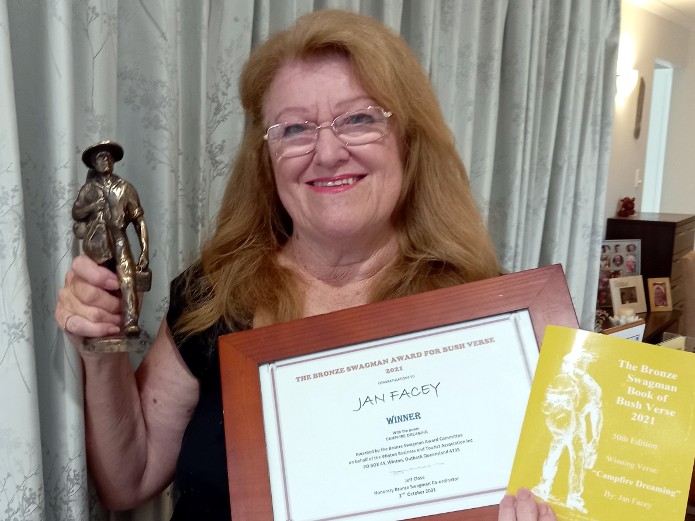 To help celebrate the 50th anniversary a special evening was hosted at Windermere cattle station just south of Winton when owners Mick and Anne Seymour offered the perfect venue. A big team of volunteers made sure a great time was had by the 200 people who attended.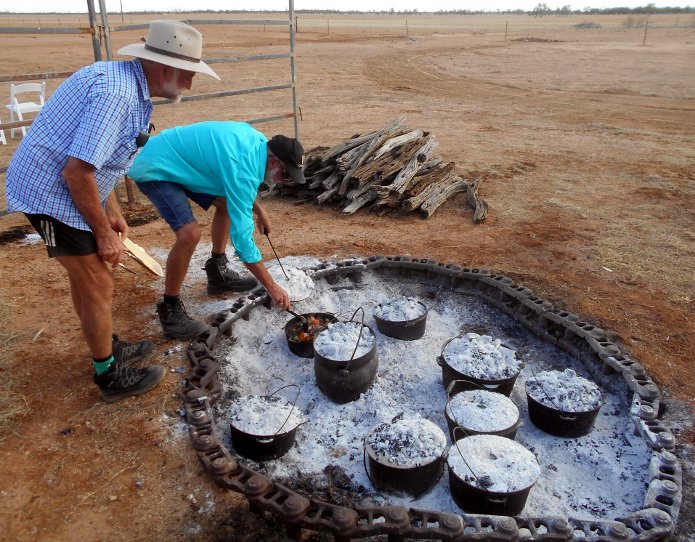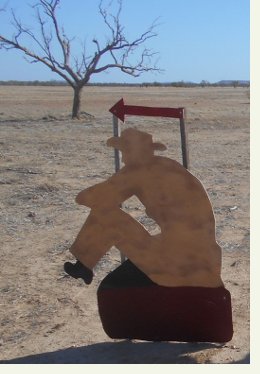 Camp oven cooking by Robin and Mick Bliesner was a hit. Local band Generation Gap donated their services, and the Winton Shire Council the chairs. Marco Gliori was engaged as the very popular bush poet – extra special as he had won the Bronze Swagman last year with his poem Fumbles.
 
The sunset at 6.23pm was spectacular. A special 50th Anniversary book was launched. This book, in a limited edition of 100, includes all winning and runner-up poems, all adjudicators, stories on all the co-ordinators including Louise Dean, Mary Nowland and Clover Nolan, and contributions from modern Bronze Swagman poets. A major section of the book is the listing of the title of every poem and name of every poet appearing in the Bronze Swagman books over the last 50 years.

Special thanks to our Winton not-for-profit volunteers from Corfield and Fitzmaurice for their financial support.

Books are available from Corfield and Fitzmaurice in Winton or from www.bronzeswagman.info

Jeff Close
Hon Bronze Swagman Co-ordinator 2017-2021






50th Bronze Swagman winner Jan Facey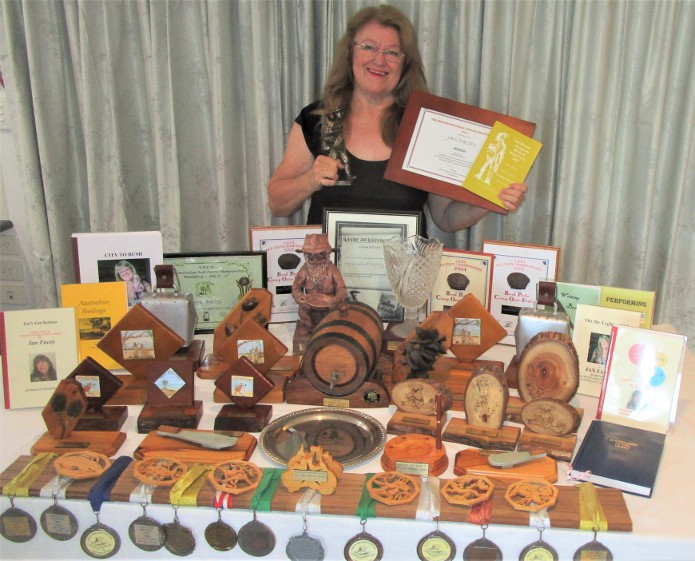 Jan Facey from Bargara is thrilled to have recently won this prestigious written competition – the Bronze Swagman Bush Poetry Award from Outback Queensland which attracted poems from around Australia and overseas.  Her winning poem "Campfire Dreaming" has been published in "The Bronze Swagman Book of Bush Verse 2021 - 50th Edition" book which is available from www.bronzeswagman.info.  Jan can now add this beautiful statuette (which was designed and sculptured by Daphne Mayo) to her collection of numerous trophies, medals and certificates that she has received over the years, many of which were from State and National Championships. 

Previously, Jan has been the Queensland and Australian Bush Poetry Performance Champion, performing around the country, covering classical, modern and her own original poetry.

She has been on local radio plus the ABC, written books of poetry plus text books and has had some of her poems published in other anthologies.  Jan has also addressed primary, secondary schools and TAFE students, judged various performance and written competitions and given seminars.

If you like poetry, you can come and hear a variety of poems, including Jan reciting her newest winning poem at the Bundaberg Poets' Society meeting to be held at the Rum City Silver Band Hall (opposite Dan Murphy's) in Targo Street on Saturday 13th November (put it in your calendar now).  This afternoon of entertainment goes from 1.30pm to 4.30pm for just $3, with all welcome to come and just listen or participate.  (For Covid safety, please BYO cup and snack for afternoon tea.)



See previously featured poets.

See previously featured achievers.

Vale Prousty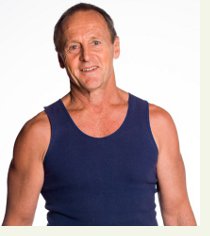 After a battle against brain tumours, Dave Proust passed away on 20th October at his home with his family. Prousty was an unforgettable character in the bush poetry scene and everywhere else he went. He performed and many bush poetry events such as the Tamworth Country Music Festival, The Gympie Muster and even toured with Country Music celebrities.

He was a man of great humour, passion, fitness and fun - even at his funeral. It was held on Monday 8th November and the recording of it can be viewed here.

Prousty was 62 years old and leaves behind his wife Therese, six children and ten grandchildren. Our sympathies go out to the family. RIP Prousty.