Membership
Membership Information
Forms and Electronic Subscriptions



On This Site

Register of Modern Bush Poets
Many Poets have products and services available
_________________

Roll of Honour
Australian Bush Poetry Champions
and ABPA executive members
_________________

Multimedia
See and hear some of our
modern Bush Poets
_________________

Yarn Spinning
Poets often tell yarns too.
Read some great Aussie yarns
_________________

ABPA Strategic Plan
_________________

2016 Office Bearer and Proxy Form
MSWORD PDF
2015 ABPA Committee
ABPA Committee
Executive
President - Hal Pritchard
Vice President - Manfred Vijars
Secretary - Brenda Joy Pritchard
Treasurer - Gregory North
Committee Members
Robyn Sykes
Carol Reffold
John Peel

ABPA State Delegates
Qld - Wally Finch
NSW - Tom McIllveen
Vic - Jan Lewis
Tas - Philip Rush
SA - Bob Magor
WA - Irene Conner
Magazine Editor - Neil McArthur
Webmaster - Gregory North

See previously featured committee members

President's Report, Oct-Nov.
2015 ABPA WEST AUSTRALIAN STATE CHAMPIONSHIPS
The West Australian Bush Poets and Yarnspinners Association are looking forward to their State Championships in Toodyay from Friday 30th October to Sunday 1st November. Having been there for the 2014 Championships, I can vouch that the WA poets are a talented and dedicated group willing to give a hand towards the successful running of all their local and annual events. Toodyay is something not to miss (see details in Events). We will be thinking of you in the east Bill and looking forward to hearing all about it.
2016 ABPA VICTORIAN STATE CHAMPIONSHIPS
We are pleased to confirm that Jan Lewis and her hardworking committee wish to hold the
ABPA Victorian State Championships in Corryong in March 2016. To allow for
arrangements to go ahead, the Committee has given approval and this will be formally
ratified at the AGM. Thank you Jan.
2017 ABPA NSW CHAMPIONSHIPS
We are also pleased to advise that Eric Beer and the Dunedoo and District Development
Group have put their hands up to take on the ABPA State Championships in March 2017.
This will be put to the AGM for approval but I can't envisage any objections being raised.
Thank you Eric.
YOUTH ON LINE
As part of a program organised by the New England Writers' Centre, Stephen Whiteside
conducted a one-hour poetry session to primary school students on-line. This means of
communication with remote centres will no doubt become more prevalent in the future and,
as Stephen said, "…How wonderful that such small, isolated schools can also now receive
visiting writers and artists!". It seems very worthwhile that our poets should let people know of their ability and willingness to provide this type of service.
AWARD WINNING AUSTRALIAN WRITING
The 2015 edition of AWAW was launched at the Melbourne Writers Festival in August.
Produced by Melbourne Books this annual publication features "The best winning writing
from short story and poetry competitions nationally". This year, we are privileged to have
two of our most successful written poets included in this acclaimed publication, David
Campbell for his free verse poem, Every story must have… and Brenda Joy for her poem,
Snowy – The Reflections of a River. As Brenda's was the only 'bush' poem to make the cut
in the 334 page volume, she didn't miss the opportunity to promote the ABPA in her
Contributor's listing. Congratulations to David and Brenda for their success in such a
prestigious, broad spectrum arena.
OUTBACK WANDERINGS
Brenda and I have just returned from a month in the Queensland Outback which included
being part of the Curry Merry Muster and the Camooweal Drovers' Camp Festivals. It is
wonderful to see so many of our performing poets making the journey into the further
regions. Notably, in Cloncurry Bob and Beryl Magor 'turned up' unexpectedly on their
annual trek from north to south and Bob added greatly to the bush poets breakfast MC'd by
Brenda. Also in Cloncurry, Gregory North had just completed a very popular stint at the
Oasis. Greg returned to the Outback for the Winton Festival in September. In Camooweal,
Noel Stallard flew out to present the poetry of Bruce Simpson to the Drovers, locals and
travellers. Of course, Melanie and Susie perform, with wide-spread acclaim, throughout the winter in Winton and there are many other poets meandering the tracks presenting bush
poetry and comedy to receptive audiences. It is heartening to see the great response from
people all around the country. This may not directly transfer into increased membership of
the ABPA but it certainly increases the recognition, enjoyment and appreciation of what we have to offer. Thank you all.
In poetry,
Hal
Welcome to the ABPA website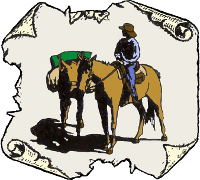 WELCOME, membership of the Australian Bush Poets Association (ABPA) is comprised of writers, performers and individuals who are interested in bush poetry and enjoy written and live stories in rhyme and metre. If you have an interest in this piece of Australian culture called Bush Poetry, you are welcome here.

Aims
The objectives of the Australian Bush Poets Association is to foster and encourage the growth of Bush Poetry in Australia. By definition, Australian Bush Poetry is metred and rhymed poetry about Australia, Australians and/or the Australian way of life.

Membership
To join the Australian Bush Poets Association and receive our bi-monthly magazine, go to our Membership page.

The ABPA keeps in touch with our members through this web-site (and forum) and our bi-monthly magazine of Bush Poetry news, events, results of written and spoken competitions as well as samples of contemporary bush poetry. Many members have books, CDs and other products. These can be advertised in the magazine. For rates, click here. The dealine for ads and other content for the magazine is the 22nd of the month preceding publication. Magazines are published at the beginning of February, April, June, August, October and December.



Check out our Facebook page.

Competition Package is now available with guidelines, judging and competition sheets, accredited judges list and application form and approved competitions list. If found necessary, these documents are open to amendment or changes as required following membership input and committee approval.

Roll of Honour lists Australian Bush Poetry Champions and ABPA Executive members since inception. There are also tributes to members who have recently passed on.

Bush Laureate Awards deferred


Vale Ellis Campbell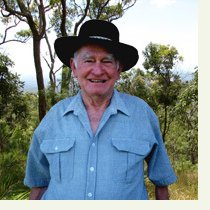 On the morning of Thursday 22nd October Ellis passed away peacefully in palliative care in Dubbo. He was aged 88. The funeral was held in Dubbo on Thursday 29th October. Ellis was a highly awarded poet in both performance and particularly in written competitions.

In July 2014, it was decided to introduce our poets (both performers and writers) to newcomers and to the general public by featuring a different ABPA poet on the website each month as a worthy role model to represent ABPA membership. Due to the high esteem in which he was held, Ellis was the first poet chosen. See the article here.

Without doubt, Ellis Campbell has been one of the greatest bush poetry writers of our time. Despite leaving his career until later in life, Ellis gained over 700 awards for writing and performing bush poetry, while through the sharing of his skill and expertise, he contributed to the development of so many other poets. His tips on writing poetry are here.

Up to the age of 84, Ellis was still entering and winning both performance and written competitions. A vibrant, creative man, the last several years of his life were in Dubbo Nursing Home. But now he has gone on to a world where all the traumas, depression and physical incapacity of this last phase of earthly life are over.

What Ellis has left behind is a legacy of writing from a master of the bush poetry craft, a family who loved him so dearly and a community of fellow writers and performers who will always remember him as the wonderful mentor, confidant and friend that he was to us all.

ELLIS CAMPBELL – YOUR LEGEND WILL ENDURE.

Hal Pritchard and Brenda Joy

The ABPA extends sincere sympathies to Ellis' wife Maureen, his family and to all his friends who are mourning him.

Meet a Poet – Terry Regan
Feature Poet - we are introducing our wonderful poets (both performers and writers) to newcomers and to the general public by featuring a different ABPA poet on the Website each month. Poets featured will come from the entire membership and may be professionals, semi-professionals or amateurs, but each will be a worthy role model to represent the ABPA membership.

Terry Regan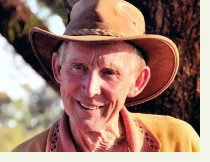 Terry was born at Cowra, NSW, in 1936, and was raised overlooking South Curl Curl Beach, north of Sydney. It was 'poor man's country' then. Terry often reflects on his simple, happy childhood in the bushland paradise that was Sydney's Northern Beaches at that time. If not running barefoot through the bush they were down at the beach.

In 1962 Terry and Dulcie married at Dorrigo, NSW, where Dulcie was raised on her father's dairy farm. They then moved to Blaxland, in the Lower Blue Mountains, where they lived for 50 years and raised two daughters.

On the poetry side, Terry's father was a poet. It was not until after his father's death, in 1972, that Terry wrote his first poem. He still believes that he somehow got in touch with 'the old man' that day. He wrote a number of poems until 1975 when he took up pottery as a hobby, which he pursued for 20 years.

Terry retired in 1992 and for many years he and Dulcie travelled all over Australia in their small motor home – mostly by doing a three month trip each winter.

It was during one of those trips, in 1995, that they met Milton Taylor at a caravan park in Longreach. As Terry watched Milton performing by the campfire he could feel his interest in poetry beginning to stir. During a talk with Milton he was given the following advice: 'Why don't you join the Australian Bush Poets Association, get
your finger out and start writing again.'

Like many other poets, Terry acknowledges that he owes a lot to Milton Taylor, who became a friend and mentor. When Milton spoke, Terry listened and this, together with a lot of hard work, has borne fruit. He also considers himself most fortunate to have had Ellis Campbell as a close friend who he could turn to for advice on writing.

Terry's first competition was in Cloncurry, in 1996, whilst on a trip up to 'The Gulf.' This was followed by winning a competition at Charleville on the way back home.

In 1998, Milton recommended Terry to Frank Daniel, who was running the Bush Poets Breakfasts at the Longyard Hotel during the Tamworth Country Music Festival. That was the beginning of many happy years performing at the Longyard. Terry says
it was always a pleasure to work with Frank at the Longyard. It was well run, had an excellent sound system and a wonderful audience.

Over the years Terry has won and been placed in numerous Bush Poetry Performance Competitions. This includes 4 times NSW Champion, Qld Champion and National Champion. He was particularly pleased when his CD, 'Through the
Horse's Eyes and Other Poems', was a finalist in the 2008 Australian Bush Laureate Awards. – This album is no longer available.

When Dulcie died in 2010, Terry not only lost a wonderful wife and soul mate, but also his strongest supporter. She always accompanied him to poetry events and enjoyed being part of the bush poetry family – a strongly competitive, yet very
friendly mob. Terry tries to help other poets to improve their performance in the same way as he was helped.


See previously featured poets.




Member Achievements – Dennis Scanlon
The ABPA also wishes to acknowledge the achievements of members who specialise in specific areas which help to promote the cause of the ABPA and of Bush Poetry in general.

SPECIAL ACHIEVEMENTS – Dennis Scanlon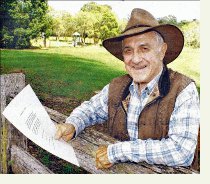 Bush poet Dennis Scanlon of Tyalgum has returned home from Canberra after being selected to present his poems at the Australian War Memorial.

Mr Scanlon read from seven of his original Anzac themed poems during a poetry day at the Australian War Memorial.

Vision of him reading those poems will appear in the Memorial's education and continued learning program.

The 71 year old began writing poetry during his retirement a decade ago. However, it wasn't until the Tyalgum "Diggers" asked him to write a poem in 2013 honouring the Australian Light Horse that Mr Scanlon's attention turned to the Anzacs.

"There had always been music in my life and when I retired it started to bubble back," he said. "I started to write things down that had happened to me during my life and those stories started to come out in meter and rhyme".

"My poetic style was always bushy because I've spent my life working with livestock and meat. However, there had always been a deep sense of Anzac tradition in me because my father was in World War II".

"My father, like many blokes, died young from injuries and illness received during the war. In my life there has always been a sense of the waste of war but also a sense of the sacrifice and that comes through in my poetry".

Mr Scanlon said he was honoured to present his poems at the War Memorial during such a historic year. "I was very much humbled," he said.

"I knew that the poems I was writing were strong enough because the Australia Light Horse had started to see the merit of them".

Mr Scanlon has been volunteering with the Mudgeeraba Light Horse Museum, and is visiting local schools to talk about the Anzac spirit and tradition.

Mr Scanlon's poems will be featured in a booklet produced by The Light Horse Museum for Gold Coast schools. It will be available this month.

Contact Dennis: Mob: 0427328633. Email:

Article courtesy of Bob Anthony, Gold Coast Sun newspaper.


See previously featured achievers.



Bush Poetry Clubs and Organisations
This feature is designed to share what is being done in bush poetry clubs and organisations throughout Australia. You are invited to submit your club's profile (through the ABPA Secretary) for inclusion in this section.

Illawarra Breakfast Poets

Photo, L to R: Graham Morphett, Steve Caskey, Hazel Strachan, Gloria Halsey, Ron Halsey, Rhys Gardner, Ralph Scrivens, Zondrae King and Ken Potter. Our Photographer is: Ella Edwards.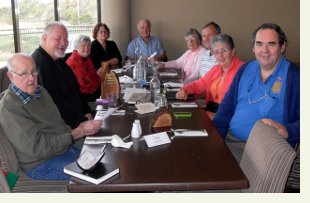 It was in January 2006 at the Illawarra Folk Festival that Tony Stoddart and Zondrae King first met. Within an hour of that meeting they were discussing the need for a poetry appreciation group in Wollongong. To Zondrae's surprise she received a call on Monday to let her know that the inaugural meeting was at 7am on the following Wednesday. About a dozen attended. Of that first group only Ken Potter and Zondrae King are still active members. After the first six months they relocated to the Hall at Coniston where they remain.

Meetings are every Wednesday morning at 7:00am – yes 7:00am,hence the name Breakfast Poets. Each week they bring in a newly written poem and vote to award a DPA (Distinguished Poets Award) to the best poem of the morning. While this is only a token, it is highly sought after. During the second half there is the opportunity to read a poem, recite a poem or to practice a poem that is being learnt. A new topic is selected for the following week. There is also a monthly topic. The idea is, a month allows more time to work on the new creation. Having a topic on which to focus helps to keep the ideas flowing.

The group is very supportive and suggestions are often made regarding the writing or reciting of their chosen poems. From time to time a tutorial on the technical side of writing poetry is held. Whilst some members have had great success,others are happy to write and come along as a social interaction.

It is difficult to say how many members there are. Each week from eight to ten members turn up. But these may not be the same names as last week. In the past there has been as many as sixteen people attend. The meetings start with a quick catch up of personal news. This helps to get to know everyone. There is also a section during the meeting where email poems are read (written by members who cannot attend meetings). Poems have been written on the weekly/monthly topic. A virtual DPA may be awarded. It is a varied group, with one member, Hazel, (who writes some brilliant poetry) recently turned ninety. After the meeting there is morning tea/coffee at the local golf club.

Some members prefer to perform their poetry around the community and with two accomplished guitar players and singers in Steve Caskey and Ron Halsey, IBP can give a very pleasant varied concert. They perform at Retirement villages and Nursing Homes, Probus clubs, View Clubs, Salvation Army Groups, Cafes, Primary Schools, Local festivals and markets, and Seniors week, in fact anywhere they can. It is one of the group's aims to advance the cause of Australia Poetry.

The group also run an annual written poetry competition, 'The Kembla Flame', which is most successful. This year it attracted nearly 100 entries, some from as far away as New Zealand and Thailand.

Illawarra Breakfast Poets are a friendly group that is fun, supportive, productive and are positive promoters of Australian Poetry particularly Bush poetry – that is poems with good Rhyme and Metre.

We thank Zondrae King for providing us with this informative account of the activities of the IBP.