Membership
Membership Information
Forms and Electronic Subscriptions


New Anthology On Sale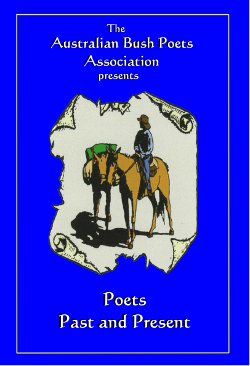 New anthology of ABPA poets past and present is now on sale $28 posted (within Australia).
A Who's Who of modern bush poetry.
62 poets, 192 pages.

More information here.


On This Site

Office Bearer Nomination Form 2020
MSWord     PDF
_________________

Register of Modern Bush Poets
Many Poets have products and services available
_________________

Roll of Honour
Australian Bush Poetry Champions
and ABPA executive members
_________________

Multimedia
See and hear some of our
modern Bush Poets
_________________

Yarn Spinning
Poets often tell yarns too.
Read some great Aussie yarns
2019 ABPA Committee
ABPA Committee Executive
President - Tim Sheed
Vice President - Ray Essery
Secretary - Meg Gordon
Treasurer - Janine Keating
Committee Members
Bob Kettle
Neil McArthur
Manfred Vijars
ABPA State Delegates
NSW - Bill Kearns
Victoria - Jan Lewis
Queensland - Peter Frazer
WA - Irene Conner
Magazine Editor - Neil McArthur
Public Officer - Gregory North
Facebook Editor - Jan Lewis
Webmaster - Gregory North

President's Report Dec-Jan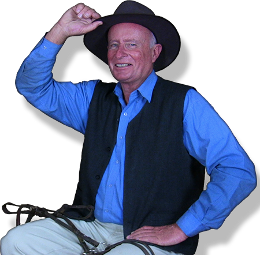 I have just completed a five month trip around the country and am still reflecting on the many lessons and messages taken in during that time.
I did not fully appreciate how many poets and storytellers there are out there. In every town or locality when people hear that you are a keen bush poet/storyteller they always proudly mention one or two locals who quietly and modestly rise to the challenge when required. They ask you if you know them but the answer is
rarely yes. In many country towns you will find thin booklets of rhyming verse and short stories commemorating local events and people.
I share the concern of many poets and storytellers that the primary school children
have not heard or seen bush poetry like the best of Banjo Paterson's ballads, humorous or otherwise performed or even included in the school curriculum. When they get it they love it.
It is heartening to know that some of the local poets voluntarily go into the schools to spread the word and expose the children to a broad range of our best writers. Poetry, music, singing and the arts generally are very poorly represented or taught in schools, particularly in primary schools in the regional and remote areas we toured.
On a brighter note the Tamworth Country Music Festival is coming up in January and the Golden Damper and Frank Daniels Awards are being held at the same time. Many of our best bush poets will be performing and beginners have the opportunity to perform and learn from others.
I hope to see you there.
Tim Sheed.
Santa's solution
 It was Christmas out near Winton
And the kids were tucked in bed
While Mum and Dad were talking
"They'll be here by nine they said"  
Their family from the city
had the bit between their teeth.
They'd kept a Christmas secret
Yes, two truckloads of relief.  
At Christmas time for farmers
things can really be so sad.
They'd love to see them visit
and they'd share what food they had.  
So on that night they waited
for their clan to all descend.
They worried how they'd feed them
for they'd not a cent to spend.  
Pop left the farm at eighty,
there were crops and stock well fed
but drought had stalled their progress,
now there's doubt and debt instead.  
so on that eve of Christmas
they were sad and all forlorn.
The kids would wake tomorrow
to an empty Christmas morn.  
For Santa was not coming
"There's no grass to feed rein deer
but maybe, if we're lucky
things may just turn out next year"  
Just then they heard the rumble
and the sound of trucks and cars
with lights and silver tinsel
shining through their old bull bars.  
They pulled up to the station
and the Christmas carols rang.
A Christmas tree unloaded
as the people danced and sang.  
The trucks had loads of fodder
and a water tanker there.A van so full of presents,
they could only stand and stare.    
The children woke up startled
staring through the fly screen gauze
and from the truck, excited,
came a happy Santa Claus.  
"It is, it is, it's Santa!
See we told you Mum and Dad
Things seemed so sad this morning
But it's really not so bad."  
"We don't mind if he's flying
Or he's in a big red truck
But Mum and Dad, it's Christmas
Oh, we can't believe our luck!"
..........
A dream? Well yes, it may be
but this drought is all too real
and we can make a difference
when we help this drought appeal.  
By digging in our pockets
and to let them know we care,
for wealth is worth so little
if it's wealth we fail to share.  
See rain will be their saviour,
but there's no rain there this week
and we can help our farmers,
I can tell you things are bleak  
For Mums and Dads and children
who are living on the land,
it's time to help our mates out
they could really use a hand.  
So if you write to Santa,
if you choose to try your luck
please tell him "call on farmers
and be sure to take a truck!"
Mick Martin PHF
13-10-18
Mick is heading out on 14th December 2019 on a Santa Run to various farms and stations to deliver some Christmas cheer.
If you'd like to help a struggling farmer then let Mick know and he will arrange the local businesses to accept a payment from you to be spent by the farmer at that business. You can choose the business in their area so the business doesn't lose out and the farmers can simply shop without using what little money they have left.
Farmers will then have credit at whatever business you nominate from the list - he will have a long list for you to choose from. This empowers you to donate without fear of loss to admin charges, "lost" funds or percentages deducted. Mick's team will keep track, the farmers will keep track and the businesses will too.
If you want to make a farmer's Christmas a bit better please email Mick, he will be happy to share the joy. This can make a difference and it will. If you want to just donate to help financially and to fill the vehicle please get in touch by phone or email. The goods will be delivered between the 14th and 19th of December. Mick and his team have the van and the fuel covered already.
They can't do the loads of fodder as the poem  says but they can deliver the joy, presents and good wishes from you to them. They will take a very big van load of presents and goodies that the families will not be expecting.
Phone Mick Martin: 042 15 14 555
Email:
Welcome to the ABPA website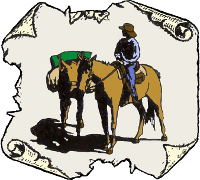 WELCOME
, membership of the Australian Bush Poets Association (ABPA) is comprised of writers, performers and individuals who are interested in bush poetry and enjoy written and live stories in rhyme and metre. If you have an interest in this piece of Australian culture called Bush Poetry, you are welcome here.

Aims
The objectives of the Australian Bush Poets Association is to foster and encourage the growth of Bush Poetry in Australia. By definition, Australian Bush Poetry is metred and rhymed poetry about Australia, Australians and/or the Australian way of life.

Membership
To join the Australian Bush Poets Association and receive our bi-monthly magazine, go to our Membership page.

The ABPA keeps in touch with our members through this website (and forum) and our bi-monthly magazine of Bush Poetry news, events, results of written and spoken competitions as well as samples of contemporary bush poetry. Many members have books, CDs and other products. These can be advertised in the magazine. For rates, click here. The deadline for ads and other content for the magazine is the 22nd of the month preceding publication. Magazines are published at the beginning of February, April, June, August, October and December.



Check out our Facebook page.

Tamworth Country Music Festival ABPA events - January 2020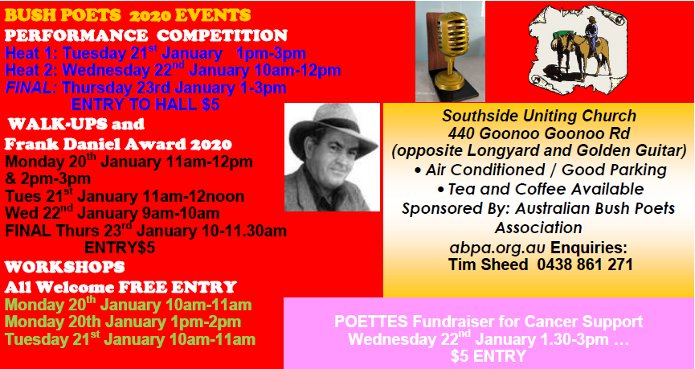 WA State Championships - Toodyay
The Western Australian bush poetry state championships were held in Toodyay from 1-3 November. Results here. Written results here.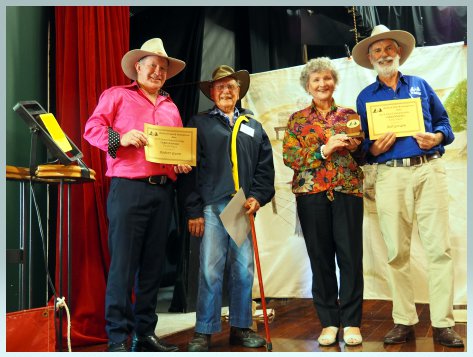 Yarn spinning place-getters: Rob Gunn (3rd), Arthur Leggett (2nd), Toodyay Shire Representative Cr. Susan Pearce, Bill Gordon (1st).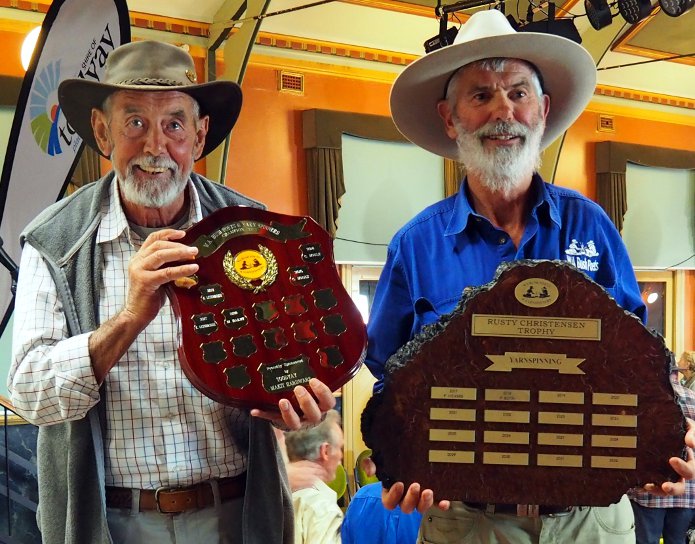 Overall Winner (Shire Trophy) and Yarnspinning (Rusty Christensen Trophy) Roger Cracknell, Bill Gordon.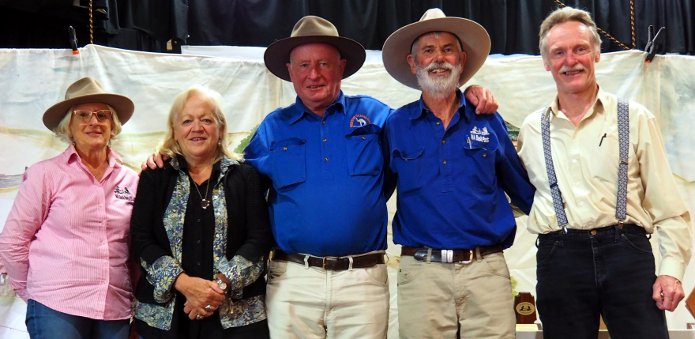 Toodyay Officials: Festival Secretary Meg Gordon, Guest harpist Christine Middleton, Judge and ABPA President Tim Sheed, WABP&YA President Bill Gordon, Judge Geoffrey Graham.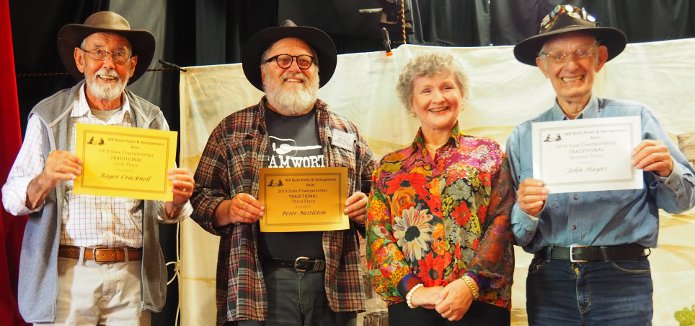 Traditional Winners: Roger Cracknell (1st), Peter Nettleton (3rd), Shire Representative Cr. Susan Pearce,  John Hayes (2nd).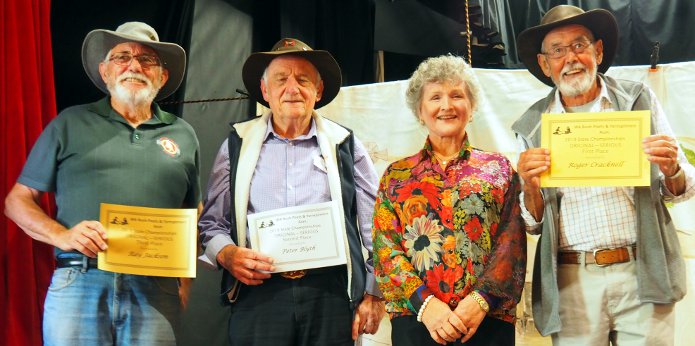 Original Serious Winners: Ray Jackson (3rd), Peter Blyth (2nd), Shire Representative Cr. Susan Pearce, Roger Cracknell (1st).
 
 
North Pine Bush Poets Variety Show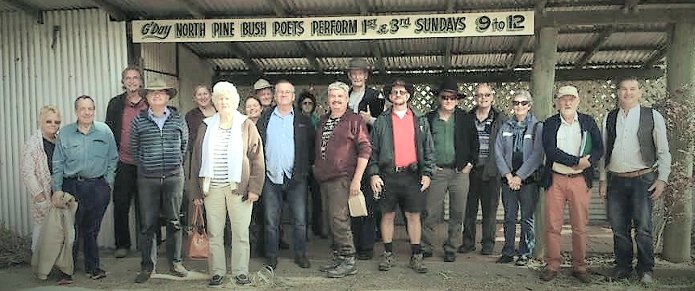 The North Pine Bush Poets recently ran a variety show to assist the Winton farming families as they battle through this horrific drought. To say that people were generous would be a massive under-statement as the original target was re-set several times and we smashed through the ten thousand dollars to finally end up with approximately $12,500 !!

To those who contributed, we all thank you very much. We saw beautiful and heartfelt donations by people who know the value of the Australian spirit and helping your mates out. The lady from Winton Lions had her speech ready to go and was expecting a cheque for $5,000 but when the $12,500 was handed over her speech went out the window, she could barely speak through the tears that were welling up in her eyes. Thank you one and all, you have changed lives.

A flash crowd performance of Banjo Paterson's 'Clancy of the Overflow' with poets popping up in the audience with a verse each completely surprised the 178 patrons and a group effort delivered the poem's final stanza in front of the stage to great applause.

Nineteen poets and musicians provided a super afternoon's entertainment which was wrapped up by a singalong featuring old favourites Black Velvet Band, Botany Bay, Click Go the Shears, Home Amongst the Gum Trees and finished with a rousing finale of Waltzing Matilda.

Winton is a sister city of the Moreton Bay Regional Council and The MBRC provided a grant of $800.00 towards costs. The Chrysler Owners Club of Queensland donated an outstanding $2000.00. North Lakes Sports Club generously donated the free use of the 'Discovery Room' to host the concert. There were many substantial donations from across the country and they will all be acknowledged on the North Pine Bush Poets web site and FB page in the near future. Quest newspapers supported the publicity for the event by publishing details in last week's edition.

Mrs Ivene Campbell, accepting the cheque on behalf of the Winton Lions Club from Club President Ian McDonald said, "This is completely overwhelming. You will have no idea just what this will mean to the people of Winton." She was clearly elated and a little emotional!

Mick Martin and Mal Beveridge.



Blast From The Past
Mel & Susie came across this photo and wondered if anyone know when and where it was taken and who all the people are.
The faces they could identify from left to right include:
Campbell the Swaggie, blonde lady, man in hat, Milton Taylor, Graham Fredricksen. Then the group. Back row: man with hat, Arcadia Flynn, man with grey beard, man with beard, man with beard and glasses, man in red jacket. Second row: woman in red top, woman with baby, blonde woman in hat, then Arch Bishop in blue singlet with his arms around Wally Finch.
Can you identify when, where and who? Email the webmaster, contact details here.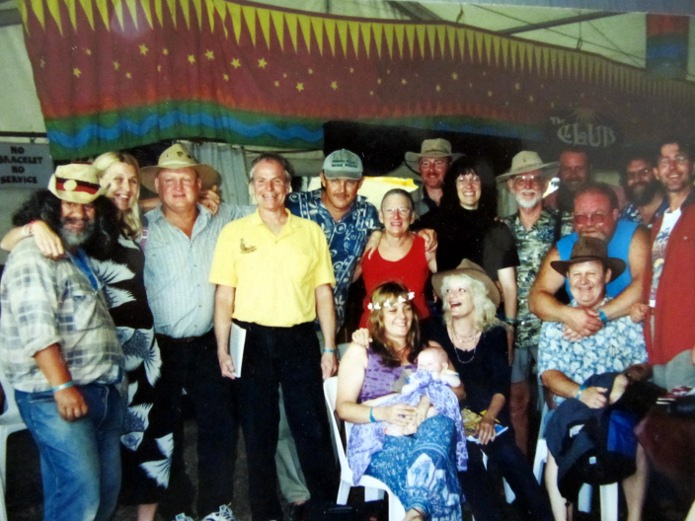 See previously featured poets.

See previously featured achievers.