Membership
Membership Information
Forms and Electronic Subscriptions


New Anthology On Sale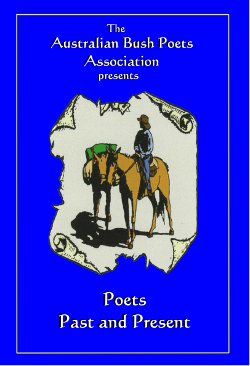 New anthology of ABPA poets past and present is now on sale $28 posted (within Australia).
A Who's Who of modern bush poetry.
62 poets, 192 pages.

More information here.


On This Site

Register of Modern Bush Poets
Many Poets have products and services available
_________________

Roll of Honour
Australian Bush Poetry Champions
and ABPA executive members
_________________

Multimedia
See and hear some of our
modern Bush Poets
_________________

Yarn Spinning
Poets often tell yarns too.
Read some great Aussie yarns
2020 ABPA Committee
ABPA Committee Executive
President - Tim Sheed
Vice President - Ray Essery
Secretary - Meg Gordon
Treasurer - Christine Middleton
Committee Members
Tom McILveen
Manfred Vijars
ABPA State Delegates
NSW - Bill Kearns
Victoria - Jan Lewis
Queensland - Peter Frazer
WA - Irene Conner
Magazine Editor - Neil McArthur
Public Officer - Gregory North
Facebook Editor - Jan Lewis
Webmaster - Gregory North

President's Report Apr-May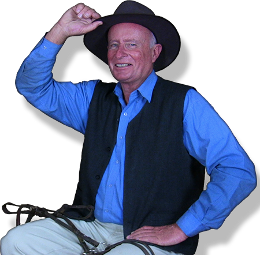 Hello to you all.
We have a very positive start to the poetry year with a strong and cohesive committee consisting of the following office bearers:
 Ray Essery, Vice President.
 Meg Gordon, Secretary.
 Christine Middleton, Treasurer.
 Tom McIlveen and Manfred Vijars, Committee.
The following State Representatives are also full Committee Members:
 Bill Kearns (NSW)
 Irene Connor (WA)
 Peter Frazer (QLD)
 Jan Lewis (VIC)
The Treasurer has undertaken a major follow up of previous members and so far 67 have renewed their memberships, which is very heartening. We will be making annual follow up of members policy as clearly many people are keen to be members but need reminding.
A meeting of the Committee was held on the 25th of March to discuss our role in directly organizing competitions.
It was decided that the Bush Poetry Competition that we run in conjunction with the Tamworth Country Music Festival will continue. Discussions as to the form that may take were that walkup style competitions and more workshops be held to give as many beginners as possible a chance to showcase themselves and learn through workshop participation.
As a result of an approach by Rotary Club of Orange preliminary discussions have been held with the organizing committee of The Banjo Paterson Australian Poetry Festival in Orange.
This is where Banjo Paterson was born and he is recognized as Australia's most famous and admired bush poet. Banjo Paterson's Waltzing Matilda is known worldwide. Many Australians can recite a string of his poems and his work has been converted to song and theatre.
Orange is keen to work with us to organize a major competition in 2021 and we are discussing having the ABPA National Poetry Championships there in conjunction with their festival.
The ABPA Committee believe this is a good fit because The Banjo Paterson Australian Poetry Festival  is specifically a" Bush Poetry" Festival.
This festival was the 2019 winner of the Heritage and Culture Category of the New South Wales Tidy Towns Award for towns over twenty thousand people. Orange is a very attractive town with ample tourist attractions and accommodation options.
There is a very strong focus in the festival on participation by children and teenagers and this is core ABPA business in securing a healthy future for bush poetry in Australia.
The Banjo Paterson Australian Poetry Festival provides something for all age groups and the program includes bush poetry, poets breakfasts, school performances, professional entertainers, Banjo Paterson dinner and markets.
Their festival in 2021 is to be held between the 13th and 21st of February so put it in your diary and watch this magazine for updates throughout the year.
The ABPA Committee are excited with this  new development.
I wish you all well through these difficult and trying times.
Tim Sheed, President.     
Welcome to the ABPA website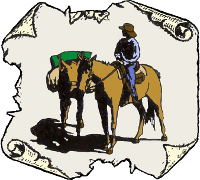 WELCOME
, membership of the Australian Bush Poets Association (ABPA) is comprised of writers, performers and individuals who are interested in bush poetry and enjoy written and live stories in rhyme and metre. If you have an interest in this piece of Australian culture called Bush Poetry, you are welcome here.

Aims
The objectives of the Australian Bush Poets Association is to foster and encourage the growth of Bush Poetry in Australia. By definition, Australian Bush Poetry is metred and rhymed poetry about Australia, Australians and/or the Australian way of life.

Membership
To join the Australian Bush Poets Association and receive our bi-monthly magazine, go to our Membership page.

The ABPA keeps in touch with our members through this website (and forum) and our bi-monthly magazine of Bush Poetry news, events, results of written and spoken competitions as well as samples of contemporary bush poetry. Many members have books, CDs and other products. These can be advertised in the magazine. For rates, click here. The deadline for ads and other content for the magazine is the 22nd of the month preceding publication. Magazines are published at the beginning of February, April, June, August, October and December.



Check out our Facebook page.

Feature Poet - Jan Facey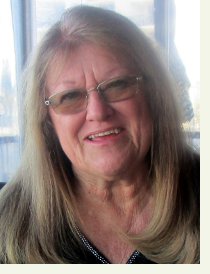 Originally from England, I had most of my education at Grammar school in London.  On leaving I achieved several Oxford University GCE subjects, including English Literature and English Language.  Following this, I worked for the Education Department for 5 years as a Local Government Officer.

My husband suggested we move to Australia and in 1969 we emigrated to Sydney.  We then moved to the Gold Coast in 1971 and in only a few years, became naturalized Australians.  I was always interested in learning and took many TAFE courses in a variety of subjects but my main interest was with creative writing.  This continued with me attending many workshops and seminars at the Somerset College of Literature which is held for a week or so every year on the Gold Coast.

We then moved to near Bundaberg in 2001.  I have had many hobbies and love travel, but I became involved with poetry in 2003, winning a novice award with my first competition in Bundaberg.  The Bundaberg Poets' Society have been an enormous help to me.  Because of my English city roots, I was so surprised that I won so many bush-poetry awards - including being Queensland Champion in 2009 and Australian Bush Poetry Performance Female Champion in 2010.  

I've performed at many, many places including the Brisbane EKKA (Qld), the World Theatre in Charters Towers, the Tamworth Country Music Festival (NSW), and the Snowy River Festival (Victoria).   Besides this, I've judged written and performance poetry and written and self-published five books – namely "Australian Feelings", "On the Lighter Side", "Let's Get Serious", "City to Bush" and "Playing with Verse", as well as having poetry in other anthologies.  My next book is in the making.

In the last few years I've addressed students at primary and high schools, and TAFE, as well as being on the local community radio and ABC radio with some recitals.  

Now in my mid-seventies, I still live a busy life, somehow fitting in lots of travel - and poetry when I can!  Diagnosed with cancer in 2016 but doing well and intending to live a long life, I want to pass on the skills I've learnt over the years, so now enjoy providing workshops and seminars on both written and performance poetry - and look forward to seeing you all again soon.   


See previously featured poets.

See previously featured achievers.


Festival Action - Milton Show Poetry Event
Saturday seventh of March 2020 saw a very successful performance poetry event at the Milton show and a total of 44 people took the stage and entertained the audience reciting a poem.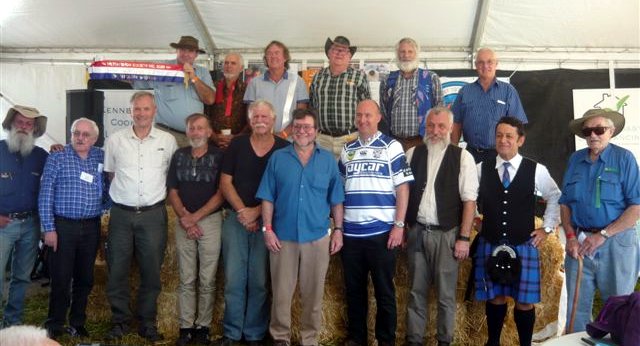 Back row: Ken Potter, Allan Stone, Andrew Pulsford, Bob 'Pa' Kettle, David Stanley, Jim Lamb.
Front row: Mark Thompson, Daniel Costello, Ralph Scrivens, Bill Childs, David Melville, Jonathon Travers, John Peel, Craige Green, Don Gray, John Davis (MC).

The event had three separate competitions commencing at eight o'clock with a poets' breakfast with walk-up performances which attracted 14 contestants.

The Ruth Davis Memorial Junior Poetry Speaking Competition commenced at 9:30 am and attracted 15 junior contestants who, with out exception, performed brilliantly and were very entertaining.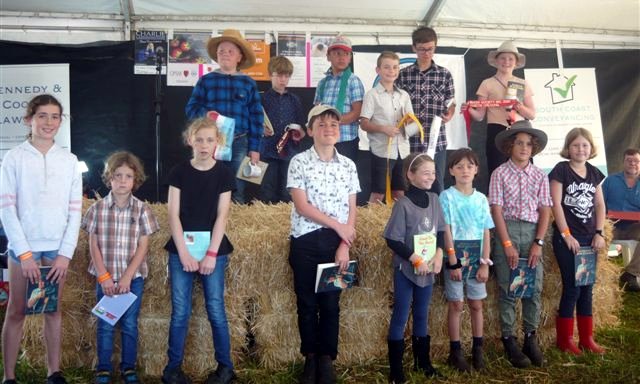 Juniors (in no particular order) Jake Shea, Aya Magnussen, Lucas McDonald, Xavier Brooks, Willie Gray, Max Chard, Ziggy Gray, Lucas McDonald, Willey Gray, Jennifer Stein, Xavier Brooks, Charlie Sharrock, Arrabella Brooks, Mya Magnusson, Mathew Reid, Jemina Chard.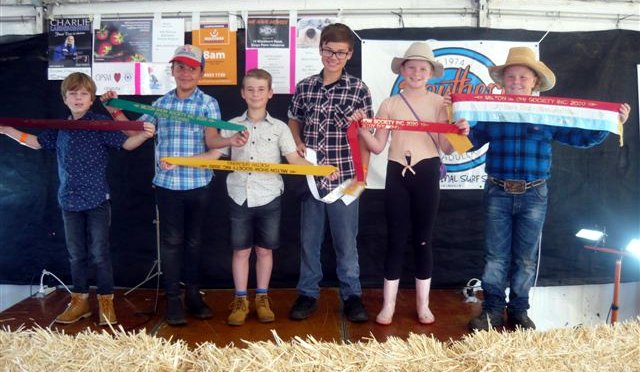 Ruth Davis Memorial Junior Poetry Speaking Competition place-getters: 1st Jake Shea, 2nd Aya Magnussen, 3rd Lucas McDonald, 4th Xavier Brooks, 5th Willie Gray, 6th Max Chard.

The Open Poetry Speaking Competition had competitors from as far away as Queensland, Victoria, central New South Wales, South Coast and a good line-up of local people. The performances were of the highest standard and ranged from poems by Australia's iconic poets, modern contemporary poets and a good number of original works composed and performed by the poets themselves.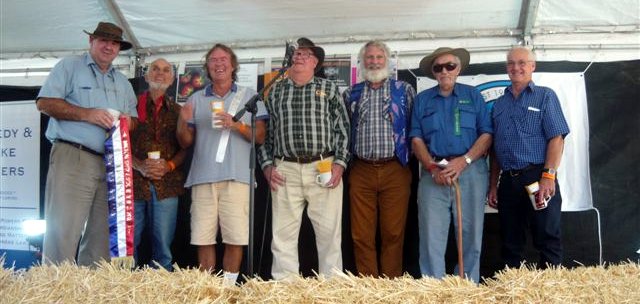 Ken Potter, Allan Stone, Andrew Pulsford, Bob 'Pa' Kettle, David Stanley, John Davis (MC), Jim Lamb.


Full report and results here.


Blast From The Past
Mel & Susie came across this photo and wondered if anyone know when and where it was taken and who all the people are.
The faces they could identify from left to right include:
Campbell the Swaggie, blonde lady, man in hat, Milton Taylor, Graham Fredricksen. Then the group. Back row: man with hat, Arcadia Flynn, man with grey beard, man with beard, man with beard and glasses, man in red jacket. Second row: woman in red top, woman with baby, blonde woman in hat, then Arch Bishop in blue singlet with his arms around Wally Finch.
Can you identify when, where and who? Email the webmaster, contact details here.