Membership
Membership Information
Forms and Electronic Subscriptions


New Anthology On Sale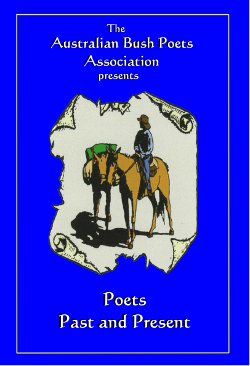 New anthology of ABPA poets past and present is now on sale $28 posted (within Australia).
A Who's Who of modern bush poetry.
62 poets, 192 pages.

More information here.


On This Site

Performance Survey for Members
MSWORD     PDF
_________________

Register of Modern Bush Poets
Many Poets have products and services available
_________________

Roll of Honour
Australian Bush Poetry Champions
and ABPA executive members
_________________

Multimedia
See and hear some of our
modern Bush Poets
_________________

Yarn Spinning
Poets often tell yarns too.
Read some great Aussie yarns
_________________

ABPA Strategic Plan
_________________

2016 Review of Competition Package
and Strategic Plan
_________________

2019 ABPA Committee
ABPA Committee Executive
President - Tim Sheed
Vice President - Ray Essery
Secretary - Meg Gordon
Treasurer - Janine Keating
Committee Members
Bob Kettle
Neil McArthur
Manfred Vijars
ABPA State Delegates
to be confirmed
Magazine Editor - Neil McArthur
Public Officer - Gregory North
Facebook Editor - Jan Lewis
Webmaster - Gregory North

President's Report Oct-Nov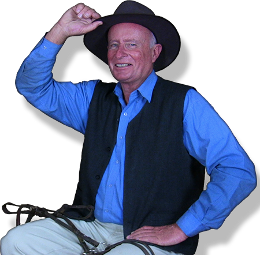 "Bush Poetry is Dying or Dead"
 I have often heard it said.
But that idea will never take hold
As long as there are stories told,
Songs are sung, written and read.
My wife was recently engaged by the Mt. Isa School of the Air as an Artist in Residence for their touring Mini Schools Program. Throughout August/September of this year we travelled with eight coloured harps to Normanton, Bedourie, Cloncurry, Camooweal, Gregory and Julia Creek.  The kids loved it as any form of Art is hard to teach remotely.
One night a week I facilitated a campfire for the kids, parents and teachers.  We selected some kids, dressed them up, did some participation poetry storytelling like "The Spider by the Gwyder" & "The Man From Ironbark".  All of the kids participating and watching loved it.
The point of this story was the surprise on the part of the parents and teachers at seeing sides to these kids that they hadn't seen before.
So hats off to all poets and storytellers who go out to bring a new perspective to the kids because it really does make a difference to their imaginings of what is possible.
Tim Sheed.
Welcome to the ABPA website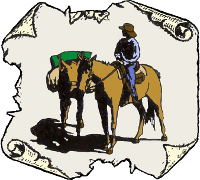 WELCOME
, membership of the Australian Bush Poets Association (ABPA) is comprised of writers, performers and individuals who are interested in bush poetry and enjoy written and live stories in rhyme and metre. If you have an interest in this piece of Australian culture called Bush Poetry, you are welcome here.

Aims
The objectives of the Australian Bush Poets Association is to foster and encourage the growth of Bush Poetry in Australia. By definition, Australian Bush Poetry is metred and rhymed poetry about Australia, Australians and/or the Australian way of life.

Membership
To join the Australian Bush Poets Association and receive our bi-monthly magazine, go to our Membership page.

The ABPA keeps in touch with our members through this website (and forum) and our bi-monthly magazine of Bush Poetry news, events, results of written and spoken competitions as well as samples of contemporary bush poetry. Many members have books, CDs and other products. These can be advertised in the magazine. For rates, click here. The deadline for ads and other content for the magazine is the 22nd of the month preceding publication. Magazines are published at the beginning of February, April, June, August, October and December.



Check out our Facebook page.

Queensland Championships
The Logan Performance Bush Poets held the Queensland Bush Poetry Championships from 6-8 September 2019 at Beenleigh.
See report and results here.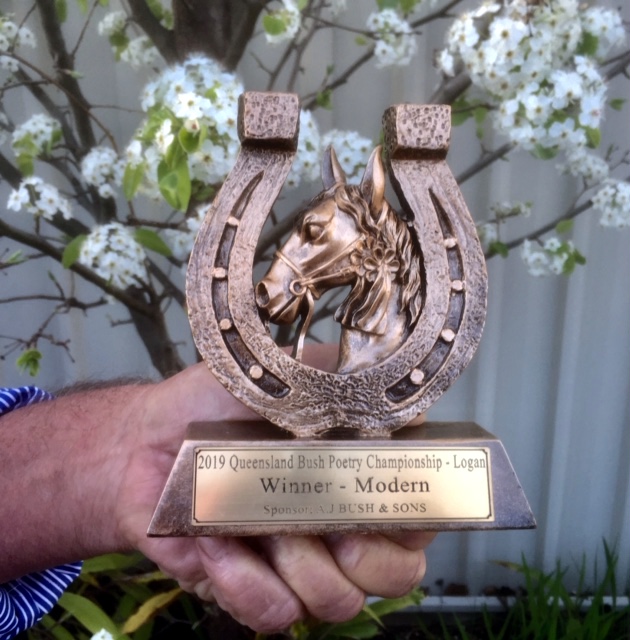 An example of one of the very attractive trophies awarded during the championship. This one was won by Jeff Dowlan who tied with Ralph Scrivens in the Men's Modern section.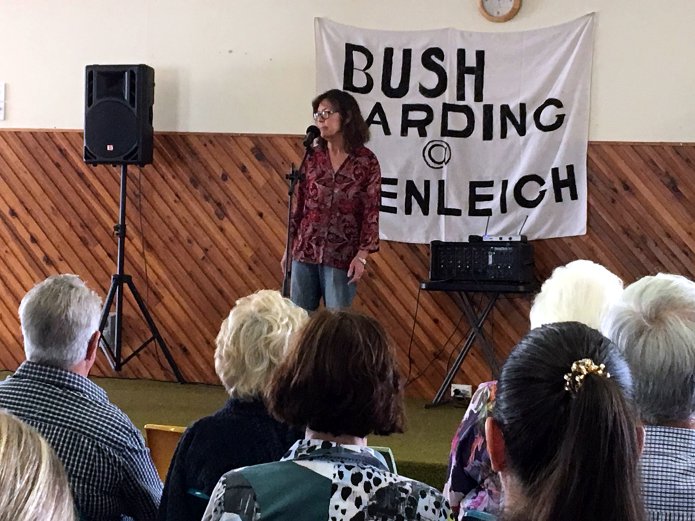 Gerry King on stage.

There was also a junior competition on 31 August at the cinema.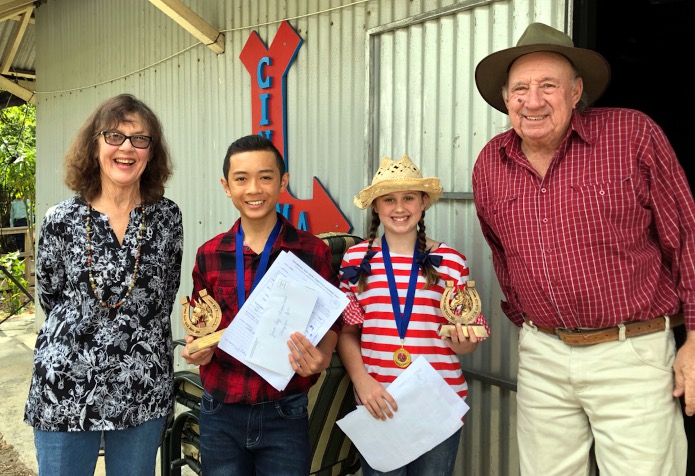 Judge Gerry King with junior overall champions Hans Cabalse and Amelia Cruickshank and judge Jim Tonkin.
"The standard was so very high and the reaction from the audience was sheer delight." Gerry King.


See previously featured poets.

See previously featured achievers.


Ulladulla Junior Poetry Competition


Left to right: Arabella Brooks, Rosie Stephen, Abby Louth, Zara Clegg, Tess Wilson, Max Chard, Eli Diver, Louis Reid, Jennifer Syein, Jemima Chard, Carlize Delia, Georgia Delia, Olizia Tonkin, Ila Herrero.

On Saturday seventh of September the performance section of the Ulladulla Junior Poetry Competition was held at St Mary's School Milton and although numbers were down a bit on last year a very successful event was held. Fifteen children took the stage and performed extremely well with a variety of poems by the usual iconic poets as well as a variety of contemporary writers.
With regard to the written competition it must be said that the standard and themes in the poetry presented was to my mind amazing especially from children so young the maturity in some of the written work was outstanding and the children themselves as well as their mentors are to be congratulated.
John Davis

Results written section as follows:
1st: Zara Clegg, 2nd: Sia Kapetanos, 3rd: Tess Wilson
Highly Comended: Zygmunt Gray, William Gray, Zara Clegg.
Commended: Tess Wilson, Tess Wilson, Zachariah Diver, Kristen Pennsi, Molly Kent, Thomas Squires.
As well as cash prize money for 1st, 2nd, 3rd and highly commended places, appropriate certificates were awarded in the above categories.

Results performance section as follows:
1st: Zara Clegg, 2nd: Max Chard, 3rd: Tess Wilson, 4th: Arabella Brooks, 5th: Abby Louth.
Showmanship Award: Zara Clegg
Jim Graham Perpetual Sheild and Trophy: Arabella Brooks.

A big THANK YOU to St Marys for hosting the day and all the people who very ably assisted as judges and general helpers and of course the sponsors who are a integral part of the whole success of the event.
Sponsors were: Priceline Pharmacy, Elders Macray Insurance, Tony Ireland Optometrist Eye Q,  Bendigo Bank Milton, Phillipa Hollenkamp, Get Wet in Ulladulla, Woolworths Supermarket Ulladulla, Dee Carrington, South Ulladulla Butchery, RM Williams Publishing.



Townsville Eisteddfod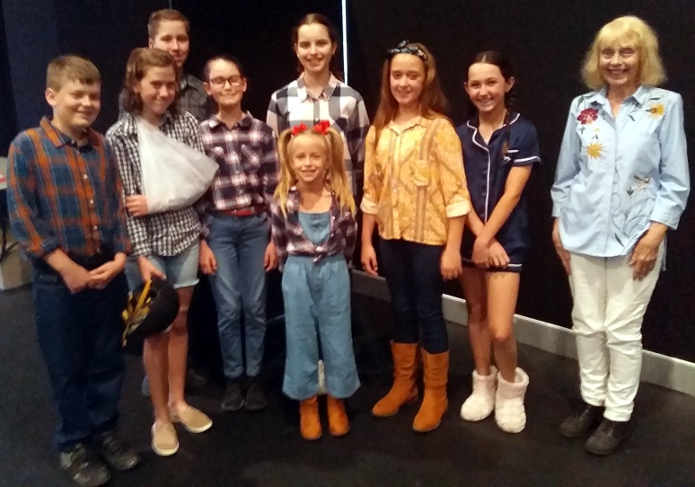 Above: competitors in the Australian Bush Poetry - Solo sections age 10 and under, age 11 - 13 and  age 14-18 years. Photo by Hal Pritchard (Penciller).

The standard of all entrants was so high and bodes well for the future of bush poetry in the north.  The organisers of the Eisteddfod are to be congratulated as this year they have had to contend with the ongoing damage to venues from the Townsville floods and with serious illness in their ranks.

Special trophies were produced by Barry Graham.