Membership
Membership Information
Forms and Electronic Subscriptions


New Anthology On Sale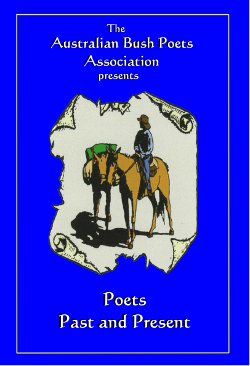 New anthology of ABPA poets past and present is now on sale $28 posted (within Australia).
A Who's Who of modern bush poetry.
62 poets, 192 pages.

More information here.


On This Site

Register of Modern Bush Poets
Many Poets have products and services available
_________________

Roll of Honour
Australian Bush Poetry Champions
and ABPA executive members
_________________

Multimedia
See and hear some of our
modern Bush Poets
_________________

Yarn Spinning
Poets often tell yarns too.
Read some great Aussie yarns
_________________

ABPA Strategic Plan
_________________

2016 Review of Competition Package
and Strategic Plan
_________________

2017 ABPA Committee
ABPA Committee Executive
President - Gary Fogarty
Vice President - Ray Essery
Secretary - Meg Gordon
Treasurer - Janine Keating
Committee Members
Tom McIlveen
Bill Gordon
Max Pringle
Bob Kettle

ABPA State Delegates
Qld - Mick Martin
NSW - Rob Christmas
Vic - Jan Lewis
SA - Bob Magor
WA - Irene Conner
NT - Kevin McCarthy
Magazine Editor - Neil McArthur
Public Officer - Penny Broun
Promotions Officer - Brenda Joy
Facebook Editor - Jan Lewis
Webmaster - Gregory North

President's Report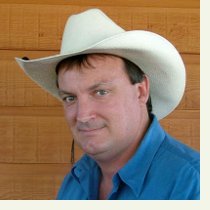 The ABPA Committee has approved a new Adjudication Sheet for Performance Bush Poetry Competitions which is on our
website
. Thanks to Jack Drake & Marco Gliori for working on developing the new sheet. The Committee will be reviewing other areas as time permits, Written Poetry Comp Adjudication Sheets, Accredited Judges Lists & Competition Guidelines. If members have input of any kind that they would like considered during these reviews, then please contact either myself or any Committee Member and let us know. After all it's your Association & we value your thoughts. I often get asked, "What can individual Members do to help promote Bush Poetry?", & the answers are many & varied. I will do my best to highlight just a few:-
1. Improve you own writing/performance at every opportunity – regardless of your experience or ability, it's always possible to improve. The better we are, the bigger the audience we'll create. There's many ways to improve your
craft. Attend workshops. Watch other entertainers & study their techniques, comedians, dancers, mimes, singers,
dancers, actors & Bush Poets all have techniques we can adjust & use in delivering Bush Poetry. Find a mentor, most
experienced Bush Poets I know are happy to offer help & advice, just ask. Competitions, these can provide an early opportunity to work to an audience, while Judge's comments & audience response can be a good learning tool. (I'd urge poets to consider not spending too long in 'competition mode' as it can often hinder you from progressing through the poetry ranks).
2. Share your success, If you have a good win in competition or have other notable success with Bush Poetry, then share this news by sending a 'Press Release' to all relevant newspapers, newsletters, radio stations and TV stations.
They will not come knocking on your door, but if you send them a properly constructed press release, you may be surprised with how often they will use your information. This will lift your profile & promote Bush Poetry. Don't expect
someone else to do your promotion for you.
3. Constantly look for opportunities to perform, instead of competing for the limited number of performance opportunities already established at Festivals or events, look for situations you think may benefit from a good poetry
performance and ask. Eg, approach your local RSL club, suggest how a well performed poem might enhance their Anzac Day Celebrations, approach your local P&C Assn, suggest that as a fund raiser they might like to consider a Bush
Poetry Show (I ran my first Poetry Show in Millmerran, for the Progress Assn, we sold just over 400 tickets, paid 4 poets & made over $3000 profit). If your town or region has an established Festival or event, approach them and explain the benefits of having a poetry show as an attraction. Suggest to your local Lions Club that their Xmas Party could use a good laugh and that a good Bush Poet can deliver exactly that. You will get a lot of No's, but it may surprise you how many Yes's you get. If you don't think your own poetry skills are up to it at this time, then invite along a more experienced
poet.
4. Always, always put the Best Poets available (allowing for Budget & other factors) in front of your audiences. This single factor is essential to promoting Bush Poetry & ensuring our future. While it is an honour to be asked to perform at any venue, it is a compliment to be asked to return.
Gary Fogarty (0417 723 400)
Welcome to the ABPA website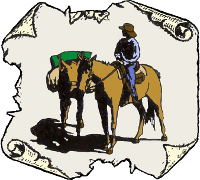 WELCOME
, membership of the Australian Bush Poets Association (ABPA) is comprised of writers, performers and individuals who are interested in bush poetry and enjoy written and live stories in rhyme and metre. If you have an interest in this piece of Australian culture called Bush Poetry, you are welcome here.

Aims
The objectives of the Australian Bush Poets Association is to foster and encourage the growth of Bush Poetry in Australia. By definition, Australian Bush Poetry is metred and rhymed poetry about Australia, Australians and/or the Australian way of life.

Membership
To join the Australian Bush Poets Association and receive our bi-monthly magazine, go to our Membership page.

The ABPA keeps in touch with our members through this website (and forum) and our bi-monthly magazine of Bush Poetry news, events, results of written and spoken competitions as well as samples of contemporary bush poetry. Many members have books, CDs and other products. These can be advertised in the magazine. For rates, click here. The deadline for ads and other content for the magazine is the 22nd of the month preceding publication. Magazines are published at the beginning of February, April, June, August, October and December.



Check out our Facebook page.


Meet a Poet - Carmel Wooding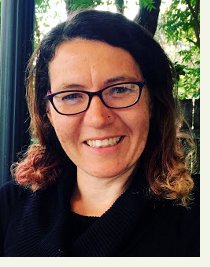 Carmel Wooding was first introduced to Bush Poetry by her parents, Tom and Maureen Dunn after a trip to the Tamworth Country Music Festival when she was about 12 years old. With the strong support of Tom and Maureen, Carmel soon fell in love with the wonderful artform of Bush Poetry and travelled the country attending many bush poetry events and competitions. A highlight for Carmel was the opportunity to visit the USA in both 2002 and 2003 to perform at the American Cowboy Poetry Gathering in Elko, Nevada.
After 'growing up', getting married and having kids, Carmel is now rediscovering her love of writing and performing and is excited to be reentering the poetry scene. Carmel and her husband Adam have returned to Carmel's childhood home of Warwick where she is a Teacher Librarian. Carmel's children, James and William, are now taking to the stage and she is excited to share her Bush Poetry journey with them into the future.
Carmel has a book and a CD which can be obtained by emailing her at
See previously featured poets
.
Member Achievements - Ray Essery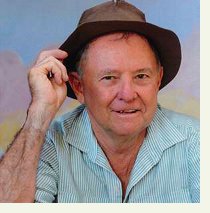 Ray Essery 'The Mullumbimby Bloke' is without doubt one of the most highly regarded performing Bush Poets in Australia today.

This 'North Coast, NSW' poet can leave his audience in stitches with hilarious tales that reflect his years as a dairy farmer, navy man and Sydney pub manager. Likewise he can dig deep into the kitbag of his family memories to deliver heartfelt recollections of his early life, taking his audience on a nostalgic journey back to when life on the North Coast was just a little less complicated.

This mischievous, lovable larrikin is equally at home performing at any of Australia's major festivals as he is entertaining at a corporate event.

Ray Essery is a story teller, a historian, a romantic, a comic and above all else, an entertainer.

Ray's autobiography One Hell of a Ride is available from or phone Ray on 0438 843 817.


See previously featured achievers.



Festival Action
Poetry with the Rainbow Serpent. Poetry and picnic, Beaudesert Qld.

The occasional showers of rain on Friday, 8th June did not prevent the Beaudesert Bush Bards and their friends from enjoying an outing designed to take bush poetry back to its origins - in the bush.

Their annual bush picnic "Poetry With The Rainbow Serpent" at Il-Bogan Park, was combined with the planting of a memorial tree for Betty Markwell who passed away recently at the age of 91. Betty was an inaugural member, past secretary and Patron of the poetry group.

Event organiser, Ian Gasking was thanked for arranging yet another successful event.

Pamela Fox, President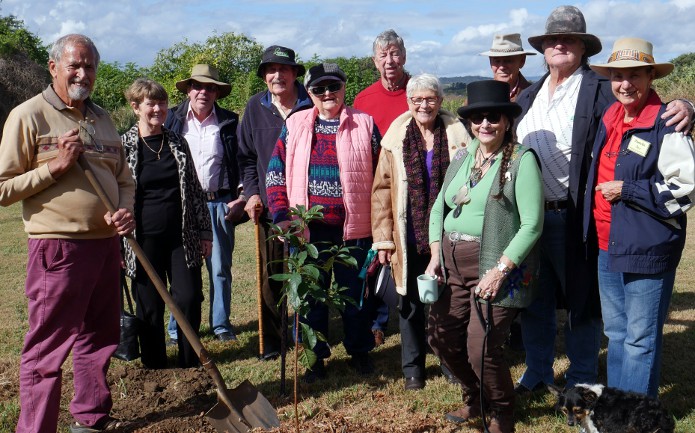 _____________________

Poets with Pizazz


ABPA Poets joined the Poets with Pizzazz to perform at the Rockhampton Show in June.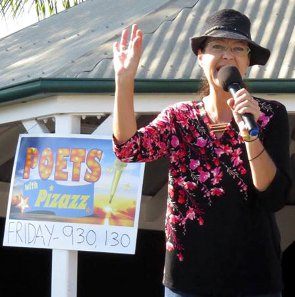 Janine Keating from Gladstone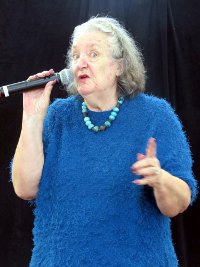 Carol Reffold (wintering from Victoria)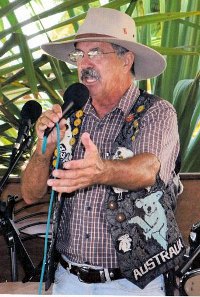 and Bob Pacey from Rockhampton.