Membership
Membership Information
Forms and Electronic Subscriptions


New Anthology On Sale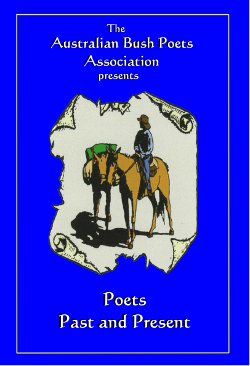 New anthology of ABPA poets past and present is now on sale $28 posted (within Australia).
A Who's Who of modern bush poetry.
62 poets, 192 pages.

More information here.


On This Site

Performance Survey for Members
MSWORD     PDF
_________________

Register of Modern Bush Poets
Many Poets have products and services available
_________________

Roll of Honour
Australian Bush Poetry Champions
and ABPA executive members
_________________

Multimedia
See and hear some of our
modern Bush Poets
_________________

Yarn Spinning
Poets often tell yarns too.
Read some great Aussie yarns
_________________

ABPA Strategic Plan
_________________

2016 Review of Competition Package
and Strategic Plan
_________________

2019 ABPA Committee
ABPA Committee Executive
President - Tim Sheed
Vice President - Ray Essery
Secretary - Meg Gordon
Treasurer - Janine Keating
Committee Members
Bob Kettle
Neil McArthur
Manfred Vijars
ABPA State Delegates
to be confirmed
Magazine Editor - Neil McArthur
Public Officer - Gregory North
Facebook Editor - Jan Lewis
Webmaster - Gregory North

Welcome to the ABPA website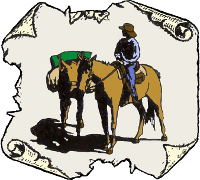 WELCOME
, membership of the Australian Bush Poets Association (ABPA) is comprised of writers, performers and individuals who are interested in bush poetry and enjoy written and live stories in rhyme and metre. If you have an interest in this piece of Australian culture called Bush Poetry, you are welcome here.

Aims
The objectives of the Australian Bush Poets Association is to foster and encourage the growth of Bush Poetry in Australia. By definition, Australian Bush Poetry is metred and rhymed poetry about Australia, Australians and/or the Australian way of life.

Membership
To join the Australian Bush Poets Association and receive our bi-monthly magazine, go to our Membership page.

The ABPA keeps in touch with our members through this website (and forum) and our bi-monthly magazine of Bush Poetry news, events, results of written and spoken competitions as well as samples of contemporary bush poetry. Many members have books, CDs and other products. These can be advertised in the magazine. For rates, click here. The deadline for ads and other content for the magazine is the 22nd of the month preceding publication. Magazines are published at the beginning of February, April, June, August, October and December.



Check out our Facebook page.

New President - Tim Sheed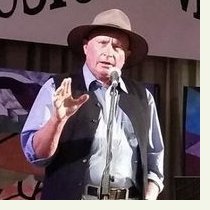 "I Come from the Western Plains
Where the Girls and Grass are Scanty
Where the Creeks Run Dry or Ten Feet High
And it's always Drought or Plenty." (Anon).

I was born on the banks of the Murray and mum told me that I was found in a Wombat hole.  I was raised on a rice growing property near Barham, NSW which is located between Echuca and Swan Hill on the NSW border.   I had four brothers and sisters.  Our telephone number was Tullakool 25 and with no electricity or television, it was serious pioneering and very hard work.  We were 30 miles from Barham, Swan Hill and Moulamein on dirt and gravel roads.

I did correspondence school for the first four years and so had a very free childhood.  The lessons were delivered every week in the mail and came from the Blackfriars School in Sydney.  We would invent games, such as walking empty forty four gallon drums along the flat ground, playing Cowboys & Indians and making sling shots from the inner tubes of tyres.   As soon as we could read we would read everything we could get our hands on....Enid Blyton, Biggles, The Last of the Mohicans and the poetry of Banjo Paterson, Henry Lawson and Henry Kendall.

I became a storyteller after hearing my Uncle Jim one day describing an old farm worker as "looking like he had shaved with a Stump Jump Razor....he had hairs hanging off him like a Bengal Tiger".  From then on I started to consciously collect sayings and build my storytelling skills.

In 1961 Mum and Dad bought "Pittfour" at Jerilderie.  This farm had a lot of frontage on the Billabong Creek and was a kids heaven....swimming, fishing, boating, rabbiting and bird nesting.  There were few trees this little monkey couldn't get up.

As a young man and newly married, I went to work on Wonga Merino Stud between Jerilderie and Hay.  Tom Culley was the best sheep man going at the time.  This job entailed general sheep work, shearing, mustering, cropping, windmill repair and all the other jobs required in the bush, such as killing and dressing sheep and fighting the odd bushfire.

For a number of years I worked in Brisbane as a Radio Broadcasting Engineer.  After I completed an Agricultural Degree as a Mature Age Student at Dookie College, I finally returned to run the "Pittfour" family property.  In the year 2000 "Pittfour" won the Best Irrigated Wheat Crop in the Riverina and I was very proud of that Award.

I have worked for most of my life as a Stockman, Stationhand and Farming Manager.

Now,  I am an Australian Bush Poet, an "Australian Folklore" Enrichment Speaker on Cruiseships, travel to Bush Festivals, have been an Onboard Performer on the Ghan and even had a role in the recent movie "The Dressmaker".

As they say, "You can take the Boy out of the Bush but you Can't take the Bush out of the Boy"!!

See more at Tim's website.



See previously featured poets.

See previously featured achievers.



Festival Action
Boyup Brook Country Music Festival, WA




Crowd enjoying poets breakfast at the bowling club.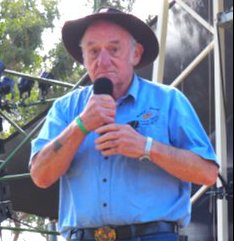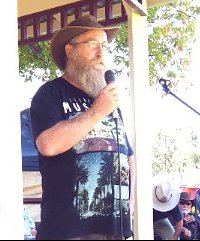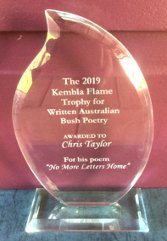 Peter Blyth of Albany.                                           Chris Taylor of Bunbury WA - also winner of the 2019 Illawarra Flame trophy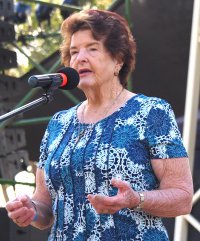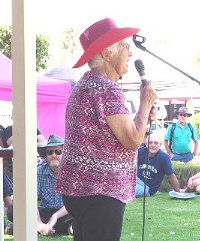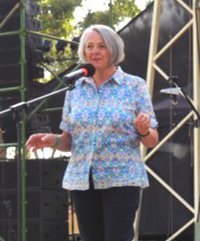 Anne Hayes of Perth                                            Peg Vickers from Albany             Bev Shorland of Perth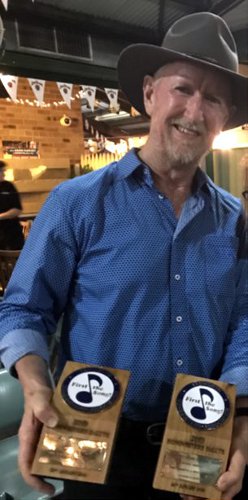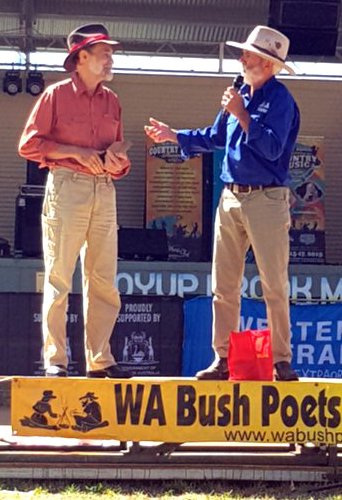 Congratulations to Terry Bennetts (at left) and Keith 'Cobber' Lethbridge (centre) on winning the Tamworth Songwriters Award for their song "Station Minderoo", which hit Number One on the country music charts when performed by Dale Duncan. Bill Gordon at right.
____________________

Dunedoo Bush Poetry Festival, NSW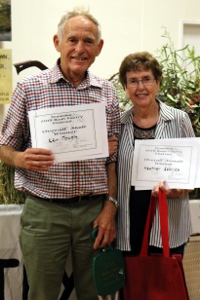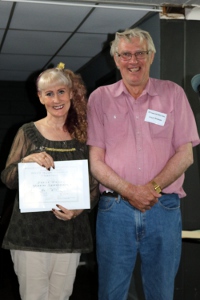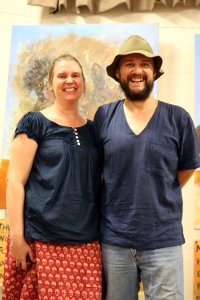 Overall winners Ken Tough                    Yarnspinning winner Rhonda                Entertainers Chloe and Jason Roweth
and Heather Searles                                Tallnash and MC Lloyd Graham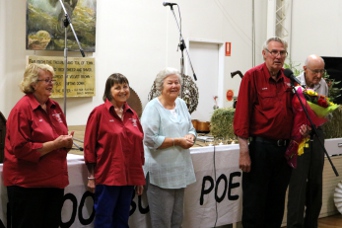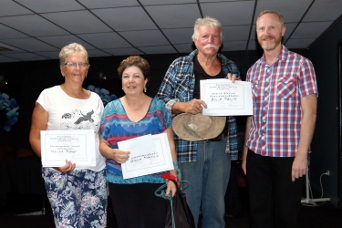 Dunedoo & District Development Group committee                       Intermediate: Marion Dreyer, Carolyn Maxfield, David Melville,
                                                                                                                    MC Gregory North.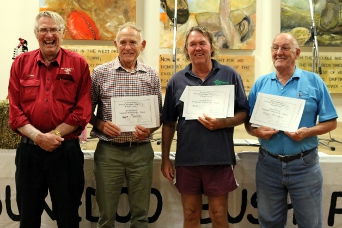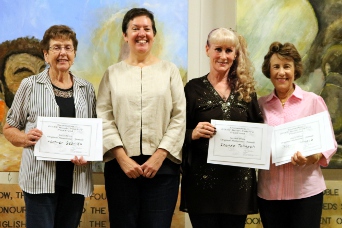 MC Lloyd Graham, Ken Tough, Andrew Pulsfors, Max Pringle       Heather Searles, judge Sandra Nicholson, Rhonda Tallnash,
                                                                                                                    Jacqui Warnock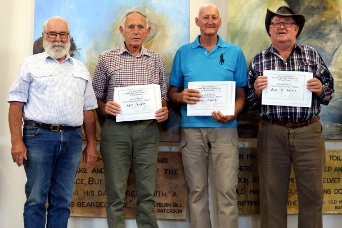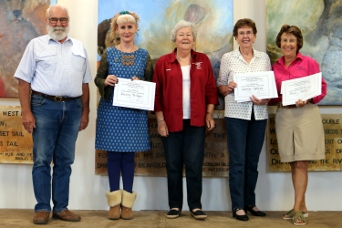 Sponsor Eric Beer, Ken Tough, Paddy O'Brien, Bob 'Pa' Kettle       Eric Beer, Rhonda Tallnash, Clr Wendy Hill, Heather Searles,
                                                                                                                      Jacqui Warnock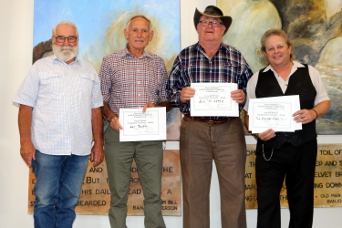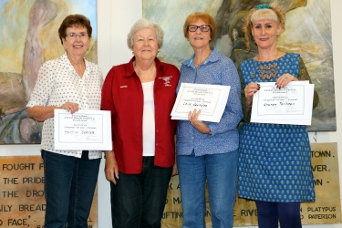 Sponsor Eric Beer, Ken Tough, Bob 'Pa' Kettle, Graeme                Heather Searles, Clr Wendy Hill, Claire Reynolds, Rhonda
Johnson                                                                                                   Tallnash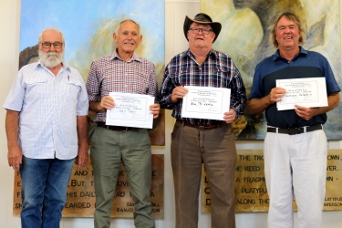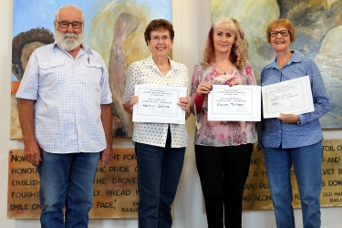 Sponsor Eric Beer, Ken Tough, Bob 'Pa' Kettle,Andrew Pulsford   Eric Beer, Heather Searles, Rhonda Tallnash, Claire Reynolds