Membership
Membership Information
Forms and Electronic Subscriptions



On This Site

Register of Modern Bush Poets
Many Poets have products and services available
_________________

Roll of Honour
Australian Bush Poetry Champions
and ABPA executive members
_________________

Multimedia
See and hear some of our
modern Bush Poets
_________________

Yarn Spinning
Poets often tell yarns too.
Read some great Aussie yarns
_________________

ABPA Strategic Plan
_________________

2016 Review of Competition Package
and Strategic Plan
_________________

2017 ABPA Committee
ABPA Committee
Executive
President - Tom McIlveen
Vice President - Ray Essery
Secretary - Rhonda Tallnash
Treasurer - Carol Hutcheson
Committee Members
Carol Reffold
Meg Gordon
Max Pringle

ABPA State Delegates
Qld - Cay Ellem
NSW - Rob Christmas
Vic - Jan Lewis
Tas - Philip Rush
SA - Bob Magor
NT - Lance Lawrence
WA - Irene Conner
Magazine Editor - Neil McArthur
Promotions Officer - Brenda Joy
Fund-raising Officer - Janine Keating
Public Officer - Penny Broun
Returning Officer - Penny Broun
Facebook Editors - Brenda Joy
and Shelley Hansen
Webmaster - Gregory North

President's Report Feb-Mar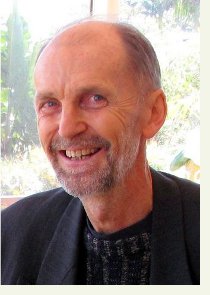 Greetings to all fellow ABPA members and magazine readers. Christmas has come and gone... and once again we find ourselves cast into a new year, with the clock relentlessly counting down to next Christmas...(only ten months and three weeks to go, as I type this report). On behalf of all ABPA members, I would like to offer condolences to the family of stalwart, foundation ABPA member, legendary poet and all round great bloke, John Major. Remembered, honoured and loved by all who knew him.
Tamworth is done and dusted and what a year it was! On returning to work Monday morning, I was asked by a customer...How was Tamworth? My immediate reply was...Hectic, intense and wonderful! I probably forgot to add ...Hot! But what the heck, so was the rest of Australia! Bush poetry is well and truly alive in Country Music Capital. Record crowds turned up at all regular events and new events were well patronised.
The inaugural Frank Daniel Bush Verse Award
at St Edwards Hall was an outstanding success, with healthy numbers turning up on each of the five days of competition. On Sunday we were absolutely swamped and filled the hall to almost capacity. Festival goers, many of whom had never seen a bush poetry show before, were turning up in droves to check us out. They were given voting sheets and asked to name their favourite performer on the day. Cash prizes were given each day to the audience's chosen top three performers. After four days of qualifying heats, the twelve finalists competed on Australia Day for the Frank Daniel Bush Verse Trophy, which was once again judged by the audience. Innovator and founding father of this award, Ray Essery was on hand each day to MC and prep the audience with his usual repartee, wit and humorous banter. On behalf of all competitors, audience members and the eternal spirit of Frank Daniel, thank you Ray... for a truly outstanding contribution. You did us all proud and gave it your all, and made each and every day something very special. Overall winner of the trophy for 2017 and well deserved crowd favourite, was Paddy O'Brien from Murwillumbah NSW. Second place went to Rhonda Tallnash, third place Tom O'Connor, and runners-up Tom McILveen and David Elson.
The Golden Damper
was an outstanding success, thanks largely to Co-ordinator Graeme Johnson, who puts in an amazing amount of work behind the scenes and takes very little credit for it. Thank you Graeme! Thankyou to judges Brian Bell, Bill Kearns, Ron Liekefett, Meg Gordon, Ray Essery, Noel Bull and Rob Christmas, MCs Peter Mace and Ray Essery, Collators and timekeepers... Susan Ashton, Meg Gordon and David Kitchen. The temporary venue at the Rugby Club certainly presented us with a few challenges, however with a little improvisation and welcome help from fellow poets, we managed to pull it off. In fact we had a full house with standing room only for the Saturday morning finals. Congratulations go to overall champion in both categories Claire Reynolds, who absolutely wowed the audience and judges with her performance of Jack Drake's
The Water Of The Wells- Beersheba 1917
. Well done also to place-getters Rhonda Tallnash, Johny Peel & Jacqui Warnock.
I got to attend most of the poetry events in Tamworth and found all of them well supported by appreciative audiences. Our annual Poets' Tuesday night get together dinner was well attended and held at Tamworth Gardens Retirement Estate in combination with an after dinner concert as part of the inaugural Bush Poets & Balladeers Concert. Led by Pat Drummond, Greg North and Ray Essery, it was an outstanding success and we have been asked to do it again next year.
Our
AGM
was held as usual on Wednesday and it was well attended by members who contributed enthusiastically throughout. Increased insurance premium requirements for performers were discussed at length. (See Shelley Hansen's extensive report on this elsewhere in the magazine). We also discussed a book of Bush Poetry to raise money for the ABPA to be compiled by Will Moody. The structure of Performance Competitions was discussed to look at the possibility of implementing Novice or Intermediate categories to allow up and coming performers a chance to be acknowledged and encouraged to continue performing. These matters will be further discussed at future committee meetings. Magazine editor Neil McArthur has called for more contributions from members. Bundy Muster stalwarts John and Sandy Lees were acknowledged and thanked. Bill and Meg Gordon spoke on, and called for support for the upcoming Toodyay WA championships to be held in November this year. Ray Essery was appointed Vice President. Thankyou Rhonda Tallnash for stepping up for that most difficult of committee rolls...Secretary. And who better to do it? You are an absolute whiz! (And I officially apologise for telling you that it is simply a matter of taking minutes...sorry... I lied). Thankyou to our incoming treasurer Carol Hutcheson and new committee members Meg Gordon and Max Pringle and of course our magnificent matriarch, Returning Officer and Public Officer... Penny Broun.
With the stalwart, legendary Mullumbimby Bloke, Ray Essery at the helm to help guide us through stormy waters, I feel there is a great rapport amongst the new committee and I believe that this is going to be an extraordinary year for the ABPA and indeed for Australian Bush Poetry overall!
In Poetry, Tom McILveen.
Welcome to the ABPA website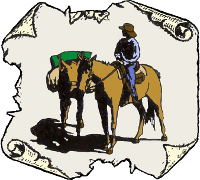 WELCOME
, membership of the Australian Bush Poets Association (ABPA) is comprised of writers, performers and individuals who are interested in bush poetry and enjoy written and live stories in rhyme and metre. If you have an interest in this piece of Australian culture called Bush Poetry, you are welcome here.

Aims
The objectives of the Australian Bush Poets Association is to foster and encourage the growth of Bush Poetry in Australia. By definition, Australian Bush Poetry is metred and rhymed poetry about Australia, Australians and/or the Australian way of life.

Membership
To join the Australian Bush Poets Association and receive our bi-monthly magazine, go to our Membership page.

The ABPA keeps in touch with our members through this website (and forum) and our bi-monthly magazine of Bush Poetry news, events, results of written and spoken competitions as well as samples of contemporary bush poetry. Many members have books, CDs and other products. These can be advertised in the magazine. For rates, click here. The deadline for ads and other content for the magazine is the 22nd of the month preceding publication. Magazines are published at the beginning of February, April, June, August, October and December.



Check out our Facebook page.

DUNEDOO Bush Poetry Festival CANCELLED
Sadly, the Dunedoo Bush Poetry Festival Performance Competition, scheduled for 3rd - 6th March, will not be held.
Eric Beer, the Co-ordinator, advised that it was a majority decision taken recently by the Festival Committee following the current and on-going effects from the very recent bush fires in the Dunedoo region. Many people involved with the festival have been directly or indirectly affected by these severe fires and it was felt that the community was unable to go ahead due to these circumstances. Blaze Aide volunteers are currently in the district offering support to those who have endured loss and hardship.
The Written Bush Poetry Competition has already been judged and winners will be announced on 3rd March. Results and reports will be circulated after that date.
The ABPA appreciates the position and how difficult it was to come to this decision, and thanks Eric Beer for his considerable pre-festival background work. Also the Dunedoo Festival Committee and the Dunedoo and District Development Group are thanked for the support they have given to Bush Poetry over the years. May the blessings be towards the continuation of Dunedoo festivals in the future.

Changes to Competition Package
The annual review of the ABPA Competition Package resulted in some changes to the ABPA Guidelines, Procedures, Assessment sheets and Entry Forms for both Performance and Written competitions. Following post review feedback some further minor adjustments have been made to the Performance Bush Poetry and Yarn Spinning Assessment sheets.
So that all concerned with the organisation of, judging of or participation in competitions, are in tune with the 2016 upgrades, everyone is urged to re-familiarise themselves with all the relevant documents and helpful information in the current ABPA Competition Package on the Competitions page. Should you have any queries please contact the ABPA Secretary or
or Brenda Joy, the Review Sub-Committee Secretary. Contacts here.

No Bundy Bush Poetry Muster in 2017
See Bundabereg Poets' Society explanation here.


2017 Tamworth Country Music Festival Highlights
This year's festival saw a great showing of bush poetry with:

The Longyard Bush Poets' Breakfast hosted by Neil McArthur
The Rhymer's Roundup hosted by The Rhymer From Ryde, Graeme Johnson
The Poets Showcase Breakfast hosted by Gary Fogarty
Three Blokes Fishing with Marco Gliori, Alan Glover and Peter Willey
Muz Hartin 30 years at Tamworth shows
Bush Poets and Balladeers Concerts hosted by Tom McIlveen
The Blackened Billy Written Verse Competition
The Golden Damper performance bush poetry competiton
The Inauguaral Frank Daniel Bush Verse walk-up poetry award
Poettes show hosted by Marion Fitzgerald

Competition results can be viewed here.



ABPA Golden Damper Awards - both won by Claire Reynolds
Pictured below are Golden Damper Award finalists Bob (Pa) Kettle, Claire Reynolds, Jacqui Warnock, Mal Beveridge, Paddy O'Brien, Bill Gordon, Rhonda Tallnash, Tom McIlveen, Caroline Tuohey. Finalist not pictured, Jenny Campbell.


Orignal Poetry Winners
First: Claire Reynolds of Gloucester NSW
Second: John Peel of Tumut NSW
Third: Rhonda Tallnash of Violet Town Victoria.

Established Poetry Winners
First: Claire Reynolds of Gloucester NSW
Second: Jacqui Warnock of Narrabri NSW
Third: Rhonda Tallnash of Violet Town Victoria.

Report

The 31st presentation of the ABPA sponsored 'Golden Damper Awards' was held during the 45th Tamworth Country Music Festival 2017.

The new venue of the Tamworth Rugby Club was packed to capacity over the 3 Heats & Finals series. The location proved somewhat difficult to find initially but after posting an ABPA Volunteer Sentry at the Rugby Park gates our happy audiences found their way between the Caravans to the Club's Auditorium.

Whilst the total number of competitors was slightly down on last year's numbers the attentive punters were still held captivated by the class & quality of this year's competitors. Contestants came from 'far & wide' in an attempt to win one of the elusive "Damper" trophies. The Northern Territory, Far North Queensland, Western Australia, Victoria and inland & coastal NSW were all represented.

Over the event's 31 year history only Marco Gliori (1990) & Lyn Tarring (2015) have ever won the 'double header' so to speak and this year the ladies shone through again with Claire Reynolds (from Gloucester NSW) taking out the top honours in both the Original & Established sections.

As a matter of fact 5 out of the 6 overall places were won by the ladies with John Peel (2nd in the Original Section) being the lone male winner. Other placegetters were Rhonda Tallnash & Jacqui Warnock. (see winners list attached).

Event Co-ordinator Graeme Johnson announced that this year's "Golden Dampers" (his fifth at the helm) would be his last for the present time as he has turned his attentions elsewhere. President Tom McIlveen thanked Graeme for his 'service & attention to detail' over that period.

Well folks only 365 days till we can 'do it all again' See ya there!



Blackened Billy Winner - Trevor Shaw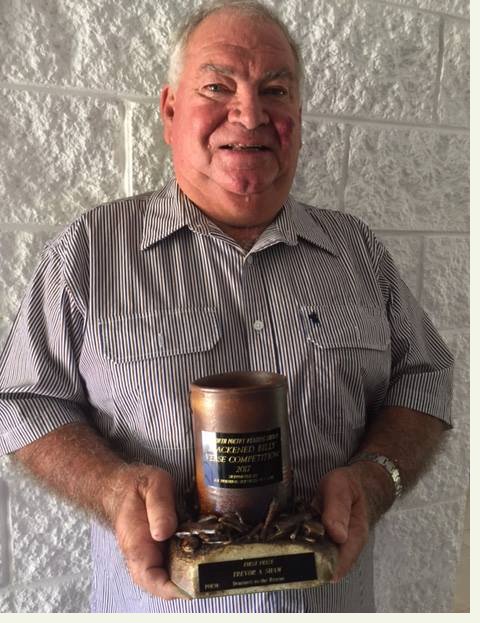 Trevor Shaw from Biloela in Queensland was this year's winner of the coveted Blackened Billy for written bush poetry.

His winning poem Dentures to the Rescue can be viewed on our Poetry page.

The Judge's report and other placings can be viewed here.

Congratulations Trevor!































Inaugural Frank Daniel Bush Verse Award - Paddy O'Brien


Held at St Edwards Hall and judged by the audience, the inaugural Frank Daniel People's Choice awards final was won by Paddy O'Brien of Murwillumbah NSW, congratulated by new ABPA Vice President Ray Essery.
Second place went to Rhonda Tallnash of Violet Town Victoria and third place to Tom O'Connor of Swan Hill Victoria.



Bush Poets and Balladeers Concert


New Bush Poets and Balladeers Concerts were held at Tamworth Gardens Retirement Estate with a great line-up of songs and poems. Pictured above are Susan Ashton and Tom McIlveen in action.

See previously featured poets.
See previously featured achievers.


Vale Blue the Shearer (Col Wilson)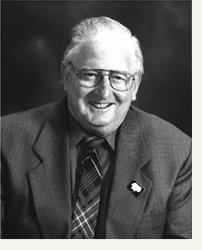 We regretfully announce that Blue the Shearer, aka Col Wilson, passed away on Friday 3rd February in Springwood NSW, aged 89. Blue probably holds the record for the most poets reciting his work over many years. A one-time public servant, Blue wrote a poem every week for ABC radio for more years than most can remember. Always ready with his quick wit and incisive political commentary, he tackled politicians, current affairs as well as the mundane facets of everyday life.

Since poetry on current affairs can date quickly, he is best remembered for his humorous poems such as The Cross-eyed Bull, The Addict, Esmerelda, Joanna, Supervet, Chainsaw Massacre, The Trailer, My Mower, Down Boy, The Thong, Walls of Jericho, The Blowfly, The Grandkids, The Wingen Pub and Mental Elf, which he said was the poem he most proud of.

The funeral was held on Thursday 9th February at Leura Memorial Gardens in the Blue Mountains and was a moving and fitting tribute.

Col was a wonderful bloke and his poems contributed enormously to the growth of modern bush poetry. He will be sadly missed.