Membership
Membership Information
Forms and Electronic Subscriptions


New Anthology On Sale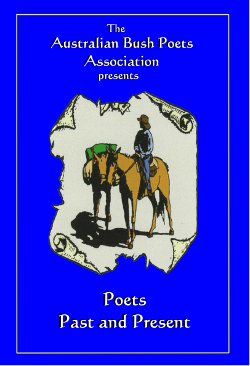 New anthology of ABPA poets past and present is now on sale $28 posted (within Australia).
A Who's Who of modern bush poetry.
62 poets, 192 pages.

More information here.


On This Site

Performance Survey for Members
MSWORD     PDF
_________________

Register of Modern Bush Poets
Many Poets have products and services available
_________________

Roll of Honour
Australian Bush Poetry Champions
and ABPA executive members
_________________

Multimedia
See and hear some of our
modern Bush Poets
_________________

Yarn Spinning
Poets often tell yarns too.
Read some great Aussie yarns
_________________

ABPA Strategic Plan
_________________

2016 Review of Competition Package
and Strategic Plan
_________________

2019 ABPA Committee
ABPA Committee Executive
President - Tim Sheed
Vice President - Ray Essery
Secretary - Meg Gordon
Treasurer - Janine Keating
Committee Members
Bob Kettle
Neil McArthur
Manfred Vijars
ABPA State Delegates
NSW - Bill Kearns
Victoria - Jan Lewis
Queensland - Peter Frazer
WA - Irene Conner
Magazine Editor - Neil McArthur
Public Officer - Gregory North
Facebook Editor - Jan Lewis
Webmaster - Gregory North

President's Report Oct-Nov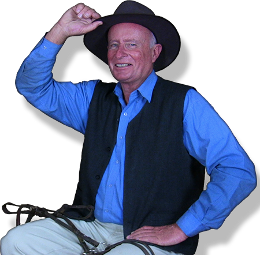 "Bush Poetry is Dying or Dead"
 I have often heard it said.
But that idea will never take hold
As long as there are stories told,
Songs are sung, written and read.
My wife was recently engaged by the Mt. Isa School of the Air as an Artist in Residence for their touring Mini Schools Program. Throughout August/September of this year we travelled with eight coloured harps to Normanton, Bedourie, Cloncurry, Camooweal, Gregory and Julia Creek.  The kids loved it as any form of Art is hard to teach remotely.
One night a week I facilitated a campfire for the kids, parents and teachers.  We selected some kids, dressed them up, did some participation poetry storytelling like "The Spider by the Gwyder" & "The Man From Ironbark".  All of the kids participating and watching loved it.
The point of this story was the surprise on the part of the parents and teachers at seeing sides to these kids that they hadn't seen before.
So hats off to all poets and storytellers who go out to bring a new perspective to the kids because it really does make a difference to their imaginings of what is possible.
Tim Sheed.
Welcome to the ABPA website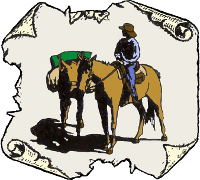 WELCOME
, membership of the Australian Bush Poets Association (ABPA) is comprised of writers, performers and individuals who are interested in bush poetry and enjoy written and live stories in rhyme and metre. If you have an interest in this piece of Australian culture called Bush Poetry, you are welcome here.

Aims
The objectives of the Australian Bush Poets Association is to foster and encourage the growth of Bush Poetry in Australia. By definition, Australian Bush Poetry is metred and rhymed poetry about Australia, Australians and/or the Australian way of life.

Membership
To join the Australian Bush Poets Association and receive our bi-monthly magazine, go to our Membership page.

The ABPA keeps in touch with our members through this website (and forum) and our bi-monthly magazine of Bush Poetry news, events, results of written and spoken competitions as well as samples of contemporary bush poetry. Many members have books, CDs and other products. These can be advertised in the magazine. For rates, click here. The deadline for ads and other content for the magazine is the 22nd of the month preceding publication. Magazines are published at the beginning of February, April, June, August, October and December.



Check out our Facebook page.

Benalla Entertainment Muster, Victoria
From 11-13 October the Benalla Entertainment Muster delighted crowds with a mixture of poetry and music.
See results here.
Thanks to Lorraine McCrimmon for the photographs.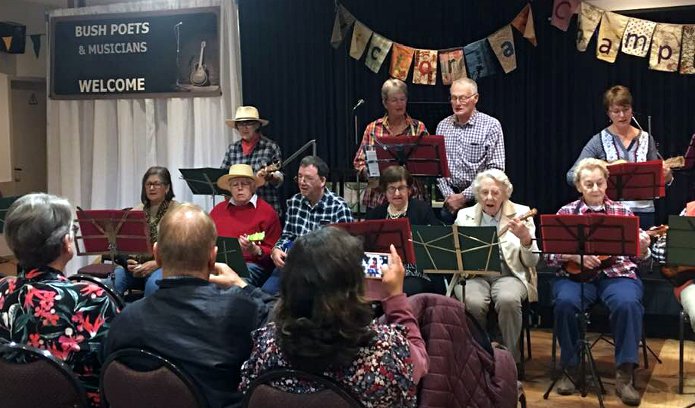 Some of Euroa Uke group.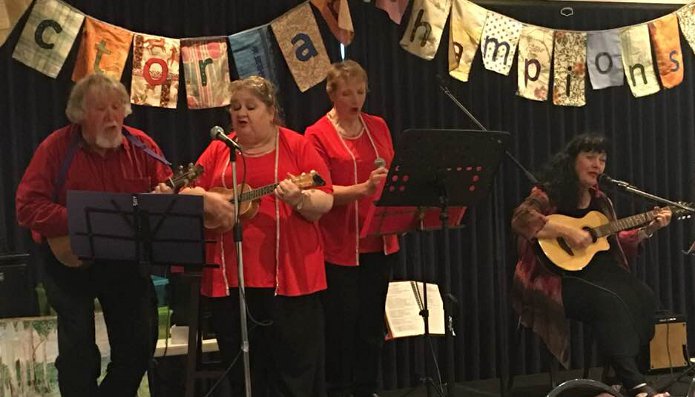 Elysium (Tone and Shez Mitchell and Michelle Ferguson) backing Jill Meehan.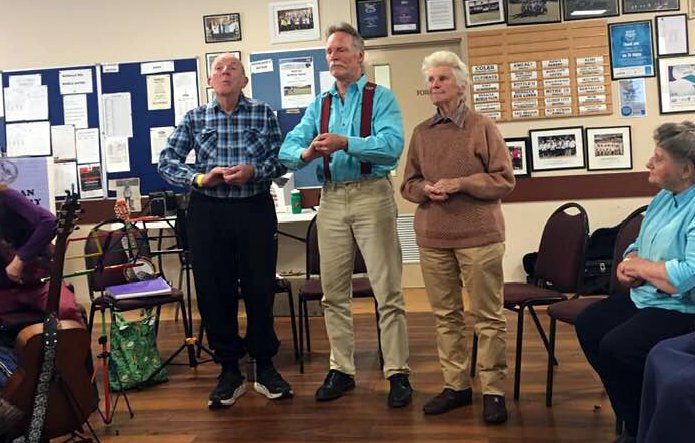 Alan Wright, Geoffrey Graham and Val Kirley - obviously a solemn occasion.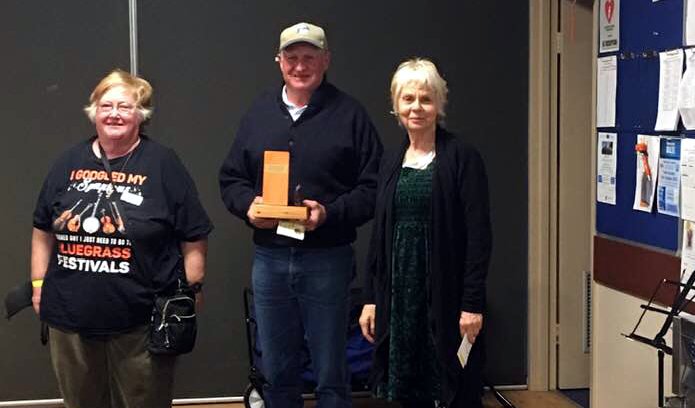 Non-Original Song Champion Wayne Anderson (centre) and Jane Crowe (not pictured) with second-placed Merri Winter (right) and third-placed Adele McCormack (left).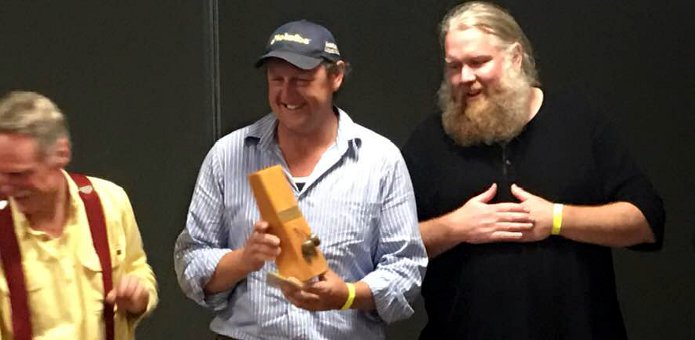 Ross Noble Novice Poet Winner Ben Hoeksema (centre), second-placed Jai Thoolen (right), third-placed Wayne Anderson (not pictured), with Geoffrey Graham (left).



Terry Regan
I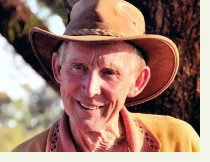 recently visited Terry at his new digs at Boronia House aged care facility in St Marys NSW. It had been a while since I'd last seen him and aside from being a little stooped over, he looked in good health. He gets around slowly with the aid of a stick. Terry's been suffering from Parkinson's disease and some back fractures but recently dementia has been making things difficult. With his memory starting to fail, he was in hospital for a while before moving to Boronia House.

He is very well cared for and has his own well-appointed room. Boronia House is quite new and luxurious with outdoor areas and lovely gardens. His daughters and granddaughters are regular visitors and Terry is always glad to see them.

Terry's memory is still quite good and he is just a little forgetful at the moment. Some days are better than others for him. His hearing is not great despite his hearing aids but he was still happy to chat. It was great to see him and I'm sure he would enjoy visits from other poets and friends if you're in the area.

Gregory North


See previously featured poets.

See previously featured achievers.