Membership
Membership Information
Forms and Electronic Subscriptions



On This Site

Register of Modern Bush Poets
Many Poets have products and services available
_________________

Roll of Honour
Australian Bush Poetry Champions
and ABPA executive members
_________________

Multimedia
See and hear some of our
modern Bush Poets
_________________

Yarn Spinning
Poets often tell yarns too.
Read some great Aussie yarns
_________________

ABPA Strategic Plan
_________________

2016 Review of Competition Package
and Strategic Plan
_________________

2017 ABPA Committee
ABPA Committee
Executive
President - Tom McIlveen
Vice President - Ray Essery
Secretary - (vacant)
Treasurer - Carol Hutcheson
Committee Members
Carol Reffold
Meg Gordon
Max Pringle

ABPA State Delegates
Qld - Cay Ellem
NSW - Rob Christmas
Vic - Jan Lewis
Tas - Philip Rush
SA - Bob Magor
NT - Lance Lawrence
WA - Irene Conner
Magazine Editor - Neil McArthur
Promotions Officer - Brenda Joy
Fund-raising Officer - Janine Keating
Public Officer - Penny Broun
Returning Officer - Penny Broun
Facebook Editors - Brenda Joy
and Shelley Hansen
Webmaster - Gregory North

President's Report Oct-Nov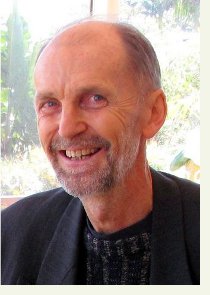 Greetings to fellow ABPA members and website readers…
Winter has come and gone, and summer is almost upon us. Soon we will be grizzling about the heat and reminiscing about evenings spent beside cosy winter fireplaces.
Footy finals time is upon us, and depending upon code and team, it is either a time of glory (or in my case) heartbreak. My team has bowed out for the season, and it's time for me to latch onto a number two team to follow, which I have become quite proficient at over the years after many disappointments from the mighty blue and gold – Parramatta Eels.
With the footy season over, we can once again begin to focus our thoughts on what we do best, our beloved craft of Traditional Australian Bush Poetry.
I am dictating this report from behind a hazy fog, having lost my eyesight one week ago due to a bleed behind both eyeballs. My specialist tells me it's a wait and SEE game, but confident it will resolve in time. Seems there is some family history of this condition.
Our travelling bards have been busy doing outback festivals in Gympie, Winton, Mildura, Camooweal and of course the Brisbane Ecca.
The countdown is on for the Australian Bush Poetry Championships coming up in Toodyay, Western Australia starting Friday 3rd to Sunday 5th November. A great weekend of bush poetry, music and yarn spinning with Pat Drummond, Jack Drake, Carol Heuchan and Noel Stallard as special guests.
All enquiries to Meg or Bill Gordon
www.wabushpoets.asn.au
Ph: 0428 651 098.
At the recent ABPA committee meeting we discussed arrangements for the upcoming Golden Damper in Tamworth. We would like to thank Carol Hutcheson and Meg Gordon who have been working tirelessly to get the wheels turning for one of our most prestigious annual events. It is amazing the amount of work that goes into preparing competitions, as Sandy Lees and Jan Lewis will testify. Carol and Meg are still looking for judges, MC's, conveners, timekeepers, and helpers. As previously mentioned we will be running both the Golden Damper and Frank Daniel awards at St Edwards Hall with a one hour lunch break between events. Please direct all enquiries to Carol Hutcheson or Meg Gordon. Contact details
here
.
Annual General Meeting will be held on Wednesday 24th January 2018 at 2pm at St Edwards Hall. I urge all members to consider taking a position on the upcoming ABPA committee for 2018. Your skills and expertise would be greatly appreciated in the running of the organisation. I also urge all members to support Carol in her fundraising efforts by purchasing raffle tickets direct or by taking a book of 20 tickets to sell at $5 each (only the cost of a cup of coffee!). Also a great way of introducing your friends and family to the world of Australian Bush poetry, enabling them to contribute to keeping our wonderful culture and craft alive for present and future generations.
In Poetry, Tom McILveen

Welcome to the ABPA website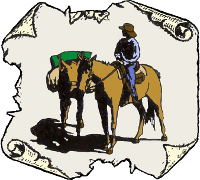 WELCOME
, membership of the Australian Bush Poets Association (ABPA) is comprised of writers, performers and individuals who are interested in bush poetry and enjoy written and live stories in rhyme and metre. If you have an interest in this piece of Australian culture called Bush Poetry, you are welcome here.

Aims
The objectives of the Australian Bush Poets Association is to foster and encourage the growth of Bush Poetry in Australia. By definition, Australian Bush Poetry is metred and rhymed poetry about Australia, Australians and/or the Australian way of life.

Membership
To join the Australian Bush Poets Association and receive our bi-monthly magazine, go to our Membership page.

The ABPA keeps in touch with our members through this website (and forum) and our bi-monthly magazine of Bush Poetry news, events, results of written and spoken competitions as well as samples of contemporary bush poetry. Many members have books, CDs and other products. These can be advertised in the magazine. For rates, click here. The deadline for ads and other content for the magazine is the 22nd of the month preceding publication. Magazines are published at the beginning of February, April, June, August, October and December.



Check out our Facebook page.

WANTED: Gary is after any copies or somewhere to obtain any of Don Lloyd's CDs. He will pay any cost to purchase them. Phone Gary on 0466 184 202.


Countdown to Australian Championships in WA 3-5 November


The program will start at 9am on the Friday with a workshop conducted by Noel Stallard, and finish on Sunday afternoon with presentation of trophies and awards to winners.

A highlight of the Bush Poets Breakfast on the Sunday morning will be a performance by the judges and very popular poets, Carol Heuchan, Jack Drake and Noel Stallard.

Come and enjoy the fun!



Limited Issue Chook Raffle Number 2 now on
LIMITED ISSUE 'CHOOK' RAFFLE
Number 2
- 2017
One in 400
C
hance to
W
in
$400
O
nly 400 Tickets at $5.00 each.
CLOSING 3
rd
November 2017 OR SOON AFTER
T
his ticket is different
-
looking
to the first one and has great poems on it.
Prize money $400 is donated entirely by our very well known member 'Anonymous'.

The first of our Chook raffles which was drawn on 5th July was a sell-out and earned the ABPA $2,000.00 - thanks to all of you who invested in tickets and who took a big part in selling them.

Not bad going! to you dear members and friends who have answered the call so far - well done and thanks from all of us for your generosity. It is much needed funding - almost unobtainable from elsewhere these days.

The Second Chook raffle is under-way with 10 members purchasing 58 tickets already this month.
This time the proceeds of $2,000.00 will be designated mostly for the ABPA Anthology currently being compiled, ready for Tamworth 2018, and the remainder towards coffee and mudcake for the Treasurer. (only joking!) Pardon that slip - the remainder: to avoid increasing membership fees, it will be towards running costs of the ABPA especially postage, all properly accounted for!

Please purchase your Limited Issue Chook Raffle Tickets number 2-2017 from now until 3rd November - sooner rather than later please - so that Doug and I don't have to do three stints instead of one in our shopping centre again. We did have three fun days so must not complain.

The best way to do this very much needed fund raiser is...
Books of tickets are now available on request for you to volunteer yourself as the official ticket-seller - all really fun and easy - to family, friends, neighbours, shopping centre, club, sports meets etc. All details and documentation for shopping centres will be given and you do the rest!
It can be done without a doubt. My husband Doug (a member) and I have sold 104 tickets between us since 25th April. We have even set-up in the local shopping mall for the day selling tickets and had a ball. We do not expect anyone to do that as it is a little daunting if you haven't done that sort of thing before, but worth a good think - with help from me for signage.

Here's how….
Cheque made out to A.B.P.A. for $5.00 or multiples of...
plus a SSAE, if no email address, for returning your tickets
OR your email address to have the ticket emailed to you, saving your stamp,
with a note advising your name and address and phone number. Thank you.
Send to: The Treasurer, ABPA, 48 Avoca Street, Kingaroy, Qld. 4610

OR direct deposit $5.00 or multiples of… using 'pay anyone' on your online banking...
ABPA Inc. BSB 633 000 A/c no: 154842108 Reference: 'Tickets – your surname'
plus an email letting me know it is happening with the deposit receipt number included.
Treasurer's email here.
The ticket will be emailed to you with thanks.
NO Securepay FOR CHOOK RAFFLE TICKETS. (ABPA does not do Paypal any more)

If you feel you can, I'll trust you to accept money, bank it or send your covering cheque, and email me with the names, amount each, SSAE and/or email addresses, so I can complete the process if any of you want to do it that way. The receipt is the ticket that I issue when I receive the money. That way it will need to be on trust with people you know and they trust you.

So, here's how to spread the word – only if you want to. We are all in this together.

We enthusiastically ask others 'to help the ABPA by purchasing a 1 in 400 chance of winning $400.00 ('would you like to buy a ticket' may be answered with a 'no') Never assume. Thank them.

We cheekily and politely say 'how would you like to win $400.00 with 1 in 400 odds, better odds than Lotto. ' (that gets the interest going) Graciously accept the reply whatever it is. Never push further.


We thank you for your consideration and generous participation.
The A
ustralian Bush Poets Association
Inc is a
R
egistered Not For Profit Charity. ABN 17 145 367 949.
Authorised by The Treasurer, Carol Hutcheson,
48 Avoca Street,
Kingaroy, Qld.
Phone 07 4162 5878
using Gaming Rules as set by the various State Governments.
Meet a Poet - Christine Boult from WA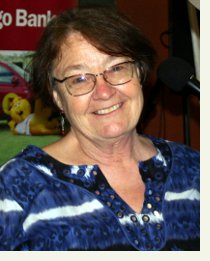 Christine Boult was born in England and came to Australia with her parents as a ten pound pom. She has had a deep, ongoing love affair with Australian folk lore, history, dance and music for over forty years. She became involved in the folk movement in Perth and Adelaide during the seventies, as a dancer. An Irish tin whistler, Tim Whelan, told her she would never be alone if she had a tune. She now thinks the same applies to a poem.

Christine has only been writing poetry for the last eleven years, although she has always written. Initially, she wrote and collaborated on plays for her extensive work directing youth theatre during the seventies and eighties. However, she also wrote biographies of local personalities for the paper in Fremantle. She is concerned with issues and stories - people and their idiosyncrasies fascinate her. At present she contributes regularly to Trad and Now, a national folk magazine based in Gosford.

Although Christine often recites other people's poems and classics, she has a fondness for Frank and he often features in her poems. People often ask " Who is Frank?" and have even been keen to meet him at her house. However, Frank is a conglomerate of the people in Christine's life. Be careful or you may find a glimpse of a conversation come back veiled in a poem.

Christine has recently retired from her work as a schoolteacher ( Drama, Literacy and English) and Feldenkrais practitioner in Western Australia.

She is now sifting through the clutter of the last 30 years. When in Perth she enjoys playing for Morris dancing and feels privileged to be involved with the WA Bush Poets and Yarnspinners. She now plans on travelling Australia and hopes to visit the locations of her favourite poems and songs. She may also be seen at folk festivals with the wheeze and suck brigade; playing and singing with her concertina.

Christine is the editor for the WA Bush Poets and Yarn Spinners newsletter (The Bully Tin) and welcomes poems and information about what's on in Australia for that publication.

Christine is the current ABPA West Australian Performance Champion, backing up her previous wins and successes in this and other competitions including the 2017 Victorian Championships.


See previously featured poets.



Achievers Bill Gordon - President of WA Bush Poets and Yarnspinners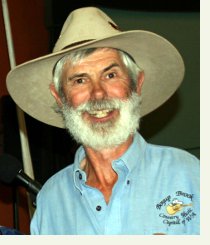 At the end of 2015 I had been farming for 50 years. In that time my life has taken many twists and turns. I started as a farm hand working for my father. Then I graduated to becoming stud groom, showing Dad's Angus cattle at Sydney Royal Show and several country shows in NSW (the family farm was near Orange).

At the time I married Meg I was running my own Angus stud and commercial cattle herd plus prime lambs.

After we moved to Boyup Brook in 1978 with three boys under 4ys. It was Merino sheep plus oats. The collapse of the wool market in 1990 forced us into cropping canola and barley. We are still growing those crops, but the sheep enterprise has shifted focus onto the live export market.

So my farming career has not been simply doing the same thing year after year. I have also been a wool classer, mechanic, chook farmer, bush vet, bookkeeper and worn many other hats in my time as a farmer.

The 'Bush Poet' hat is fitting very comfortably at the moment.

Recently we have been leasing the farm and spending a lot of time travelling, writing poetry, attending and performing at festivals, and catching up with family and friends right across Australia. The camper trailer has been giving good service and nowadays we could be anywhere...

Bill Gordon
President
WA Bush Poets and Yarnspinners


See previously featured achievers.



Garry Lowe not going well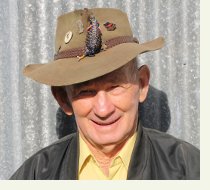 Long-term ABPA member, Garry Lowe, has been having a bad time in recent months. In early April Garry suffered a brain bleed. For a couple of months he seemed to be recovering but then started going rapidly down hill.

Daphne, Garry's partner, has advised that he is now at the stage where he rarely speaks, and even then, on some occasions, it makes no sense. Garry was transferred from hospital to a Nursing Home in early August.

Any Poets who wish to enquire about Garry's situation can ring Daphne on Garry's mobile: 0428 266 840.

Garry, whose name appears on The Wall of Fame at the Longyard Hotel in Tamworth, has for many, many years been a clever writer, wonderful performer and very good judge of Performance Competitions. He had a great, outgoing personality and will be sadly missed on the bush poetry scene.

[Thanks to Terry Regan for this update.]