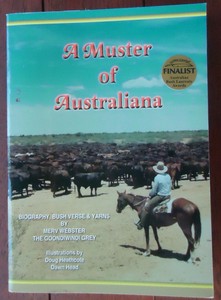 ACKNOWLEDGEMENTS
Like all small children, I too loved to listen to the traditional fairy stories of old, but as I grew older I began to relish the true to life experiences, as told by our historians, motion pictures, novelists, songwriters and balladeers, of those who pioneered this great nation and helped make it what it is today.
Sometimes I have almost wished I could have been a part of that history, though doubt I may have been made of that sterner stuff, which was required.
I am also grateful to all the early poets, The Anons, Gordon, Lawson, Paterson, Ogilvie, Mackellar, C.J. Dennis, John O'Brien and Kath Walker, to mention just a few, who through their word pictures captured the everyday activities of their times and helped preserve the character of this great nation.
Our modern era of poets have been my inspiration as well and all, in their own distinctive style, have continued to keep that spirit alive today.
I, for my part, have resigned to write and perform works about the Australia that I know and love.
Since riding down the route of bush verse and yarns I have published six volumes of works and have decided to muster a few favourites and draft them into the one holding paddock.
My thanks to the late Keith Garvey for being my initial inspiration.
Carmel Randle for her Help! book, which encouraged me to work on the ABC's of rhyming verse.
Neil McArthur, Bob Miller, Marco Gliori, Gary Fogarty, Bobbie Buchanan, Brendon Walmsley and Ted Egan for their words of encouragement in the forewords of my books and also Ellis Campbell for being my literary friend.
Also Mark Coombe for permission to use his photo, Waiting for the Chopper [A Taste of the Land] for the cover of my book.
Also my peers, who thought my work worthy of the awards I have received, and the public who have supported me, and last, but not least, my dear wife Chris, who eventually joined me in my love of bush verse and who has been my constant companion as we have taken our show, 'Laughter & Tears From The Bush,' to all those who love to pull up a stump and listen.
I look forward to your company as you browse through this lot of Australiana.
Merv Webster
FOREWORD
I love people who believe in themselves and have a good go at things that suits their talents. It is a delight to see the way Merv [The Goondiwindi Grey] and Chris take their show Laughter and Tears from the Bush around Australia, charming people with their great range of poetry and yarns. I know good performers when I see them, and here are a couple of the best.
No wonder Merv sold all copies of his first six books and had to reprint. Merv and Chris now present this fine collection, A Muster of Australiana, to give readers a taste of all their earlier books. I am certain that readers will derive as much pleasure as I have had from reading, first, the fascinating Biography "In Days Gone By" and then the selection of poems, the best, from the six previous titles.
What a good idea. What a bargain. The poetry ranges right through the emotional scale. You're laughing out loud one minute, reflecting the next and occasionally wiping a tear. That's what good poetry's all about.
This book to me is an ideal companion to their very well-produced CD, Pull Up a Stump and Listen and I congratulate Chris and Merv Webster. It's very Australian, and that suits me.
Ted Egan AM
Alice Springs